Active
This profile is actively maintained
Last update:
2023-02-03 00:00:00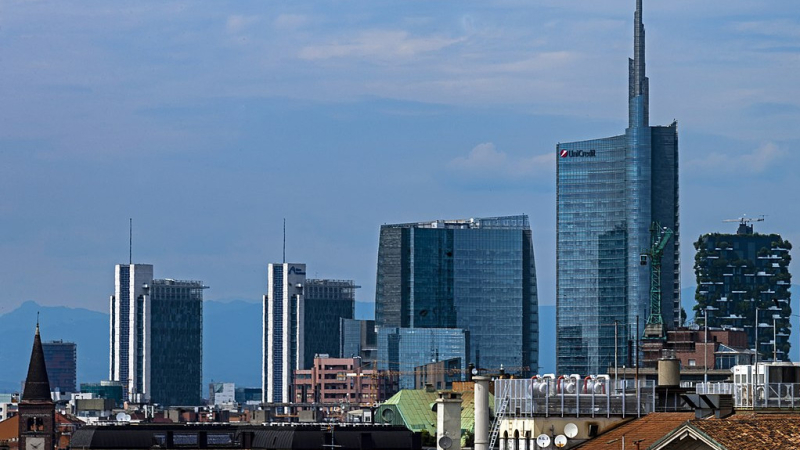 UniCredit Tower in Milan, Italy. Photo: Daniel Case via Wikimedia (CC BY SA 3.0)
Active
This profile is actively maintained
Last update:
2023-02-03 00:00:00
Website
http://www.unicreditgroup.eu
Headquarters

Plazza Gae Aulenti 3 - Tower A

20154 Milan

Italy

CEO/chair
Andrea Orcel
CEO
Supervisors
Ownership

listed on Borsa Italiana, Frankfurt Stock Exchange & Warsaw Stock Exchange

UniCredit's shareholder structure can be accessed here.
The UniCredit Group, founded in 1998, is the result of the merger of nine of Italy's largest banks and the subsequent combination with the German HVB Group and the Italian Capitalia Group. It is now a banking group based in Milan that also includes (amongst others) Bank Austria and Hypovereinsbank. The group operates in 14 European countries: Austria, Germany, Russia, Bosnia and Herzegovina, Hungary, Serbia, Bulgaria, Italy, Slovakia, Croatia, Romania, Slovenia, Czech Republic and Turkey.
UniCredit's most important sustainability commitments can be found at the website sections listed below.
UniCredit has committed itself to the following voluntary standards:
UniCredit is linked to a number of companies and projects that BankTrack considers controversial (so called Dodgy Deals), e.g. as a current or past financier or through an expression of interest. The profiles below provide more details on the nature of UniCredit's link to these deals.
---
Banks and Climate
The 2022 Banking on Climate Chaos report showed that UniCredit provided US$ 36.20 Billion in financing to the fossil fuel industry between 2016 and 2021. Find further details on UniCredit fossil fuel portfolio and how it compares to other large banks globally on Fossil Banks No Thanks and in the Banking on Climate Chaos report.
Reclaim Finance tracks the coal, oil and gas policies of financial institutions, including banks, in the Coal Policy Tracker and Oil and Gas Policy Tool. Find further details on their assessment of UniCredit fossil fuel policy below.
---
Banks and Human Rights
BankTrack assessed UniCredit in its 2022 Global Human Rights Benchmark, where it achieved 6 points out of 14 and was ranked as a follower. In addition, UniCredit scored 0.3 out of 3 on how it responds to alleged human rights violations linked to its finance, which were raised by civil society organisations. More information is detailed in the "Accountability" section of this profile.
Global Human Rights Benchmark 2022