RWE plans destruction of ancient German forest
Top bankers of Europe's biggest CO2 emitter revealed in Fossil Fuel Finance Report Card 2019
2019-03-21
Greig Aitken – BankTrack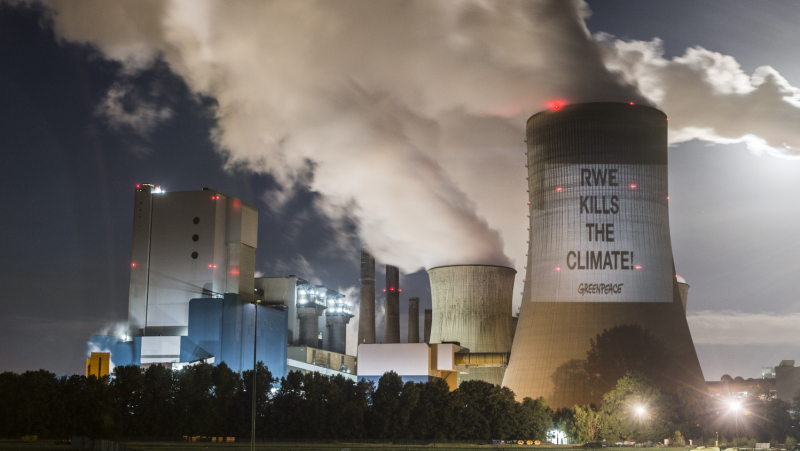 Greenpeace Projection on the cooling tower of the Niederaussem coal power plant near Cologne . Photo: Bernd Lauter / Greenpeace
2019-03-21
Greig Aitken – BankTrack
This is a blog post by BankTrack Climate Campaigner Greig Aitken.
Europe's rapidly advancing clean energy transition saw another important milestone in 2018 as renewable energy – solar, wind, biomass, and hydropower – overtook coal as Germany's biggest source of electricity for the first time. For now, though, coal remains Germany's single largest source of power, accounting for 39 percent of electricity generation last year in Europe's largest economy.
Yet Germany's most significant coal event of 2018 was headline-grabbing public opposition aimed at plans by RWE, one of the country's biggest utilities, to destroy more of the 12,000-year-old Hambach Forest in order to expand its nearby open-pit lignite coal mine. This totemic case illustrates not only that coal's days are numbered in Germany but also the serious risks now facing RWE and the banks that continue to finance Europe's biggest CO2 emitter.
Following months of a stand-off during which RWE brazenly mobilized its machinery alongside 4,000 police deployed to clear protestor tree houses, in October a court order forced the company to suspend clearance activities at the forest. A lawsuit brought last year by the environmental organization Bund für Umwelt und Naturschutz Deutschland (BUND) opposing the forest's clearance, and which temporarily halted RWE's clearing operations, was rejected earlier this month by a court in Cologne.
As of February this year, RWE has committed to a moratorium on clearing Hambach until autumn 2020. The anti-coal group Ende Gelände has already responded that it will help organise "a mass action of civil disobedience" at the forest in June to protect both the forest and nearby villages from destruction.
RWE executives have of course sought to justify further flattening of the forest by claiming, among other things, that the company would stand to lose $5.9 billion if it is stopped in its tracks. However, according to Claudia Kemfert, a professor of energy economics at the research institute Deutsches Institut für Wirtschaftsforschung, or DIW Berlin, "RWE misread the mood of the public by moving ahead to dig up the forest. Hambach is a symbol of the watershed we've reached in this country. The country knows it."
It also has been a watershed moment for some of RWE's investors. Germany's DekaBank went on the public record urging RWE to suspend its clearing work, arguing that "as shareholders, we have no benefit from an escalation. On the contrary, we see the risk that RWE will unnecessarily jeopardise its reputation and future viability." The Storebrand pension fund, Norway's largest private asset manager, which had already dropped its RWE shares in 2017 because of the utility's coal dependence, also publicly called on investors to sell their shares in RWE because of the Hambach debacle.
No such noises or divestments have yet emanated from the major banks propping up RWE's coal expansion activities.
According to the data research (as of January 2019) conducted for this year's Banking on Climate Change report, RWE's biggest coal mining bankers over the last three years are:
1. Deutsche Bank
2. Credit Suisse
3. BNP Paribas
4. Goldman Sachs
5. UBS
6. Bank of America
7. Société Générale
8. RBC
9. MUFG
10. UniCredit
These banks and other RWE financial backers are now on watch to disassociate themselves from a company that is clinging to its coal business at all costs. Long-awaited proposals from Germany's coal commission in January included a pronouncement that protection of the Hambach Forest is "desirable."
In reaction, claiming this would cost tens of millions of euros, the CEO of RWE commented: "One would have to ask oneself how much is a tree worth."
Refusing still to remove its threat to the Hambach Forest, RWE's reckless coal mine expansion plans place it firmly on the wrong side of history and squarely against public opinion.
This post is an amended version of a case study which was published in Banking on Climate Change: Fossil Fuel Finance Report Card 2019. It was written by BankTrack with helpful inputs from Kuba Gogolewski of the Polish NGO Foundation Development YES – Open-Pit Mines NO.
There are no active project profiles for this item now.
There are no active company profiles for this item now.