UniCredit: Out of Turkish Coal!
---
2019-04-11
Rome, Italy
ReCommon
---
Antonio Tricarico
Head of New Public Finance
Re:Common
atricarico@recommon.org
---
Share this page:
---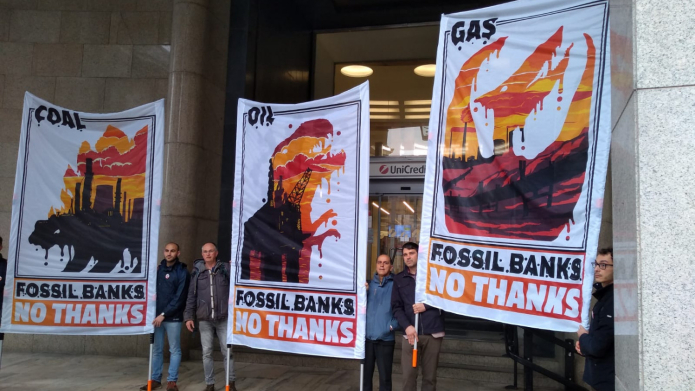 Fossil Banks No Thanks campaign at the UniCredit Annual General Meeting, 2019. Photo: BankTrack
Re:Common on the occasion of today's shareholders' meeting of Unicredit launches its latest report "An Ash Country - the Italian responsibilities in the devastating coal race in Turkey".

Unicredit is the foreign bank most involved in the Turkish coal business. In 2014, the most important Italian credit institution through its Turkish subsidiary Yapi Kredi and its partner Koc Financial Services granted two loans of 417 million dollars each to the Turkish companies Limak and IC Ictas. The loans were for the acquisition of the newly privatised Yenikoy and Kemerkoy coal-fired power plants in the Mugla region (north-west Turkey), with a total capacity of 1,050 MW. In the following years Unicredit further supported Limak with loans for 135 million dollars. The two plants have been exempted from environmental legislation and have caused serious impacts on human health, agriculture and the environment. The Milas-Sekkoy lignite mine, which powers the facilities, is expanding and 21 villages are at risk of resettlement.

Since 1983, the plants in the Mugla region (three out of a total of 26 in Turkey) have been responsible for the emission of 9.5 million tonnes of sulphur dioxide, 890 thousand tonnes of nitrogen oxide, 65 thousand tonnes of fine dust, 28 thousand kg of mercury (discharged into the Mediterranean) and 360 million tonnes of CO2. According to a report drawn up by CAN Europe from a health point of view, in three decades about 45 thousand premature deaths have been recorded, the hospitalization of about 46 thousand people due to respiratory problems and cardiovascular diseases, and the loss of about 12 million days of work.

"Unicredit lends billions for coal throughout Europe and is the only major European bank that still has no exclusion policy for direct financing of coal projects," said Antonio Tricarico of Re:Common, who spoke at the meeting. "That's why we are asking the top management of the bank to stop financing any project or coal company in Turkey and to adopt a new coal policy, but also to stop supporting the entire fossil fuel industry, responsible for climate change," concluded Tricarico.

"We believe that Unicredit should follow the virtuous example of Assicurazioni Generali, which at the end of last year published its new policy on climate change, which provides for a large divestment from coal," said Alessandro Runci of Re:Common, who is also present in Milan.

Re:Common is a member of the European campaign Europe Beyond Coal represented in Milan by finance and utility coordinator Jiri Jerabek who asked UniCredit to adopt a policy that immediately excludes any financing to projects and companies for the expansion of coal and the retrofitting of existing plants, and then to gradually stop any relationship with existing coal customers, such as EPH of the Czech Republic, by 2025, when Italy decided to close all its coal plants (EBC briefing on UniCredit).

Re:Common's requests are supported by more than 200 global civil society organizations, gathered in the Fossil Banks, No Thanks!, campaign. BankTrack's climate campaigner Claire Hamlett, who is coordinating the campaign, is in Milan to present data from the recent Banking on Climate Change 2019 report and to call on Unicredit to end its fossil fuel finance in line with the goals of the Paris Agreement (Banking on Climate Change 2019).

To follow the live Twitter of the shareholders' meeting: @NoFossilBanks @lucamanes and @atricarico72.

Download the report here.