Europe's largest banks falling short on climate and biodiversity action
New ShareAction research uncovers urgent need for UK and European banking sector to close loopholes in climate and biodiversity strategies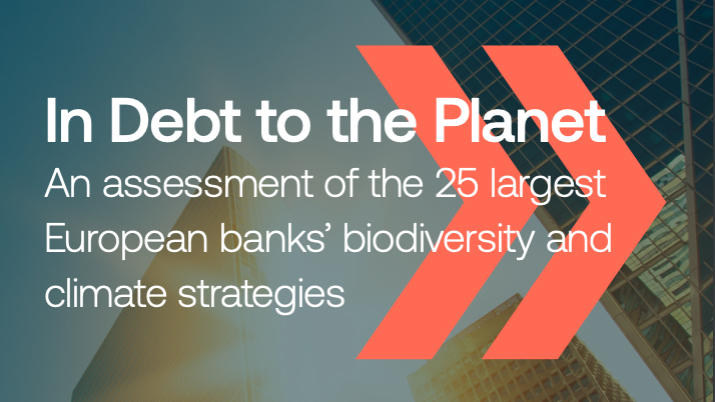 The cover of the 'In Debt to the Planet' report. Photo: ShareAction
ShareAction, the UK's leading responsible investment NGO, has today issued a major report into Europe's top 25 banks and their approaches to tackling climate change and protecting the world's natural habitats.
The report, In Debt to the Planet, identifies some improvements in banks' climate and biodiversity strategies since ShareAction's last survey in 2020, but reveals that Europe's top banks still have a long way to go to meet internationally agreed standards to deal with the global climate crisis, cut carbon emissions, and safeguard the planet's vital ecosystems.
Despite all 25 banks committing their businesses to be net-zero by 2050, ShareAction's analysis shows banks are still not doing enough to avert the climate crisis and urgently need to improve many of their practices.
Some of the key findings of 'In Debt to the Planet' include:
Banks' lack of transparency is leading to underreporting of banks' support for high-carbon sectors.

Most banks now have at least one decarbonisation target in place – however banks' targets often fail to capture the bulk of banks' financing to high-carbon sectors and do not always lead to absolute reductions of emissions.

Fossil fuel policies are full of loopholes that make them unfit for alignment with 1.5C goal. Despite over three-quarters of banks now having committed to phase out from coal, banks' thermal coal policies include gaps that allow them to continue financing coal clients. In oil and gas, the banks progress has been much slower.

The vast majority of banks lack adequate biodiversity strategies and are failing to include biodiversity in their risk analysis when assessing potential clients and projects.

Banks' green finance strategies leave too much room for 'greenwashing'.
Commenting on the findings, Peter Uhlenbruch, Director of Financial Sector Standards at ShareAction, said:
"Despite important steps forward, the leadership of Europe's top banks are not moving fast enough to drive the change needed to protect people and the planet.
"ShareAction has written to the CEOs of each of the banks with a set of tailored recommendations about how they can close loopholes in their climate and biodiversity strategies.
"Without robust decarbonisation targets underpinned by credible fossil fuel policies, these banks cannot fulfil their commitments to align their businesses with net-zero and prevent the worst impacts of the climate crisis."
"The banks are paying far too little attention to the threat of biodiversity loss. Bank executives and their boards need to step up and take responsibility for the impact their activities are having on the ecosystems of the world's oceans, forests and wildlife."
"Banks have made promises to investors and the public – it's time they deliver on those commitments."
As in previous years ShareAction's report ranks the banks in order of their environmental policies across the following topics: climate and biodiversity governance, climate risks, climate opportunities, biodiversity strategy, and policy engagement and collaboration with stakeholders. French bank BNP Paribas performed slightly better than others but with a score of only 63 per cent still has a long way to go. The worst performer was DZ Bank from Germany. The best performing UK banks in the report were Barclays and Lloyds Banking Group, followed by HSBC and NatWest.
Table 1: Ranking of Europe's 25 largest banks based on their performance on key climate and biodiversity metrics
| | | | | | |
| --- | --- | --- | --- | --- | --- |
| Bank | Country | Grade | Overall | Biodiversity | Climate |
| BNP Paribas | France | B+ | 63% | 68% | 60% |
| Societe Generale | France | B | 56% | 57% | 56% |
| Crédit Agricole | France | B | 51% | 42% | 55% |
| ING | Netherlands | B | 51% | 56% | 48% |
| Barclays | UK | B | 50% | 38% | 55% |
| Lloyds Banking Group | UK | B | 50% | 40% | 54% |
| Santander | Spain | B− | 48% | 36% | 54% |
| HSBC | UK | B− | 47% | 45% | 48% |
| La Banque Postale | France | B− | 46% | 20% | 59% |
| Rabobank | Netherlands | B− | 46% | 49% | 45% |
| BPCE | France | B− | 46% | 40% | 49% |
| NatWest | UK | B− | 46% | 27% | 55% |
| Credit Suisse | Switzerland | C+ | 44% | 50% | 41% |
| CaixaBank | Spain | C+ | 43% | 39% | 45% |
| UniCredit | Italy | C+ | 43% | 26% | 51% |
| Intesa Sanpaolo | Italy | C+ | 42% | 30% | 48% |
| Deutsche Bank | Germany | C+ | 42% | 43% | 41% |
| Standard Chartered | UK | C | 40% | 25% | 47% |
| UBS | Switzerland | C− | 38% | 41% | 37% |
| Nordea | Finland | C− | 36% | 14% | 47% |
| Crédit Mutuel | France | C− | 36% | 12% | 48% |
| BBVA | Spain | C− | 36% | 26% | 40% |
| Commerzbank | Germany | C− | 33% | 20% | 40% |
| Danske Bank | Denmark | C− | 33% | 19% | 40% |
| DZ Bank | Germany | D+ | 29% | 14% | 36% |

Key issues uncovered by the research:
Climate targets and fossil fuel policies need urgent attention
Although over 80 per cent of banks surveyed have taken the initial step of setting at least one sector-specific target to reduce emissions, crucial gaps remain.

When setting sectoral targets, only Barclays includes capital markets activities. As ShareAction uncovered earlier this year, more than half of the financing provided by Europe's top 25 banks to top oil and gas expanders was in the form of capital markets activities.

Most banks' targets are intensity-based. Banks must urgently complement these with commitments to halve emissions across their financing activities, making sure that absolute emission cuts are achieved in the real economy.

Banks have strengthened their fossil fuel policies over the last two years – but many restrictions have loopholes. This has the effect of minimising their impact.

The average fossil fuel policy scored 43 per cent, with particularly slow progress on oil and gas policies. While the number of banks announcing asset financing restrictions on new oil and gas fields has doubled in eight months, banks are reluctant to introduce any restrictions for new oil and gas at the corporate level. This is despite the stark warning from the International Energy Agency that there is no room for coal expansion and new oil and gas fields if the world is to reach net zero by 2050.
ShareAction is recommending that banks set targets that will guarantee a reduction in absolute emissions for the real economy. These must be backed by effective fossil fuel policies, such as La Banque Postale's requirement for companies to publish credible transition plans to phase out oil and gas by 2030 and Crédit Mutuel's comprehensive coal phase out policy.
Banks are only just waking up to the biodiversity crisis
Average performance on biodiversity lagged behind climate across all banks surveyed, with a mean score of 35 per cent compared to 48 per cent for climate. Very few banks currently integrate biodiversity into key risk management processes, and target setting aimed at protecting and restoring biodiversity is almost non-existent, with limited integration of biodiversity in sector policies. This is unlikely to change in the short-term as biodiversity was not a board-level priority for most banks.
Suspicions of greenwashing abound around banks' green finance claims
Almost all banks have set a green finance target and claim they are channelling billions towards the low-carbon transition. Yet there's little clarity on what green finance targets and volumes include and some of these figures seem to be artificially inflated. Some of the banks' green finance pledges pale in comparison with their historical levels of fossil fuel financing, according to our estimates. We also find that many banks are willing to provide green or transition financing to companies operating in high-carbon sectors without clear requirements that these companies align with robust net-zero roadmaps.
Notes to editors
ShareAction's 2020 ranking is online and available here.
In November ShareAction published a detailed assessment of the 43 largest banks in the Net Zero Banking Alliance (NZBA) who are the biggest financers of fossil fuels, which found that a third had set inadequate decarbonisation targets that undermined their net zero commitments.
ShareAction's new Cop15 briefing sets out actions the financial sector can take to address biodiversity loss.
Methodology: The survey features the 25 largest European banks (excluding Russia), selected based on their total assets according to the S&P 2022 list of the world's largest banks. This resulted in the inclusion of all the banks in ShareAction's 2020 survey aside from ABN AMRO, plus six additional banks: BPCE, CaixaBank, Crédit Mutuel, DZ Bank, La Banque Postale, Rabobank. Differences in methodology between this survey and the 2020 survey mean that the scores are not directly comparable.
Data was collected between June and August 2022, with an extension until 31 October 2022 for net zero targets. The survey includes questions on biodiversity for the first time and examined both the risks faced by banks and the impacts that their financing has on the climate and our ecosystems. The questionnaire had four parts: climate and biodiversity governance, climate strategy (climate risk and negative impact, and climate opportunities and positive impact), biodiversity strategy, and engagement and collaboration.
Originally published by ShareAction here.