BankTrack welcomes withdrawal Bank Austria from Mochovce Nuclear power plant
Bank Austria closes credit line to Slevenske Elektrarne, enabling the construction of Mochovce nuclear reactors 3&4
---
2012-03-15
Nijmegen
BankTrack
---
---
Share this page:
---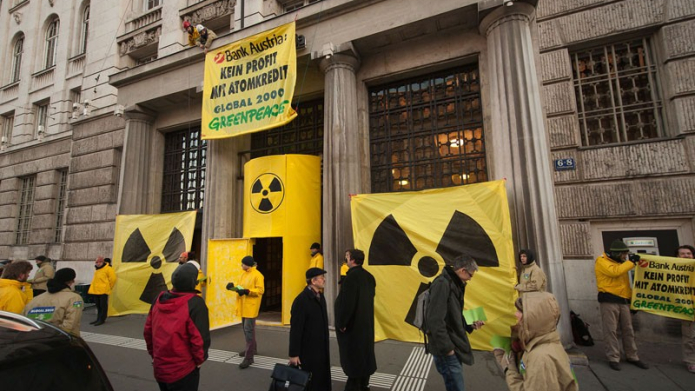 Photo: -
Bank Austria, the Austrian subsidiary of the Italian UniCredit banking group, has confirmed that by mutual agreement it will terminate a financial facility granted to Slovenske Elektrarne (SE). SE will be the operator of the Mochovce nuclear reactors 3 & 4, currently under construction. The confirmation came after enquiries by Global 2000 (Friends of the Earth Austria) and Greenpeace.
"Slovenske Elektrarne has boasted in public presentations that the credit provided by private banks for its ongoing operations in fact indirectly enabled the building of the scrap nuclear reactors at Mochovce," said Patricia Lorenz, nuclear campaigner for Global 2000. "This is in direct contradiction with assurances made by Bank Austria earlier on the use of their credit."
In a related development Mochovce NPP operator ENEL/SE also announced last week that the two nuclear units 3 and 4 will be completed one year later than previously planned. The construction of block 3 will now be completed by the end of 2013, and unit 4 not before the middle of 2014.
"We have warned the management of Bank Austria against this risky business for months and are pleased that our negotiations have now led to some results with the bank. The completion of Mochovce 3 and 4 is again pushed a bit further away," said Niklas Schinerl, nuclear expert for Greenpeace Austria. He added : "We hope we can still convince Slovenske Elektrarne to stop further construction of this dangerous nuclear power plant".
The reactors planned for Mochovce 3 & 4 are Soviet-type VVER 440 2nd generation reactors, which are designed without a full containment building and cannot be upgraded. As such there is a higher probability of severe accidents and the release of radioactivity. The construction of the two reactors has been vigorously opposed since the inception of the project in the 1980s.
"The credit freeze and construction delay are new hurdles for SE and signal a victory in the fight against the building of these reactors" said Yann Louvel, climate and energy campaign coordinator for BankTrack. "As all banks financing SE know, money is fungible. They should do the same as Bank Austria and close down their credit lines with Slovenske Elektrarne to prevent the completion of Mochovce 3 and 4".
NOTE
The banks involved in the financing of SE can be found on Mochovce dodgy deal profile on this page.
Related Dodgy Deals
Projects
There are no projects active for this item now.