New human rights assessment of banks shows slow progress and lack of action to address key gaps on reporting and remedy
BankTrack's 2022 Global Human Rights Benchmark finds reporting at a standstill, remedy still lacking and no clear leaders
2022-11-17
BankTrack
Giulia Barbos: giulia@banktrack.org
Ryan Brightwell: ryan@banktrack.org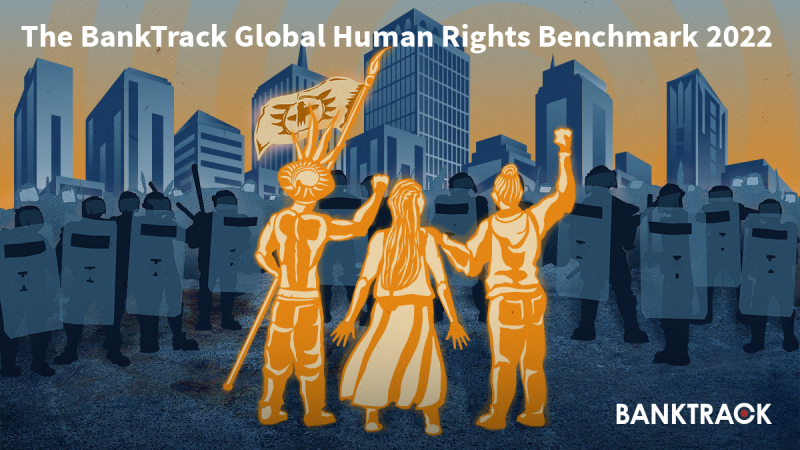 The BankTrack Global Human Rights Benchmark 2022: Cover image. Photo: BankTrack
2022-11-17
BankTrack
Giulia Barbos: giulia@banktrack.org
Ryan Brightwell: ryan@banktrack.org
The fourth edition of BankTrack's Global Human Rights Benchmark, published today, finds that 38 out of 50 of the world's largest commercial banks are implementing less than half of human rights responsibilities, as set out in the UN Guiding Principles on Business and Human Rights (UNGPs). In addition, a new assessment of banks on their response to specific human rights violations as part of the benchmark shows they failed to provide a constructive response to the allegations raised three quarters of the time.
"As the UNGPs outline a minimum expected standard of corporate behaviour, these findings are worrying", said Giulia Barbos, Human Rights Campaigner and Policy Researcher at BankTrack, the lead author of the report. "The results indicate that even eleven years after the unanimous endorsement of the UNGPs, the global banking sector is consistently lagging behind."
Among the poorest performers, scoring 3 points or less out of 14 available points on the benchmark, are US banks Goldman Sachs and JPMorgan Chase, Germany's DZ Bank and Commerzbank, as well as France's Groupe BPCE. Even the top performing banks, including Citi from the US, Japan's Mizuho, and Australia's Westpac, fail to meet their responsibilities for many criteria, missing the mark to be ranked as a 'leader'. See the summary table of results below.
Most banks are dragging their heels on implementation of the UNGPs, especially when it comes to human rights reporting and enabling access to remedy for harms. All but eight out of 50 banks fall short of reporting on specific human rights impacts they identified and the steps taken to address them. And while there have been positive developments on accountability, such as ANZ's launch of a well-elaborated grievance mechanism to evaluate and respond to human rights related complaints associated with its corporate lending customers, very few other banks are so far following suit.
More positively, the report shows some improvement since BankTrack's last global human rights benchmark in 2019, with the average score rising from 4 to 5 points out of 14. This progress, while limited, is particularly welcome after little to no improvement being found in the 2019 benchmark. Also positive is the unprecedented number of banks that provided feedback into the process, with 36 out of 50 banks providing comments on draft scores during the research process.
The benchmark also finds that more banks now have well developed human rights due diligence processes in place, and include, at least to some degree, consultation with rights holders and other stakeholders. Banks are also doing more to monitor the effectiveness of actions taken to address adverse impacts, though approaches are often limited to certain sectors, and are lacking strong indicators.
The report also considers the need for bank action to protect human rights defenders, including Indigenous peoples, who play a critical role in protecting communities, the environment, and natural resources, and in many cases are harmed in the course of fighting projects financed by commercial banks. Only three banks included any consideration of human rights defenders in their due diligence processes, the report reveals.
BankTrack's Giulia Barbos added: "These results show the urgent need for banks to show leadership and scale up respect for human rights, including by improving disclosures, meaningfully responding to allegations, and taking appropriate action to address impacts, if better outcomes for people and the planet are to be achieved."
Nadia Bernaz, Associate Professor at Wageningen University Law Group, a member of the report's Independent Academic Advisory Panel, commented: "This report underlines the urgent need for strong legislation to ensure that banks conduct ongoing human rights and environmental due diligence across all of their provision of financial services, and to ensure that victims of human rights violations can seek remedy, including from banks that facilitated the harms."
Anita Dorett, Director at the Investor Alliance for Human Rights, commented: "BankTrack's Human Rights Benchmark provides critical human rights performance data and analysis for investors to engage with their own portfolio banks on the steps they're taking to meaningfully implement human rights policies. As the "oxygen supply" for all financial activity, it is incumbent on banks to ensure they are doing everything in their power to prevent and mitigate potential and actual human rights harms connected to their lending, including in financing and enabling the just transition to renewable energy."
View the webinar
BankTrack held two webinars following the publication of the report to present the Benchmark's methodology and results, on 22nd and 24th November. The webinar from 24th November can be viewed online here (YouTube, 38 minutes).
Summary table of results
Infographics