Eyes closed, costs down, profits up
Dirty Profits 9 published today by Facing Finance
2022-05-18 | Berlin
Facing Finance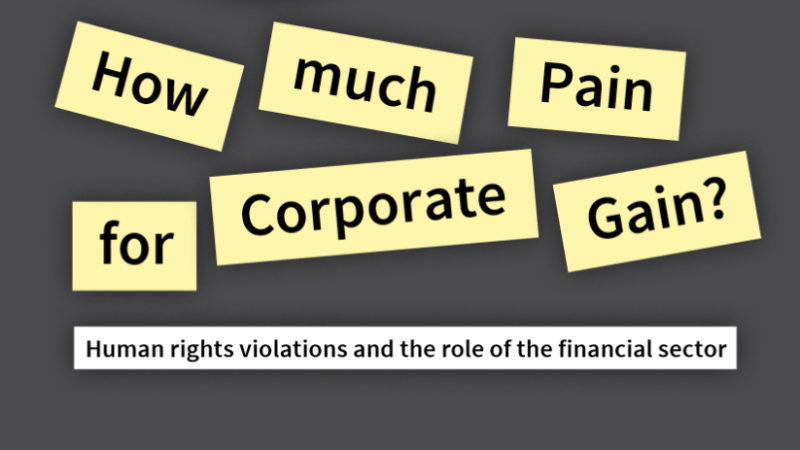 Dirty Profits 9 report. Photo: Facing Finance
2022-05-18 | Berlin
Facing Finance
The Covid 19 pandemic and Russia's war of aggression against Ukraine overshadow, to some extent, long-standing human rights violations and environmental destruction by international corporations, for which banks and life insurers in Germany also share responsibility.
Eyes closed, costs down, profits up. A multitude of companies still acts according to this motto. Their poor labor, safety and environmental standards repeatedly lead to fatal accidents, environmental disasters and serious human rights violations. This is also shown in the report Dirty Profits 9: How much Pain for Corporate Gain?, published today by the Berlin-based non-governmental organization Facing Finance.
These corporate violations of standards apparently do not stop financial service providers from promoting or investing in harmful business models with their loans. While more and more financial institutions point to their environmental and social financing and investment policies and assure that they respond to corporate incidents and violations, all too often these claims do not stand up to independent scrutiny, as evidenced by the Dirty Profits 9 report. According to the report, banks operating in Germany did not shy away from financing even the most irresponsible companies in the past four years, sometimes worth billions of euros, or, along with life insurers, from investing in their violations of norms.
"Despite massive human rights and environmental violations, financial institutions operating in Germany continue to finance the respective companies with EUR 31 billion. In addition, they invest another EUR 15 billion in their harmful business models, which is particularly detrimental to already disadvantaged people as well as the environment and climate in countries of the Global South," criticizes Thomas Küchenmeister, publisher of the Dirty Profits reports and managing director of Facing Finance.
The report documents seven specific cases of human rights violations and environmental pollution committed by international companies in Africa, Asia, the MENA region and South America in mining, fossil energy, pesticide and arms export sectors. For the case studies about mining in Brazil, Chile and Indonesia, Facing Finance worked closely together with South American church network Iglesias y Minería and with Indonesian partners represented in the Fair Finance International (ResponsiBank) project.
Twelve financial institutions have financial relationships worth more than EUR 10 billion with arms manufacturers, such as Airbus, BAE, and Leonardo, who exported weapons to the Saudi Arabia-led anti-Houthi coalition in the Yemen War or maintained or modernized them. Official United Nations and civil society reports point to Saudi Arabia and the United Arab Emirates as having committed war crimes in Yemen. Accordingly, exporting arms to these states is a violation of the "Arms Trade Treaty" (ATT). The largest financiers of the arms exporters were UniCredit Group (HypoVereinsbank) and Commerzbank, which provided loans of EUR 2.17 and EUR 1.65 billion, respectively.
The Dirty Profits 9 report also analyzes and criticizes the financial relations of German banks amounting to EUR 18 billion with pesticide manufacturers such as BASF, Bayer and Syngenta (ChemChina). The aforementioned companies export toxic pesticides, which are banned in the EU because of their harmful effects on health or the environment, to developing and emerging countries. Deutsche Bank and the UniCredit Group (HypoVereinsbank) are leading financiers of these companies.
Deutsche Bank also has nearly half of all identified financial relationships (EUR 7 billion) with oil and gas companies Chevron, ONGC, Posco, PTT, and TotalEnergies, as well as defense contractor BEL and military truck manufacturer Sinotruk, who have been or were still operating on the ground in Myanmar after the military coup. Nevertheless, thirteen of the financial institutions examined did not cease – doing business with the companies active in Myanmar. Through their economic activities, the companies propped up the military junta's brutal regime, ignoring the fact that systematic repression and human rights abuses are a daily occurrence in Myanmar.
"Given the multiple crises facing the world – from the rise of poverty via the dawn of a new era of conflict and violence to disregarding the planetary boundaries – financial institutions can no longer turn a blind eye to companies and their human rights abuses and environmental destruction, especially as they finance or invest in them," demands Vanessa Müller, Facing Finance project coordinator of the Dirty Profits report.
Facing Finance calls on financial institutions to apply comprehensive and transparent guidelines for their investment and financing decisions, even beyond legal regulation, in order not to be complicit in the human rights abuses of their corporate clients or to enable them in the first place. In addition, political leaders are also called upon to advocate for stronger ethical and legal regulation.
The Dirty Profits report is funded by Brot für die Welt, Misereor, the Kindernothilfe foundation and the Swedish development agency Sida as part of the Fair Finance International project.
The Dirty Profits 9 report is available here. | Statements by banks and companies are available here.
More information can be found online at www.facing-finance.org.
There are no active company profiles for this item now.