NGOs reveal top international companies, banks, and investors that fuel Russia's war machine
2022-04-04 | Berlin
urgewald & Ecodefense
Heffa Schuecking, Director, Urgewald, +49 (0)2583 30492-13
Sonja Meister, Energy Campaigner, Urgewald, +49 (0)30 8632 922-51
Katrin Ganswindt, Head of Finance Research, Urgewald, +49 (0)176 324 111 30
Dr. Ognyan Seizov, International Communications Director, Urgewald, +49 (0)30 8632 922-61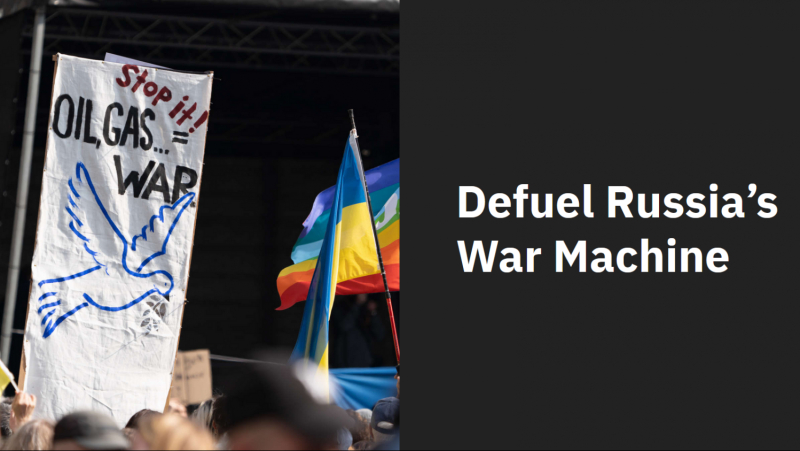 Front page Defuel Russia's War Machine website. Photo: urgewald, Ecodefence
2022-04-04 | Berlin
urgewald & Ecodefense
Heffa Schuecking, Director, Urgewald, +49 (0)2583 30492-13
Sonja Meister, Energy Campaigner, Urgewald, +49 (0)30 8632 922-51
Katrin Ganswindt, Head of Finance Research, Urgewald, +49 (0)176 324 111 30
Dr. Ognyan Seizov, International Communications Director, Urgewald, +49 (0)30 8632 922-61
Today, the German environment and human rights NGO Urgewald and the Russian environment NGO Ecodefense expanded their campaign website "Defuel Russia's War Machine" with information on upstream oil & gas joint ventures between Russian and foreign energy companies as well as data on the biggest global financiers of the Russian fossil fuel industry.

While bombs rain down on Ukrainian cities and the invading Russian army commits war crimes against innocent civilians, 20 international oil and gas companies continue to maintain their stakes in 14 oil and gas joint ventures in Russia that pour fresh money into Putin's war chest through royalties and taxes. Only a handful of Western oil and gas companies, including BP, Shell, Equinor and Exxon, have announced an exit from their Russian joint ventures. Even these companies have, however, not canceled their joint ventures with Russian fossil fuel companies abroad. Currently, 41 international oil and gas companies (1) are collaborating with Russia's Rosneft, Gazprom, Lukoil, and Novatek in 34 international joint ventures to extract oil and gas in virtually every corner of the Earth, from Algeria to Uzbekistan.

The NGOs' campaign not only demands an immediate and full embargo on Russian fossil fuel and nuclear imports. It also calls on foreign companies to stop their coal, oil and gas production in Russia and cancel all joint ventures with Russian energy companies in Russia and abroad. On its website, the campaign also identifies the biggest financial backers of Russia's fossil fuel industry, which plays a key role in financing Vladimir Putin's military aggression abroad and civil society suppression at home. The majority of these financial institutions has not announced plans to suspend their activities or divest from the sector as of yet.

"Since the invasion of Ukraine, we have heard countless corporate statements bemoaning the violence and condemning Russia's aggression. However, our research shows that most energy companies are refusing to put their money where their mouth is," says Heffa Schuecking, Director of Urgewald. "Apart from a handful of notable exceptions, international oil and gas companies and European utilities have kept their connections to the Russian energy sector intact. These companies were already profiteering at the expense of our climate; now they are also an active source of funding for Putin's brutal war. We call on them to cease all energy imports from Russia and to exit all joint ventures with Russian companies, both in Russia and abroad. If they do not have the moral fiber and the will to do so, governments must step in and finally impose sanctions that defuel Russia's war machine."

20 foreign oil and gas companies keep producing in Russia

Despite statements of support for Ukraine since Russia launched its invasion on February 24, the vast majority of international oil and gas companies still continue their production operations in Russia. A total of 14 joint ventures with Rosneft, Gazprom, Novatek, or Lukoil ensure that foreign cash keeps filling Putin's coffers. While companies like Shell, BP, Exxon Mobil, or Equinor announced Russian exits as a result of Putin's invasion, oil traders like Vitol and Trafigura appear intent on maintaining cooperation with Rosneft on the Vostok oil project.

Most European energy majors seem unwilling to shutter their Russian cooperation projects and have made no pledges to exit Russian gas production to date. France's TotalEnergies SE is deeply involved with Novatek on the Yamal LNG and Arctic LNG 2 projects as well as a gas production project in the Termokarstovoye field. Germany's Wintershall Dea is also holding on to its 3 joint ventures with Gazprom in Russia,where it produces nearly half of its total oil and gas.(2)

International companies involved in 34 joint ventures with Russian fossil fuel companies outside of Russia

Urgewald's research shows that 41 foreign energy companies hold stakes in 34 joint ventures with major Russian fossil fuel companies outside of Russia (see Table 2 in Annex). By developing oil and gas projects with Rosneft, Gazprom, Novatek, and Lukoil around the world, international firms increase these Kremlin-owned or -aligned companies' profits and influence in the global energy industry.

The undisputed leader in international joint ventures with Russian counterparts is Italian oil and gas corporate Eni SpA with 11 active joint ventures with Lukoil, Rosneft, and Novatek. Many of these projects involve offshore oil and gas exploration, which is especially damaging to the environment. Next in the ranking are TotalEnergies SE and Wintershall Dea, which each hold stakes in 6 joint ventures outside of Russia, solidifying their image as "reliable" partners of the Russian energy sector.

"Wintershall Dea's fossil business is deeply entangled with Gazprom. Nearly half of the company's oil and gas is produced in joint ventures with Gazprom in Russia," says Sonja Meister, Energy Campaigner at Urgewald. "But that is only part of the story: Wintershall Dea also produces gas and oil in the UK and the Netherlands in joint ventures with Gazprom. The company is set on continuing its fossil business with Gazprom even at the cost of helping Putin finance his cruel war against Ukraine. We call on Wintershall and all the other players identified in our research to immediately suspend all cooperation with the Russian fossil fuel industry." While the oil majors Shell plc and BP plc have at least canceled their projects with Rosneft in Russia, they are still cooperating with Lukoil on several oil and gas projects in Asia and the Middle East.

USA and China top foreign bankrollers, USA and Qatar top foreign investors in Russian oil & gas

Urgewald's research reveals that between January 2019 and March 2022, the global banking sector provided a total of US $72.7 billion in financing, including US$ 28.8 billion in loans and US$ 43.8 billion in underwriting, to the 8 major Russian oil and gas companies. JPMorgan Chase was the top foreign bankroller of Russian oil and gas with over US$ 5 billion in loans and underwriting, followed by China's Eximbank and China Development Bank with about US$ 2.5 billion each.

As of March 2022, foreign investors(3) held US$ 1.5 billion in bonds and US$ 71.1 billion in shares in the Russian oil and gas industry – a total foreign investment worth US$ 72.6 billion. Qatar's Investment Authority was the largest single foreign investor in Russian oil and gas, holding shares worth US$ 15.3 billion in Rosneft. However, the combined stakes of the top US-based investors Capital Group, Vanguard, BlackRock, GQG Partners, Invesco, and Fidelity Investment surpassed Qatar's exposure and stood at US$ 17.7 billion in bond- and shareholding.

Commerzbank and Société Générale, Vanguard and BlackRock prop up Russian coal

Between 2019 and 2021, Russia's coal sector received a total of US$ 8.6 billion in loans and underwriting. Germany's Commerzbank was the top foreign financier of Russian coal with US$ 462 million in loans and underwriting (4), followed closely by France's Société Générale with US$ 448 million. As of December 2021, the top foreign investors in the coal sector were US-based Vanguard (US$ 338 million in shares) and BlackRock (US$ 204 million in shares); no significant bond-holdings were identified. Investors from the United States and the United Kingdom dominate the rest of the long list.

"The most recent numbers on the Russian fossil fuel sector's financing are incompatible with the West's moral grandstanding and condemnation of Putin's invasion of Ukraine," says Katrin Ganswindt, Head of Finance Research at Urgewald. "Our governments' sanctions and our financial institutions' actions consistently favor the status quo of Russian energy imports. This behavior fuels the bloody war in Ukraine and exacerbates the already dire climate crisis. We call on international banks, investors, and asset managers to immediately stop providing financial services to Russia's fossil fuel industry and to divest from it once and for all. Financial institutions should also cut ties with fossil fuel companies that maintain their joint ventures with Russian energy companies. Otherwise, an important means to limit Putin's power and put pressure on his aggressive regime would go unused."
Notes

(1) Four of these companies – TotalEnergies SE, Wintershall Dea, Inpex, and Mubadala Petroleum – are also active within Russia, bringing the total number of international companies with stakes in joint ventures with Russian energy companies to 57.
(2) Apart from these upstream joint ventures, Wintershall Dea is also involved in joint ventures with Gazprom in the field of gas transport, operating a more than 4,000-kilometers-long pipeline network. For details, see here.
(3) For pension funds, the latest available disclosure as of the beginning of March 2022 was used. For instance, in the case of the Norwegian Government Pension Fund, the 2020 annual report was used. On March 3, 2022, shortly after the cut-off date for Profundo's financial research for Urgewald, the Pension Fund's 2021 report was published with significantly lower Russian exposure. See here.
(4) Commerzbank's new coal policy should prevent the bank from providing further support to its biggest Russian fossil customer SUEK as of 2022.