Who will finance yet another gas megaproject in Mozambique?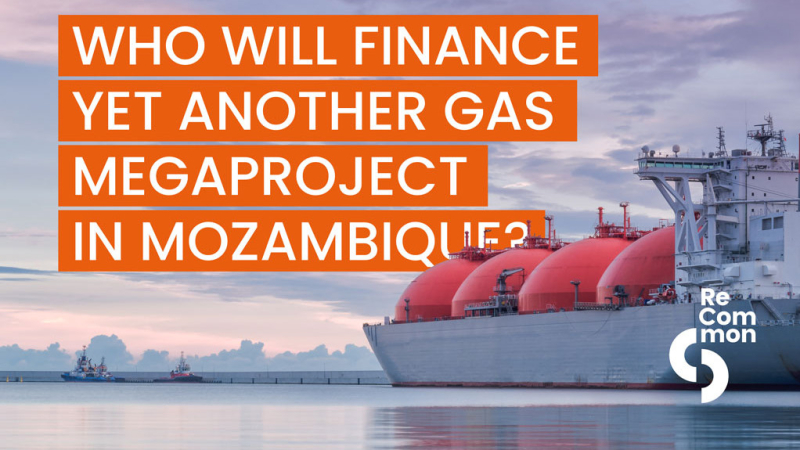 Photo: ReCommon
Blog by Simone Ogno, first published on the website of ReCommon.
With the imminent arrival in Europe of the first cargo of liquefied natural gas from Eni's Coral South FLNG, talk of Mozambique is once again picking up in Italy. Turning our backs on what is happening on the other side of the pipe – in this case a gas tanker – we are once again doing so for the wrong reasons. In fact, in Cabo Delgado, where the fossil industry is 'at home', there is an armed insurrection led by the Al-Shabaab group, which has claimed over 4,000 lives and displaced 800,000 people in recent years. Since July there has been a sharp upsurge in attacks, with 120 actions and at least 200 deaths, among them the Combonian nun Maria De Coppi, killed in the village of Chipene.
There is more and more talk about the indirect consequences of Eni's (Coral South FLNG) and Total's (Mozambique LNG) fossil projects in the country, but still too little about the fact that the Italian company – together with ExxonMobil – is pushing to add Rovuma LNG, a liquefied natural gas (LNG) mega-project, to its portfolio. Even less is said about those who financed the devastation of northern Mozambique and may do so again in the case of Rovuma, now that Eni and Exxon want to obtain the loans from banks and loan guarantees from export credit agencies needed to build the project by 2023.
UniCredit, Italy's second-largest bank, is among Eni's most important lenders, with $5.4 billion between 2016, the year the Paris Climate Agreement came into force, and 2021. Added to the loans are US$ 237 million of shares in Eni's capital. In 2017, the bank in Piazza Gae Aulenti disbursed US$ 160 million precisely for Coral South, and its internal climate and environment policy - although it excludes the possibility of financing oil extraction projects – does not prohibit it from supporting LNG projects such as Rovuma. All these are not very comforting signs.
Then there is Intesa Sanpaolo, Italy's first bank and in the top-30 globally, also known as 'Italy's No.1 climate enemy bank' for its mix of financing and investment in the fossil industry, which has yet to make public amends for contributing to Italy's energy dependence on the Russian Federation, whose oil & gas industry is the coffer of Putin's war effort in Ukraine. The banking group's financing to Eni between 2016 and 2021 amounts to US$ 3.4 billion, plus US$ 222 million to ExxonMobil. Then there are the investments through shares and bonds: US$ 336 million in Eni and US$ 67 million in the US multinational corporation, sealing the fossil pact between the Turin giant and the fossil industry.
Like UniCredit, Intesa could also be in the game for the financing of Rovuma, not only because of its ties with Eni and Exxon but also because in 2017 UBI Banca, now part of the Intesa Sanpaolo group, participated in the financing of Coral South with USD$ 110 million. Moreover, the banking giant has always been 'interested' in LNG terminals, having financed various projects of this kind in every corner of the globe, especially in the United States. An interest so strong that its climate policy makes no mention of when it will stop supporting LNG projects. Finally, it is worth mentioning how Intesa is the third shareholder of Saipem, a company in which Eni holds 31% of the shares, specialised in the construction of oil & gas projects and which could be approached for the construction of Rovuma LNG, having already done so for Mozambique LNG and having contributed to the maintenance work for Coral South.

The ultimate guarantor – in the true sense of the word – of Rovuma LNG could be SACE, the Italian export credit agency controlled by the Ministry of Economy and Finance. SACE's main activity is to issue guarantees – a public insurance whose beneficiaries can be either multinational companies, whose projects abroad can be insured, or commercial banks, whose loans to the companies' foreign projects can be guaranteed. If things go wrong, SACE reimburses the companies or the banks that have lent money to the companies for their foreign projects: in both cases with public money.
Between 2016 and 2021, SACE issued guarantees to oil&gasprojects totalling EUR 13.7 billion. These projects include Coral South FLNG in the amount of USD 700 million and Mozambique LNG in the amount of USD 950 million. In the first case, SACE issued a guarantee on the loans of UBI Banca (now Intesa Sanpaolo Group) and UniCredit, which were involved with other international banks in financing the project. In a context characterised by violence and strong instability such as that in Mozambique, it is practically impossible for banks to lend money without the involvement of agencies such as SACE.
To make the situation more serious, so much so that it becomes grotesque, if SACE were to be in the game for Rovuma LNG there would be a possible case of conflict of interest. The reason is quickly stated: Filippo Giansante, President of SACE, is also a member of Eni's Board of Directors.
The overall picture does not bode well, with Italian private and public finance ready to support yet another fossil project that will cause irreversible environmental, economic and social consequences. Out of our sight, and therefore tolerable.
There is only one way to avoid this legacy of rubble, the reputational and economic backlash: withdraw from the financing of Rovuma LNG and declare it publicly.

Note: The data, as of 01.01.2022, were compiled by ReCommon on the basis of financial research conducted by Profundo B.V
There are no active project profiles for this item now.
There are no active company profiles for this item now.