New BankTrack Equator Principles reporting tracking tool launched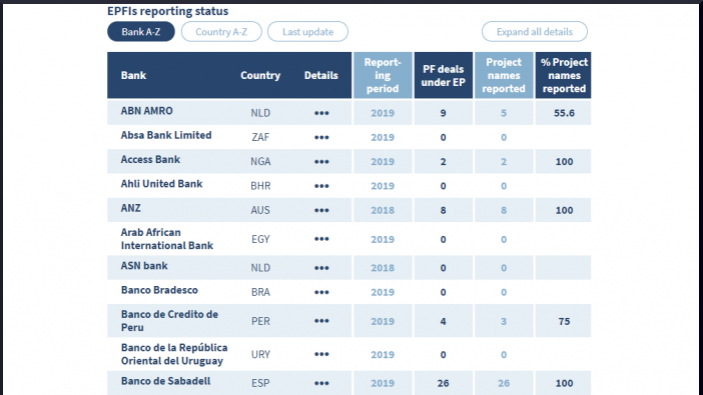 EPFI reporting status table. Photo: BankTrack
In a continued effort to track the proper implementation of the Equator Principles (EPs), BankTrack has created a new table tool which highlights the reporting status of Equator Principle Financial Institutions (EPFIs), and updated the Equator Principles project database.
The table tool tracks the extent to which EPFIs are reporting project names, showing for each EPFI: how many project finance transactions were reported; how many project names were reported; and the percentage of project names reported.
The project database provides the names of all project finance transactions reported by EPFIs since 2014, when project name reporting began, and is fully searchable by bank, project name and year. The new update adds some project finance transaction names from 2019 and early 2020.
Despite the requirement for EPFIs to publicly disclose names of projects to which they have provided project finance loans under the Principles each year, project name reporting remains patchy. It is also still subject to obtaining client consent, which results in many project names not being publicly reported. This problem could be solved by EPFIs requiring the project name to be reported as a requirement of the loan agreement.