---
Created on:
2017-02-06 16:41:08
Last update:
2017-04-18 12:37:08
---
Share this page:
---
About Bankinter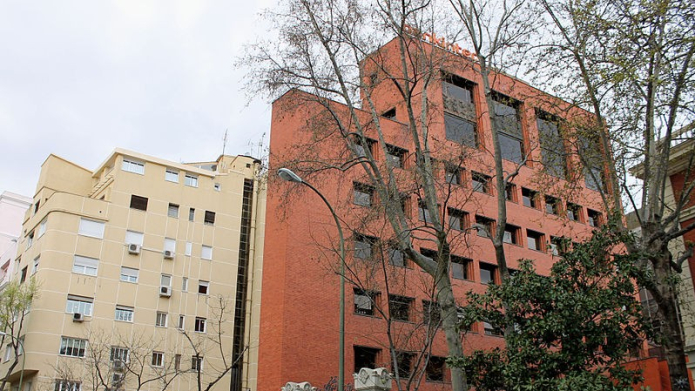 Bankinter head office in Madrid. Photo: Luis Garcia via Wikimedia Commons (CC BY-SA 3.0)
Bankinter is a Spanish commercial bank which was founded in June 1965 through a joint venture by Banco Santander and Bank of America. In 1972 the bank listed on the Madrid Stock Exchange, becoming a fully independent commercial bank. Bankinter provides various banking products and services for both private and corporate customers in Spain and internationally. At the end of 2015 Bankinter controlled assets worth EUR 58.6 billion.
Bankinter became an Equator Principles signatory in 2016, and is profiled as part of BankTrack's Equator Principles Track and Chase project.
Related Dodgy Deals
Bankinter has been linked to the following "Dodgy Deals", e.g. as a current or past financier or through an expression of interest. Find out more about dodgy deals
here
. See the project or company profile for more details on the nature of the bank's link to the Dodgy Deal.
Projects
There are no projects active for Bankinter now.
Documents
| | | | | | | | | | | |
Type:
Year:
Policies
Voluntary initiatives
Bankinter has committed itself to the following voluntary standards:

Investment policies
An overview of Bankinter's investment policies can be seen here.
Year:
Issues
Bankinter and the Equator Principles
The Equator Principles are a voluntary commitment of banks to try to avoid or minimise the social, environmental and human rights impact of projects they finance. For more information on the Equator Principles see their website here and the campaign page of BankTrack here.
The Equator Principles exist already since 2003. Bankinter adopted the Equator Principles in 2016.
Reporting on the Equator Principles
Bankinter must report annually on its implementation of the Equator Principles. All information is supposed to be found here.
Equator Principles
Implementation and reporting