---
Active
This profile is actively maintained
---
Created on:

2017-02-06 16:41:08


Last update:

2022-05-11 10:51:01



---
Send
feedback
on this profile
Download as
PDF
---
Share this page:
---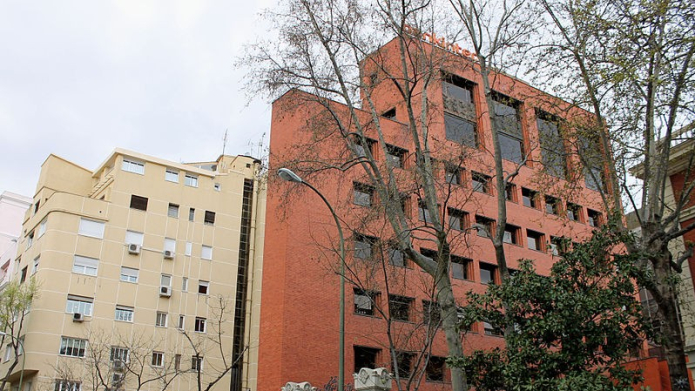 Bankinter's head office in Madrid. Photo: Luis Garcia via Wikimedia Commons (CC BY-SA 3.0)
About Bankinter
Bankinter is a Spanish commercial bank which was founded in June 1965 through a joint venture by Banco Santander and Bank of America. In 1972 the bank was listed on the Madrid Stock Exchange, becoming a fully independent commercial bank. Bankinter provides various banking products and services for both private and corporate customers in Spain and international. Bankinter became an Equator Principles signatory in 2016.
Related Dodgy Deals
Bankinter has been linked to the following "Dodgy Deals", e.g. as a current or past financier or through an expression of interest. Find out more about dodgy deals
here
. See the project or company profile for more details on the nature of the bank's link to the Dodgy Deal.
Dodgy Deals map
All
|
Projects
|
Companies
Targets
|
Active profiles
|
On record profiles
Policy Assessments
Tracking the Equator Principles
Explanation
Project name reporting status of Equator Principles signatories for each financial institutions' most recent reporting period. Where there is no percentage presented the EPFI has not reported having financed any project transactions in that reporting period.
Banks and Climate
Bank net zero commitments
Explanation
This table tracks the net zero pledges and commitments of banks. It shows whether banks have committed to net zero by 2050 and have set an interim emissions reduction goal for 2025 and/or 2030. It also notes banks that have not yet set targets but have pledged to do so in the future, including by joining the Collective Commitment to Climate Action or Net Zero Banking Alliance. Finally, it notes whether banks have (pledged to) set Science-Based Targets. More information and references can be found by expanding the 'details' section of each bank.
A blue check mark means the bank has set a target or joined the alliance. A check mark does not mean that the target set by the bank meets any particular standard, just that is has set a target. In case we have identified short comings in the target, for example when it only applies to lending and not underwriting), this is noted in the 'details' section.
An orange dash means a bank has pledged to set a target (for example, banks commit to set 2030 and 2050 targets when they join the NZBA), but have not yet actually done so.
Abbreviations:
CCCA = Collective Commitment to Climate Action
NZBA = Net Zero Banking Alliance
SBT = Science-Based Targets
Links
Policies
Voluntary standards
Bankinter has committed itself to the following voluntary standards:

Investment policies
Bankinter's webpage on corporate social responsibility can be accessed here.
Year:
Equator Principles
Implementation and reporting