Twenty percent of Dominican Republic territory at risk from fossil fuel auction, banks warned to steer clear
---
2019-11-26
Nijmegen, the Netherlands
CNLCC, Re:Common, BankTrack
---
Enrique de Leon, National Committee against Climate Change (Spanish only)
---
Share this page:
---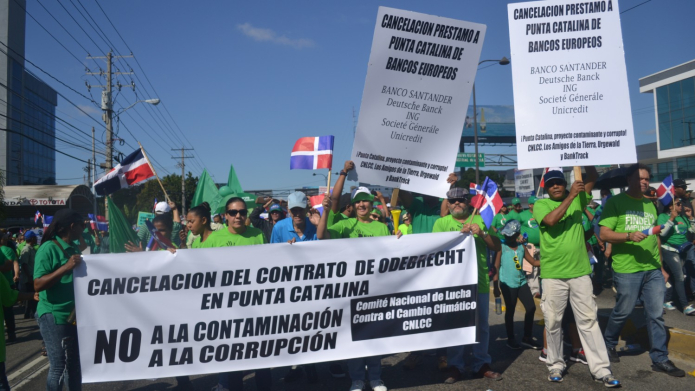 Dominicans have mobilised en masse against Punta Catalina corruption. Photo: Dominican National Committee to Combat Climate Change (CNLCC)
Ahead of the auctioning tomorrow (November 27) of exploration licenses for 14 onshore and offshore oil and gas blocks in the Dominican Republic, environmental groups are warning commercial banks not to financially back companies which may end up being awarded licenses.

Dominican group National Committee against Climate Change (CNLCC), Re:Common and BankTrack have raised concerns over the major climate risks and adverse environmental and social impacts which would result from the opening up of fossil fuel blocks in the country's Cibao, Enriquillo, Azua, and San Pedro basins.

The proposed hydrocarbon blocks together cover more than 20 percent of Dominican territory.

Tomorrow's auction in Houston, Texas will be held by Dominican Republic's Ministry of Energy and Mines which is being assisted by the global natural resources consultancy Wood Mackenzie. Antonio Isa Conde, the minister responsible, has so far confirmed that only the US oil company Apache has prequalified for the auction.

CNLCC has called on the Congress of the Dominican Republic to question the minister in order to shed light on the contractual commitments the government may enter into with prospective oil companies. The licensing round has been shrouded in secrecy, and CNLCC has argued for the auction to be suspended or postponed until there is more transparency and until the population has a final say in the destiny of the country's natural resources.

Enrique de Leon, of the National Committee against Climate Change, said:

"It beggars belief that Antonio Isa Conde and his ministry have the unchecked power to reach agreements with foreign companies in a closed and secretive bidding process for oil and gas exploration licenses. These projects could result in severe impacts for the Dominican people, for tourism and the national economy, not to mention the dire climate change implications if these resources are tapped.

"Our national parliament has to have oversight of and a decisive say in the shaping of contracts which could affect both our national sovereignty and the resources which belong to the Dominican people. This auction in Texas should not be proceeding before our parliament is informed properly and comes to a verdict, and a national referendum then has the final say."

CNLCC, Re:Common and BankTrack have worked closely over the last four years to challenge the highly controversial Punta Catalina coal plant in Dominican Republic and the financing role in the USD 2 billion project played by a consortium of European banks comprising Deutsche Bank, Société Générale, ING, Santander and UniCredit.

The project has been directly implicated since 2016 in the global corruption scandal involving the Brazilian construction company Odebrecht, which received the Punta Catalina contract due to an opaque, allegedly criminal tendering process. As a result, the European banks were compelled in 2018 to freeze their project finance disbursements, with ING the only member of the consortium to have acknowledged publicly that it has sold its stake in the project.

Antonio Tricarico, of Re:Common, said:

"The Punta Catalina scandal is still not resolved after several years, and here we are again. More colossal fossil fuel development, in highly dubious circumstances, is threatening the environmental, social and economic rights of Dominicans, right at the moment when climate science is telling us very clearly that oil and gas have to stay in the ground.

"Due diligence was clearly lacking from those European banks which chose to get involved in the Punta Catalina project. All banks should now save themselves a lot of reputational and financial risk by distancing themselves sooner rather than later from yet another outrageous fossil fuel fiasco in the Dominican Republic."

Greig Aitken, of BankTrack, said:

"At what point do banks draw the line on egregious fossil fuel financing? The likes of Citi, JPMorgan Chase, HSBC, Credit Suisse and Goldman Sachs are happy to fill their boots by arranging the IPO of Saudi Aramco, the world's biggest corporate polluter. But as devastating climate change impacts intensify around the world, pulling back from endorsing the destruction of 20 percent of a developing country's territory through fossil fuel exploitation has to be that line, especially when the Dominican Republic has extensive and known renewable energy potential crying out for financial support."

Notes for editors:

1. Based on available information (see, for example, this map published in Oil & Gas Journal), CNLCC estimates that the 14 proposed hydrocarbon blocks cover over 20,000 square kilometres onshore and offshore. This equates to at least 20 percent of Dominican Republic's land and maritime platform.