Re:Common: "UniCredit breached its own coal policy and supports oil & gas expansion"
On the occasion of UniCredit's 2021 Shareholders' Meeting, Re:Common reports important regressive developments in climate commitments taken by the Italian bank
2021-04-15 | Rome
ReCommon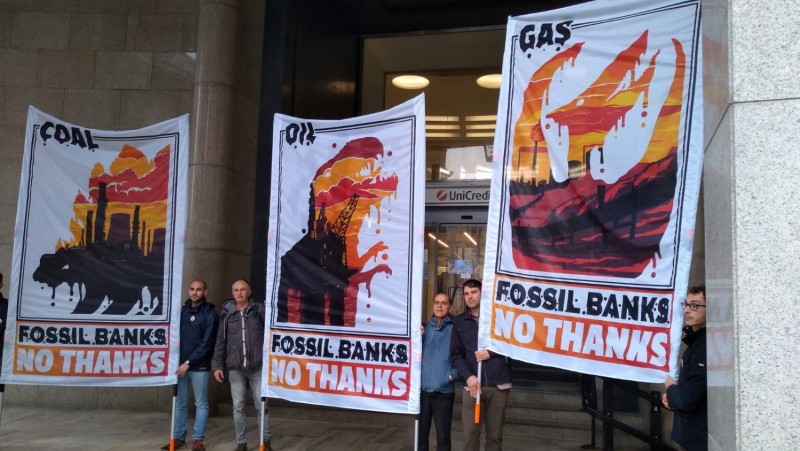 Fossil Banks No Thanks campaign at the UniCredit Annual General Meeting, 2019. Photo: BankTrack
2021-04-15 | Rome
ReCommon
On the occasion of UniCredit's 2021 Shareholders' Meeting, Re:Common reports important regressive developments in climate commitments taken by the Italian bank.
Despite its positioning on coal, a first-class commitment acknowledged at global level, UniCredit failed to meet the commitments on coal exclusion provided by its policy. Two weeks ago, together with other international banks, the Italian group was involved in a loan arrangement to the Czech energy group EPH, for a total amount of €1 billion.
EPH is widely known for its bad habit of buying obsolete and polluting coal assets in order to prolong their operation. The Czech group is the owner of the Fiume Santo coal power plant (Sardinia), one of the main sources of pollution in the northern part of the island. Since EPH is expanding its business with the acquisition of the Schkopau plant, owned by Uniper, this loan may configure as a breach of UniCredit's policy, which provides for the end of financial relations with all those companies that are expanding the their coal business.
In addition to this, in 2020 alone, a remarkably difficult year because of the Covid-19 pandemic, UniCredit decided to provide loans and underwriting services to oil&gas companies, for a total amount of €5.8 billion. Furthermore, in the same year, UniCredit has experienced five-fold growth (from 60 to 340 € million) in financing in those companies that are expanding their fossil fuel business with projects promoting the exploration, production and transport of hydrocarbons.
Eni, Total and Repsol are some of the companies that have benefited most from UniCredit's financial services.
Because of the amount of loans granted in recent years, 348 million euros in 2020 alone, UniCredit ranks among the major financial supporters of the French oil major Total that is expanding its fossil fuel business with projects in the Arctic and with the construction of the East African Crude Oil Pipeline (EACOP). Recently, financial players such as Barclays and Credit Suisse have ruled out any future funding to EACOP. Conversely, urged by Re:Common, UniCredit has not publicly declared its intention to abandon the financing of the project.
As for the Arctic, UniCredit's policy excludes the possibility of financing companies and projects active in the region, however only if they are offshore. Onshore project financing is indeed allowed, a sector where Total is present and active in partnership with the Russian Novatek.
Furthermore, it is ambiguous that a relevant number of investment funds proposed the nomination of Dr. Vincenzo Cariello as Board Member of UniCredit. Cariello is outgoing Board Member of UniCredit and a Board Member of A2A, an Italian multi-utility company owning, among others, the coal-fired power plant of Monfalcone that is planned to be converted to fossil gas.
"If UniCredit is seriously committed to take a stand to tackle the climate crisis, its coal policy must be exercised in every single financial transaction", affirms Simone Ogno, Campaigner at Re:Common. "We also urge the Italian bank to approve a robust policy on oil and gas, by improving criteria on non-conventional sectors - including the Arctic - and excluding investments and financing to those companies that are expanding their business with new projects of exploration, production or transport of fossil fuels'', he concludes.
Particularly this year, with a hosting role of international events like the G20 and COP 26, the world will have its eye on Italy and its efforts to promote climate and ecological transition. Financial players must play their part in raising ambition on climate commitments, UniCredit included.
There are no active company profiles for this item now.