More than half of Europe's bank directors too compromised to end fossil fuel finance
2021-04-07
DeSmog
Mat Hope
UK Editor DeSmog
+44 7955 002 586 / +254 796 734 758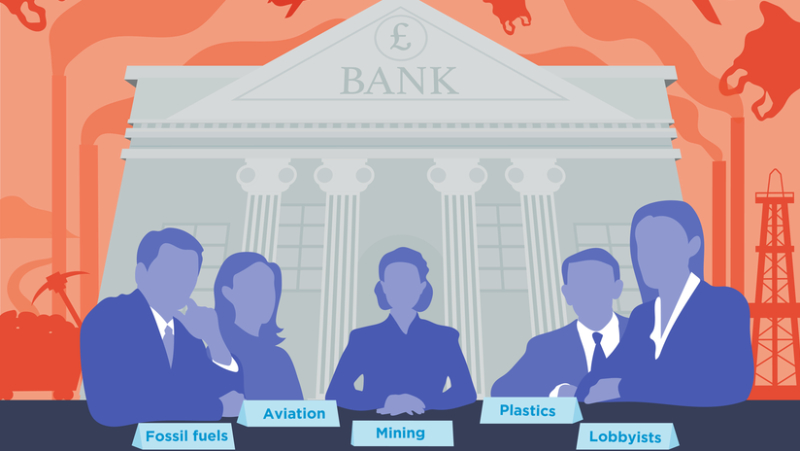 DeSmog investigation: Climate-Conflicted Board Directors . Photo: DeSmog
2021-04-07
DeSmog
Mat Hope
UK Editor DeSmog
+44 7955 002 586 / +254 796 734 758
More than half of Europe's bank directors have affiliations to highly carbon dependent companies and organisations, a new analysis has found1, raising concerns for the prospect of actually ending financing of fossil fuels.
DeSmog's analysis revealed that 61% of directors in 15 boardrooms of major banks across the continent risk being climate-conflicted due to having held positions with polluting companies and organisations, with more than a third of those (34%) currently holding such roles.2
The fossil fuel industry is well represented on bank boards, with 17% of directors having held positions at polluting energy companies, including oil giants Shell, BP and Exxon. At five of the banks, at least 20% of the boardroom had links to companies identified by the Climate Action 100+ initiative as some of the worst global polluters.3,4 And at least one director with ties to companies involved in the extraction of coal, the most polluting fossil fuel, was found on the board of seven of the banks.5,6
Some directors had long histories of working with the fossil fuel industry, including Crédit Agricole director Caroline Catoire, who sits on the board of oil and gas exploration company Maurel & Prom. Catoire previously worked for 18 years at oil giant Total, including as the company's Director of Corporate Finance, coinciding with Société Générale director Jerome Contamine, a current director at Total who previously worked in its exploration and production division. European oil giants Shell, ENI, Repsol and OMV were also represented through past and current ties to board members.7
| Bank | % of board directors with climate-conflicting ties |
| --- | --- |
| ABN AMRO | 100% |
| Lloyds | 91% |
| HSBC | 87% |
| Credit Suisse | 85% |
| Barclays | 83% |
| Santander | 81% |
Geoffrey Supran, Research Associate in the Department of the History of Science at Harvard University, said the existence of such ties is "predictable, yet shocking".
"The fossil fuel industry has a well-established track record of ingratiating itself with society's opinion leaders and decision makers, and because of the revolving doors between the corporate leaderships of incumbent industries. Having its fingers in all the pies allows the fossil fuel industry to quietly put its thumb on the scales of institutional decision making, helping delay action and protect the status quo," Supran added.
Directors were also found to have extensive connections to institutions known for financing fossil fuels. The analysis revealed that over one in four (28%) directors had held positions at banks known to be major supporters of fossil fuel extraction, with 14% having held positions with investment vehicles known to support polluting activities.8
Credit Suisse had the highest proportion of directors (38%) with ties to such banks and investment vehicles, including directors with past connections to a number of the world's largest financers of fossil fuels including Bank of America, Citigroup and Barclays. For instance, Credit Suisse director Michael Klein has used his decades' experience in finance to advise on major oil and gas deals, including Saudi Aramco's recent IPO. Three directors at the Spanish bank Santander had worked for JPMorgan Chase, which has provided over $317 billion in financing for oil, coal and gas projects since 2015.9
Three out of 13 (23%) of Credit Suisse's board also had experience working for think tanks, lobby groups and other organisations that have campaigned against climate action or have connections to the fossil fuel industry, including the European Roundtable of Industrialists, which has previously opposed increasing the ambition of the EU's carbon pricing system, and the International Chamber of Commerce which has allowed member oil and gas companies to gain privileged access to U.N climate talks.10 Other think tanks and lobby groups represented include AFEP, a powerful French group of which Total and Saint Gobain are members, and the CCE, a Mexican business group that last year worked with the government on the delivery of major infrastructure packages including new fossil fuel projects.11
While the directors' climate-conflicted affiliations were predominantly in the finance and fossil fuel sectors, there were also notable connections to other high carbon industries. For example, nearly one in four (23%) board members at Danske Bank had links to the shipping sector,12 including the world's largest container shipping company Maersk, responsible for an estimated 36 million tonnes of CO2 emissions a year.13 And more than a quarter (27%) of directors of Spanish bank BBVA had worked with aviation companies,14 while in Intesa Sanpaolo's boardroom, one in four directors (26% of the board) held ties to the road transport sector including major car producers Fiat and General Motors.15
The full press release can be viewed here.
Notes for editors
DeSmog is an investigative journalism platform dedicated to uncovering corporate wrongdoing on environmental issues. The UK team was established in 2014, with its investigations regularly being featured in mainstream media across the world. See www.desmog.co.uk.
DeSmog analysed 15 banks headquartered in Europe: ABN Amro, BBVA, BNP Paribas, Commerzbank, Crédit Agricole, Credit Suisse, Danske Bank, Deutsche Bank, ING, Intesa Sanpaolo, Nordea, Santander, Société Générale, UBS, Unicredit.
An affiliation was classified as 'climate-conflicted' if the sector in which the company predominantly participates is infamously polluting, including: fossil fuel energy exploration/production/generation, agriculture, aviation, road transport, mining, plastics and chemicals, forestry and paper production, construction, and shipping. In addition to this, an affiliation was classified as 'climate conflicted' if the company is included on the Climate Action 100+ list, Global Coal Exit list, Break Free From Plastic index, Bank Track's "Fossil Banks" listings, DeSmog's Climate Disinformation Database or scored poorly in an InfluenceMap profile or - if an investment company - was found to have polluting projects in its portfolio.
Climate Action 100+ (CA100+) launched in 2017 as an investor-led initiative that engages with the world's largest corporate greenhouse gas emitters to take necessary action on climate change. The initiative identifies 167 companies, all among the world's top emitters, as being crucial to investor efforts to tackle climate change.
At least 20% of directors at ABN AMRO, BNP Paribas, Deutsche Bank, Danske Bank and Société Générale had ties to CA100+ companies.
At least one director with links to GCEL companies was represented on the board of seven of the 15 banks. These were BBVA, BNP Paribas, Deutsche Bank, ING, Intesa Sanpaolo, Santander and Société Générale.
The Global Coal Exit List (GCEL) was established to help financial institutions phase out investments in the coal industry, by providing key statistics on over 900 parent companies and 1,800 subsidiaries operating along the thermal coal value chain.
Arjen Dorland (ABN Amro), held various roles at Shell from 1986 - 2015. Gerrit Zalm (Danske Bank) has been director at Shell since 2013. Gian Maria Gros Pietro, (Intesa Sanpaolo) is former Chair of ENI, while his fellow board member Paolo Andrea Colombo is a former director at the company. Mariana Gheorghe (ING) was CEO and President of OMV Petrom, the Romanian subsidiary of OMV AG from 2006 - 2018. Juan Maria Nin Genova (Société Générale) was a director until 2015 of Repsol.
Details of the largest financers of fossil fuels can be found on Bank Track's lists of "Fossil Banks" and "Fossil Finance".
Santander directors Bruce Carnegie Brown, Ana Botin-Sanz de Sautola y Shea and Luis Isasi Fernandez de Bobadilla previously held roles at JPMorgan.
For more information see Influence Map's European Roundtable of Industrialists profile and DeSmog's reporting on the International Chamber of Commerce here and here.
Saint Gobain is a French multinational company which manufactures construction, high performance and other materials and is included on the CA100+ list of major emitters. CCE (el Consejo Coordinador Empresarial, the "Business Coordinating Council) is a Mexican business group which in 2020 worked with the Mexican government to prepare infrastructure packages with a number of energy projects including a new LNG terminal and six new combined-cycle power plants.
This includes Danske Bank board member Lars Erik Brenoe, who is the Executive Vice President of AP Moller-Maersk (more commonly known as Maersk) and chair of maritime investment body Navigare Capital Partners and Jan Thorsgaard Nielsen, who is current CIO of AP Moller Holding, parent company for Maersk and its affiliated companies.
Maersk's emissions amounted to almost 35.5 million tonnes of CO2 equivalent in 2018, according to its sustainability report of that year.
This includes Onur Genc, BBVA board member and CEO and a former financial analyst at American Airlines and BBVA board members Lourdes Maiz Carro and Jose Maldonado Ramos who are former Board Secretaries of the Spanish airline Iberia. Ramos was previously board secretary at former Spanish airline Aviaco.
Chair of the board of Intesa Sanpaolo, Gian Maria Gros Pietro, was director of Fiat from 2005 - 2014. Deputy Chair, Paolo Andrea Colombo was formerly director of Pirelli Pneumatici. Board member Maria Cristina Zoppo previously advised General Motors. Board member Milena Teresa Motta was a statutory standing auditor for auto parts company Brembo.