New report: Canadian bank RBC the #1 financier of fossil fuels, world's biggest banks continued to pour billions into fossil fuel expansion
Annual Banking on Climate Chaos report follows the money and details massive bank support for the world's worst climate-destroying corporations
2023-04-13 | San Francisco
BankTrack, urgewald, Indigenous Environmental Network, Oil Change International, Rainforest Action Network, Reclaim Finance & Sierra Club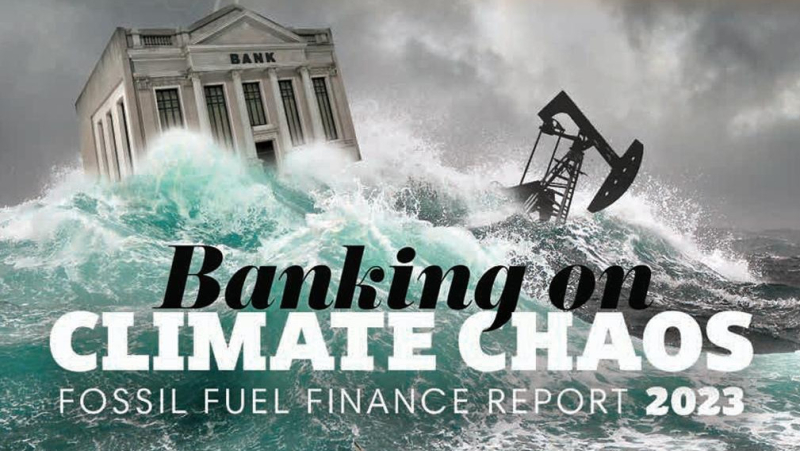 2023 Banking on Climate Chaos report cover. Photo: Banking on Climate Chaos
2023-04-13 | San Francisco
BankTrack, urgewald, Indigenous Environmental Network, Oil Change International, Rainforest Action Network, Reclaim Finance & Sierra Club
The 14th annual Banking on Climate Chaos report, the most comprehensive global analysis on fossil fuel banking, reveals the truth of banks' commitments to the climate by examining their financing of the fossil fuel industry.
For the first time since 2019, a Canadian bank is the #1 annual financier of fossil fuels rather than US bank JP Morgan Chase. Royal Bank of Canada (RBC) showered fossil fuel projects with US$ 42.1 billion dollars in 2022, including US$ 4.8 billion for tar sands and $7.4 billion into fracking. Canadian banks are becoming the banks of last resort for fossil fuels, providing US$ 862 billion to fossil fuel companies since the Paris Agreement. RBC continues to bankroll expansion projects like the Coastal GasLink fracked gas pipeline. That project violates human rights and Indigenous sovereignty, and has proceeded without consent from Wet'suwet'en Hereditary leadership.
The report shows that overall, U.S. banks dominate fossil fuel financing, accounting for 28% of all fossil fuel financing in 2022. JPMorgan Chase remains the world's worst funder of climate chaos since the Paris Agreement. Citi, Wells Fargo, and Bank of America are still among the top 5 fossil financiers since 2016.
In the seven years since the Paris Agreement was adopted, the world's 60 largest private banks financed fossil fuels with US$ 5.5 trillion. The report lays bare the shocking fact that even as fossil fuel companies made US$ 4 trillion in profits in 2022, banks still provided US$ 673 billion in financing. Remarkably, this happened while oil majors like Exxon Mobil and Shell PLC asked for US$ 0 financing from banks in 2022.
While Europeans and Ukrainians called for a transition to renewables to stop funding Russian atrocities, fossil fuel companies doubled down on expansion and weakened their climate commitments. The top 30 companies expanding LNG used the crisis to secure nearly 50% more financing in 2022 compared to 2021 from the banks in the report — even as most energy experts agree that the LNG expansion plans in Europe are unnecessary, and new projects would contribute to a supply glut and long-term dependence on this fossil fuel.
The report includes detailed maps of this explosion of expansion projects in the US Gulf Coast and the Philippines. It also features case studies of climate leaders in Myanmar and the Philippines who are resisting the devastating effect of fossil fuel expansion.
Global banks' net zero pledges have netted nothing so far, according to the report. Forty nine of the 60 banks profiled in the report made net zero commitments, but most are not paired with rigorous policies excluding finance for fossil fuel expansion. The policies contain many loopholes that allow banks to continue financing fossil fuel clients. Banks with restrictions on Arctic project financing, for example, nevertheless financed ConocoPhillips, which is developing the Willow project in the Arctic, the largest proposed oil project in the United States.
As the Intergovernmental Panel on Climate Change affirmed in its March 2023 report, to give humanity a chance at avoiding unacceptable harm to millions of people alive today and countless generations to come, fossil fuel expansion must stop, and use of fossil fuels across all sectors must decline sharply. They assert that the window of opportunity to remain below 1.5˚C and to build a secure, liveable, and sustainable future is rapidly closing.
Banking on Climate Chaos is authored by Rainforest Action Network, BankTrack, Indigenous Environmental Network, Oil Change International, Reclaim Finance, Sierra Club, and Urgewald. Over 550 organizations from more than 70 countries around the world endorsed the report and are calling on banks to stop funding climate destruction.
Fossil fuel sector trends
Expansion: The 60 banks profiled in this report funneled $150 billion in 2022 into the top 100 companies expanding fossil fuels, including TC Energy, TotalEnergies, Venture Global, ConocoPhillips, and Saudi Aramco.
Liquefied Natural Gas (LNG): The top bankers of liquefied "natural" gas (LNG) in 2022 were Morgan Stanley, JPMorgan Chase, Mizuho, ING, Citi, and SMBC Group. Overall finance for LNG increased nearly 50% from US$ 15.2 billion in 2021 to US$ 22.7 billion in 2022.
Tar sands oil: The top tar sands companies received US$ 21.0 billion in financing in 2022, led by the biggest Canadian banks, who provided 89% of those funds. TD, RBC, and Bank of Montreal top the list.
Arctic oil and gas: Chinese banks ICBC, Agricultural Bank of China, and China Construction Bank led financing for Arctic oil and gas, which totaled US$ 2.9 billion for the top companies in this sector in 2022. 26 banks are still financing Arctic oil and gas, including U.S. banks JPMorgan Chase, Citi, and Bank of America.
Amazon oil and gas: Spanish bank Santander leads financing for companies extracting in the Amazon biome, followed closely by U.S. bank Citi. Financing totaled US$ 769 million in 2022.
Fracked oil and gas: Finance for fracking companies totaled US$ 67.0 billion dollars in 2022, which is an 8% increase over the financing reported in 2021 for the top fracking companies. This increase is especially disturbing given the extreme methane emissions from fracking. RBC and JPMorgan Chase are the top financiers of fracked oil and gas for 2022 and since the Paris Agreement.
Offshore oil and gas: European banks BNP Paribas, Crédit Agricole, and Japanese bank SMBC Group top the list of worst financiers of offshore oil and gas for 2022. Financing totaled US$ 34 billion in 2022.
Coal mining: Of the US$ 13.0 billion in financing that went to the world's 30 largest coal mining companies, 87% was provided by banks located in China, led by China CITIC Bank, China Everbright Bank, and Industrial Bank.
Coal power: Of the financing to the world's top 30 companies in coal power, 97% of financing was provided by Chinese banks. These companies, which have plans to expand coal power capacity, received US$ 29.5 billion from the profiled banks in 2022.
Full data sets – including fossil fuel finance data, policy scores, and stories from the frontlines – are available for download at bankingonclimatechaos.org.
BOCC quotes from authoring, frontline, and key organizations:
April Merleaux , Research and Policy Manager at Rainforest Action Network: (co-author)
"Our window of opportunity for keeping global warming below 1.5ºC is closing fast. We need a people-centered energy transition now. Profits now are a false economy because we simply cannot afford to continue burning fossil fuels – the costs down the road will be devastating. Fossil fuel companies are the ones dousing the planet in oil, gas, and coal, but big banks hold the matches. Without financing, fossil fuels won't burn."
Gerry Arances, Executive Director at Center for Energy, Ecology & Development (CEED): (frontline partner)
"The more financing banks pour on fossil fuel companies and projects, the less hope climate-vulnerable peoples like communities in the Philippines have of a livable future. Right now, a devastating oil spill is sweeping through a biodiversity hotspot in our country known as the Verde Island Passage, our very own Amazon of the oceans which is also unfortunately the epicenter of fossil gas expansion in the country. It's a stark reminder of the destruction that coal, gas, oil, and all other fossil fuels are capable of wreaking upon the environment and people, and banks like JPMorgan Chase and investors like Blackrock are bankrolling that destruction."
Maaike Beenes, Campaign lead Banks and Climate at BankTrack: (co-author)
"Banks took an irresponsible gamble with our climate by nearly doubling their financing for fossil gas infrastructure/ LNG in the last year, and the Netherlands' own ING was one of the worst offenders. These gas projects will not be able to address Europe's short-term energy needs or reduce household bills – instead they will lock us into dependence on fossil fuels for decades. We need banks to stop financing fossil fuel expansion and rapidly increase their financing for cheaper renewable energy, to help keep bills down and help stop our reliance on Russian gas."
Tom BK Goldtooth, Executive Director, Indigenous Environmental Network: (co-author)
"Banks and financial institutions need to be held accountable for their role in financing false solutions that cause serious life-threatening intensity and threats to Indigenous Peoples worldwide. Their lack of transparency and greenwashing finances false solutions like carbon offsets through fake net-zero emissions claims. As Indigenous Peoples, we are on the frontlines of climate change and continue to be targeted by carbon brokers who want to enclose Indigenous lands and territories and justify more finance to the fossil fuel industries. True climate action requires keeping fossil fuels in the ground, ensuring for the rights and sovereignty of Indigenous Peoples and demanding banks, investors and financial institutions are no longer lighting the flame of climate chaos by funding fossil fuel development and expansion."
David Tong, Global Industry Campaign Manager at Oil Change International: (co-author)
"It is past time for banks to stop funding fossils. Peer reviewed research confirms that we cannot burn all the oil and gas in fields and mines operating now if we are to limit warming to 1.5ºC or even 2ºC – and yet banks keep fueling the climate crisis by pouring billions into the fossil fuel industry. The big oil and gas companies that have done the most to fuel the climate crisis cannot be trusted to phase out their own extractive, polluting business model. The fundamental arithmetic of 1.5ºC requires oil and gas production to decline by at least 3-4% per year, starting now. It's time for banks to take real action and stop funding climate destruction."
Lucie Pinson, Director at Reclaim Finance: (co-author)
"The era of French leadership is over. Crédit Mutuel has watered down its commitment to stop supporting oil and gas expansion, while BNP Paribas and Crédit Agricole are among the few banks that have increased their financing for fossil fuels last year. They have provided billions to the oil and gas majors, money that is associated with human rights abuses and destined to fuel climate change. The approach that the banks have embarked on is not only doomed to failure, it is also a recipe for suffering. They must quickly match their decarbonisation targets with immediate action to stop oil and gas expansion."
Adele Shraiman, senior campaign representative for the Sierra Club's Fossil-Free Finance campaign: (co-author)
"In a critical year for climate action, fossil fuel giants doubled down on reckless expansion projects and walked back their climate commitments. Meanwhile, major US banks stalled on their net-zero plans and failed to adopt stronger and more robust financing restrictions for companies pushing unsustainable fossil fuel expansion. As big banks face shareholder votes in the coming weeks, we will keep up pressure on banks and investors to adopt credible policies to achieve their climate commitments and take real steps to accelerate the clean energy transition."
Richard Brooks, Climate Finance Director at Stand.earth: (key organization)
"It's obscene that the Royal Bank of Canada is now the world's dirtiest banker for fossil fuels – CEO Dave McKay should be ashamed. While we work to advance climate action at all levels, RBC is moving in completely the wrong direction, dragging our climate ambitions backwards and positioning Canadian banks as fossil fuels' lenders of last resort. Publicly, RBC spends millions on greenwashed advertising, claiming support for Indigenous rights. In reality, the bank is polluting our communities, bankrolling climate chaos and Indigenous rights violations to the tune of billions. RBC's greedy fossil fuel financing is a clear signal for the need for increased regulation and aggressive pressure from shareholders and customers."
Katrin Ganswindt, Head of Finance Research at Urgewald: (co-author)
"To keep financing coal, oil and gas companies that still expand their dirty operations means to fuel climate destruction. Banks must drop energy companies that cannot or will not rethink their environmentally catastrophic business models. In particular, supposedly climate-conscious banks, like members of the Net-Zero Banking Alliance, need to close the fossil fuel expansionists' money tap once and for all."
Download the full report here.
For more information about European banks, please see here.
There are no active project profiles for this item now.
There are no active company profiles for this item now.