---
Active
This profile is actively maintained
---
Created before Nov 2016
Last update:

2023-01-12 12:16:21



---
---
Send
feedback
on this profile
Download as
PDF
---
Share this page:
---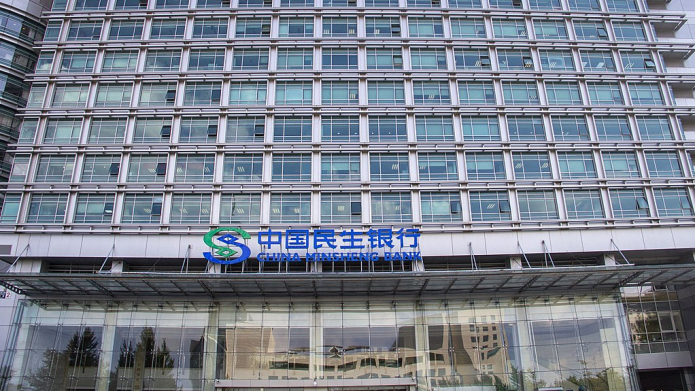 China Minsheng Bank's head office. Photo:
維基小霸王 via Wikimedia Commons (CC BY SA 4.0)
About China Minsheng Bank
China Minsheng Bank was founded in 1996 by Jing Shuping, a Chinese lawyer and businessman. It is the first bank in China to be owned mostly by non-government run private enterprises. China Minsheng Bank has over two hundred banking outlets throughout China, the bank serves mainly small-medium enterprises.
Related Dodgy Deals
China Minsheng Bank has been linked to the following "Dodgy Deals", e.g. as a current or past financier or through an expression of interest. Find out more about dodgy deals
here
. See the project or company profile for more details on the nature of the bank's link to the Dodgy Deal.
Dodgy Deals map
All
|
Projects
|
Companies
Targets
|
Active profiles
|
On record profiles
Policy Assessments
Banks and Nature
Forest & Finance Policy Assessment 2022: Overall scores
China Minsheng Bank
2022-09-21
A PHP Error was encountered
Severity: Notice
Message: Undefined offset: 1
Filename: shared/tabletool_row.php
Line Number: 81
Backtrace:
File: /home/btwebhost/www/btci3/application/views/sections/shared/tabletool_row.php
Line: 81
Function: _error_handler
File: /home/btwebhost/www/btci3/application/helpers/easy_helper.php
Line: 366
Function: view
File: /home/btwebhost/www/btci3/application/views/sections/shared/tabletool.php
Line: 69
Function: lv
File: /home/btwebhost/www/btci3/application/helpers/easy_helper.php
Line: 366
Function: view
File: /home/btwebhost/www/btci3/application/views/sections/shared/tabletools.php
Line: 7
Function: lv
File: /home/btwebhost/www/btci3/application/helpers/easy_helper.php
Line: 366
Function: view
File: /home/btwebhost/www/btci3/application/views/sections/bankprofile/main.php
Line: 173
Function: lv
File: /home/btwebhost/www/btci3/application/libraries/sections/Bankprofile.php
Line: 436
Function: view
File: /home/btwebhost/www/btci3/application/controllers/Main.php
Line: 296
Function: content
File: /home/btwebhost/www/btci3/index.php
Line: 321
Function: require_once
0
Explanation
A bank can obtain a total of 10 points for the quality of its policies. The total score is based on their scores per sector, weighted against their financing and investment for each sector. For further details on this see here. Based on their overall score, banks are then classified as Laggards, Followers, Front runners or Leaders, as follows:
Laggard
Follower
Front runner
Leader
0 - 1 points
1 - 4 points
4 - 7 points
7 - 10 points
Forest & Finance Policy Assessment 2022: Beef
China Minsheng Bank
2022-09-21
A PHP Error was encountered
Severity: Notice
Message: Undefined offset: 1
Filename: shared/tabletool_row.php
Line Number: 81
Backtrace:
File: /home/btwebhost/www/btci3/application/views/sections/shared/tabletool_row.php
Line: 81
Function: _error_handler
File: /home/btwebhost/www/btci3/application/helpers/easy_helper.php
Line: 366
Function: view
File: /home/btwebhost/www/btci3/application/views/sections/shared/tabletool.php
Line: 69
Function: lv
File: /home/btwebhost/www/btci3/application/helpers/easy_helper.php
Line: 366
Function: view
File: /home/btwebhost/www/btci3/application/views/sections/shared/tabletools.php
Line: 7
Function: lv
File: /home/btwebhost/www/btci3/application/helpers/easy_helper.php
Line: 366
Function: view
File: /home/btwebhost/www/btci3/application/views/sections/bankprofile/main.php
Line: 173
Function: lv
File: /home/btwebhost/www/btci3/application/libraries/sections/Bankprofile.php
Line: 436
Function: view
File: /home/btwebhost/www/btci3/application/controllers/Main.php
Line: 296
Function: content
File: /home/btwebhost/www/btci3/index.php
Line: 321
Function: require_once
0
Explanation
A bank can obtain a total of 10 points for the quality of its beef policy. The total score is based on their scores per sector, weighted against their financing and investment for each sector. For further details on this see here. Based on their overall score, banks are then classified as Laggards, Followers, Front runners or Leaders, as follows:
Laggard
Follower
Front runner
Leader
0 - 1 points
1 - 4 points
4 - 7 points
7 - 10 points
Forest & Finance Policy Assessment 2022: Palm Oil
China Minsheng Bank
2022-09-21
A PHP Error was encountered
Severity: Notice
Message: Undefined offset: 1
Filename: shared/tabletool_row.php
Line Number: 81
Backtrace:
File: /home/btwebhost/www/btci3/application/views/sections/shared/tabletool_row.php
Line: 81
Function: _error_handler
File: /home/btwebhost/www/btci3/application/helpers/easy_helper.php
Line: 366
Function: view
File: /home/btwebhost/www/btci3/application/views/sections/shared/tabletool.php
Line: 69
Function: lv
File: /home/btwebhost/www/btci3/application/helpers/easy_helper.php
Line: 366
Function: view
File: /home/btwebhost/www/btci3/application/views/sections/shared/tabletools.php
Line: 7
Function: lv
File: /home/btwebhost/www/btci3/application/helpers/easy_helper.php
Line: 366
Function: view
File: /home/btwebhost/www/btci3/application/views/sections/bankprofile/main.php
Line: 173
Function: lv
File: /home/btwebhost/www/btci3/application/libraries/sections/Bankprofile.php
Line: 436
Function: view
File: /home/btwebhost/www/btci3/application/controllers/Main.php
Line: 296
Function: content
File: /home/btwebhost/www/btci3/index.php
Line: 321
Function: require_once
0
Explanation
A bank can obtain a total of 10 points for the quality of its palm oil policy. The total score is based on their scores per sector, weighted against their financing and investment for each sector. For further details on this see here. Based on their overall score, banks are then classified as Laggards, Followers, Front runners or Leaders, as follows:
Laggard
Follower
Front runner
Leader
0 - 1 points
1 - 4 points
4 - 7 points
7 - 10 points
Policies
Voluntary standards
China Minsheng Bank has committed itself to the following voluntary standards:

Investment policies
Year: