---
Active
This profile is actively maintained
---
Send
feedback
on this profile
Download as
PDF
---

Created on:

2021-11-09 14:51:32


Last update:

2022-08-12 11:22:02
BankTrack
---
---
Share this page:
---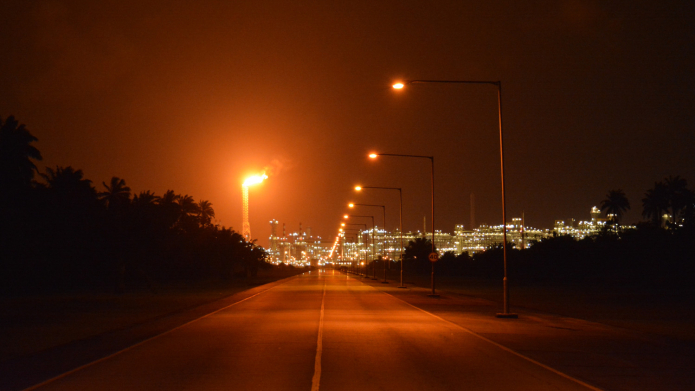 Nigeria LNG at night. Photo:
Chike Roland ORAEKWUGHA via Flickr (CC BY 2.0)
| | |
| --- | --- |
| Sector | LNG Terminal |
| Location | |
| Status | |
| Website | https://www.nigerialng.com |
About Nigeria LNG
Nigeria LNG Limited (NLNG) is a liquified natural gas (LNG) terminal, located on 2.27 square kilometres of largely reclaimed land in Finima, on the Niger Delta's Bonny Island. In operation since 1999, the facility consists of six trains (processing units) that together are able to produce 22 million tonnes per annum (mtpa) of LNG, which is approximately 6% of global LNG trade. The project is a joint venture between Nigerian National Petroleum Corporation (NNPC), Shell Gas B.V., TotalEnergies and ENI International. The construction of Train 7 started in June 2021 and will increase the total production capacity to 30mtpa.
Latest developments
Why this profile?
For more than 20 years, this project has proven to be harmful to local communities. Its expansion would further threaten livelihoods and the local environment, increasing pollution and damaging important ecosystems.
What must happen
People who are still waiting for resettlement compensation must be paid. The project's expansion should be cancelled to avoid further pollution, deforestation and local economic damage. SMBC Group and Guaranty Trust Bank of Nigeria should resign as Nigeria LNG's finance advisors, while all involved banks should refuse to finance the expansion.
Impacts
Impact on human rights and communities
Impact on climate
Impact on nature and environment
Other impacts
Governance
Applicable norms and standards
Other applicable regulations
Land Use Act of 1978, Nigeria
Financiers
Nigeria LNG's Train 7 expansion project reached financial close in May 2020, for a total of USD 2.77 billion. This amount is supported by three export credit agencies: SACE (Italy), K-SURE and KEXIM (both South Korea). Each offered guarantees on the Train 7 loans that were provided by the commercial banks listed below.
Related companies
Nigeria LNG is an Incorporated Joint Venture owned by the Nigerian National Petroleum Corporation (NNPC; 49%), Shell Gas B.V. (25.6%), TotalEnergies Gaz & Electricité​ Holdings (15%) and ENI International N.A. N.V. S.àr.l (10.4%).
News