Standard Chartered & COP27 in Egypt: Locking Africa out of a Just Transition
2022-11-09
Natasha Ion – BankTrack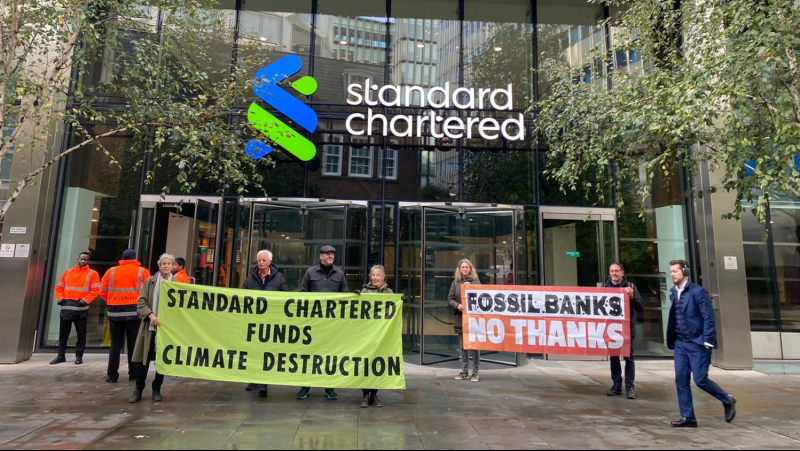 Fossil Banks No Thanks and Money Rebellion outside Standard Chartered HQ in London. Photo: Fossil Banks No Thanks
2022-11-09
Natasha Ion – BankTrack
From 6th until 18th November, governments and institutions are meeting in Egypt for COP27, the first UN climate conference to take place in Africa. Today, BankTrack's Fossil Banks No Thanks campaign joined Money Rebellion outside Standard Chartered's London headquarters, to speak to employees about the bank's role in locking Africa into fossil fuels and propping up a global system of extraction and inequality.
Standard Chartered, a UK-based bank which operates largely in the Global South, likes to advertise itself as promoting economic development in Africa. But behind the facade, a closer look at Standard Chartered's financing in the region reveals that the bank is locking Africa out of a Just Transition.
Standard Chartered positions itself as "financing Africa into a new era" that is green, yet according to the Locked Out of a Just Transition report, the bank is the fourth largest commercial bank financier of fossil fuels in Africa. Between 2016-2021, Standard Chartered has put at least US$5.76 billion into fossil fuel projects and companies in Africa. It also ranks number five in the world for project finance for fossil fuels in Africa, giving at least US$1.38 billion in project finance in the same period. What's more, despite Standard Chartered's "net zero" commitment, the bank also has no policy commitment to exclude finance for companies expanding "conventional" oil and gas, or to phase out its own finance. Existing commitments only target emissions intensity, rather than absolute emissions.
At the same time as overstating its green credentials, Standard Chartered supports the harmful narrative that fossil fuels contribute to development in Africa. In its Transition Finance Imperative document, the bank states that the oil and gas sector "remains a critical enabler of economic development and employment." This is in stark contrast to the UN's expert group report on Net Zero commitments, launched this week, which found that reliance on fossil fuels in fact makes economies and energy security "vulnerable to geopolitical shocks and crises"; that there is no room for new fossil fuel investment; and that existing assets must be decommissioned. It's perhaps unsurprising that one of the worst global financiers of fossil fuels in Africa would push for this narrative to be taken up in the financial world, but it is one based on falsities and misconstrued evidence.
Firstly, Africa's extractive sectors overall employ less than 1% of Africa's workforce. Fossil fuel production spurs little job creation, and permanent or high paying jobs rarely go to local people. Instead, fossil fuel projects often have a direct and negative impact on employment and income for local communities. Standard Chartered is linked to projects such as Offshore Cape Three Points in Ghana, LNG in Mozambique and the planned East African Crude Oil Pipeline (EACOP) in Tanzania and Uganda, all of which have significant impacts on the livelihoods and incomes of local farmers, fishermen and communities.
Moreover, extractive industries have existed in Africa for centuries but have not helped energy poverty. Nigeria, for example, is oil-rich and Africa's biggest fossil fuel exporter, yet has the largest energy access deficit in the world. After more than 65 years of oil exploration, only 55% of Nigerians had access to electricity in 2019. Those benefiting from fossil fuel exploitation are not Africans, as the bank claims, but corporations and financial institutions based in the Global North, like Standard Chartered itself.
Standard Chartered's financing and rhetoric are in line with larger structures of global energy and economic inequality. While European countries reduce domestic emissions they still promote fossil fuel expansion in Africa to maintain supply, as for example with the recent Italy-Egypt LNG deal. It is often European oil and gas companies, as well as banks like Standard Chartered that finance this fossil fuel expansion, that stand to gain from this inequality.
Outside the bank's headquarters this morning, our message was clear: Standard Chartered needs to stop profiting from locking Africa out of a Just Transition. It must end financing for harmful fossil fuel projects in the region, and companies expanding on the continent who have no intention of phasing out anytime soon. Standard Chartered, and all other banks financing fossil fuels in Africa, must instead invest in a Just Transition by financing renewable alternatives that benefit local communities and economies.
For more on COP27 head to our Beyond Burning campaign page and our Fossil Banks No Thanks COP27 calendar.