Report finds major banks ramped up fossil fuel financing to $115 billion in 2017
Despite 2017 being the costliest year on record for weather disasters, new report reveals that banks increased extreme fossil fuel financing last year, led by a more than doubling in lending to tar sands companies and pipelines.
2018-03-28 | Nijmegen, the Netherlands
BankTrack, Honor the Earth, Indigenous Environmental Network, Oil Change International, Rainforest Action Network & Sierra Club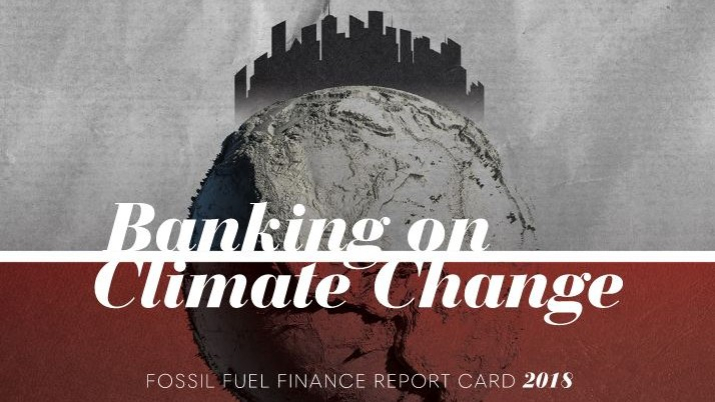 Photo: -
2018-03-28 | Nijmegen, the Netherlands
BankTrack, Honor the Earth, Indigenous Environmental Network, Oil Change International, Rainforest Action Network & Sierra Club
A report released today by Rainforest Action Network, BankTrack, Indigenous Environmental Network, Oil Change International, Sierra Club, and Honor The Earth, endorsed by over 50 organisations around the world , reveals that in spite of the urgent climate crisis, 2017 was a year of backsliding by private banks. The report, 'Banking on Climate Change 2018', is the ninth annual report ranking bank policies and practices related to the financing of some of the most carbon-intensive, financially risky and environmentally destructive fossil fuel sectors. The report also details the negative impacts of these sectors on human rights, Indigenous rights and community health and well-being.

Download the full report, with bank grades and financing figures, here.

Tracking 36 of the world's biggest banks, the report finds that the institutions funneled $115 billion into extreme fossil fuels in 2017, an increase of 11% from 2016. The single biggest driver of the increase in financing came from the tar sands sector, where financing grew by 111% from 2016 to 2017. The massive hike in bank support for tar sands to nearly $47 billion, led tar sands to overtake coal power as the most heavily funded extreme energy sector.

With some of the sharpest upticks in financing since 2016, Royal Bank of Canada, Toronto Dominion Bank, and JPMorgan Chase all passed the coal-heavy Chinese banks to become the biggest bankers of extreme fossil fuels last year. JPMorgan Chase increased funding to coal mining by a shocking 21 times and quadrupled its financing of tar sands oil.

The report finds that while some European banks have realised the risks and put policy restrictions on some of their fossil fuel financing, major players elsewhere have done little to adopt policies that would bring their activities in line with the Paris Agreement.

The case studies detailed in the report – from Enbridge's proposed Line 3 tar sands pipeline in Minnesota, to the proposed Jordan Cove LNG export terminal and associated pipeline in Oregon, to the fleet of coal plants that Japanese company Marubeni is planning in Southeast Asia – all highlight that banks lack effective policies to prevent them from financing these highly polluting projects and companies.

The report focuses on financing for extreme fossil fuels, defined as: tar sands, Arctic, and ultra-deepwater oil; coal mining and coal-fired power; and liquefied natural gas (LNG) export in North America.

Statements:

Alison Kirsch, Climate and Energy Research Coordinator at Rainforest Action Network:

"At a time when some European banks like BNP Paribas and ING are adopting policies that sharply restrict their lending to some of the worst fossil fuels, US and Canadian banks like JPMorgan Chase and TD are moving backwards in lockstep with their wrongheaded political leaders. If we are to have any chance of halting catastrophic climate change, there must be an end of expansion and complete phaseout of these dangerous energy sources. Banks need to be accountable and implement policies guarding against extreme fossil fuel funding."

Johan Frijns, Director of BankTrack:

"Despite the introduction of some restrictions in their coal financing policies over the last few years, the 14 European banks assessed in the Report Card managed in 2017 to collectively increase their financing by more than $2 billion for companies in the coal mining and coal power sectors. Europe's top banks have got to stop their coal-focused assault on the Paris Agreement, and it's now vital that they move to stamp out their financial support for companies developing new coal-fired power plants around the world. Just as the European bank AGM season gets under way, campaigners now have ample evidence to present to bank shareholders and decision-makers about exactly how deep the dirty energy financing still runs across the European banking sector, in spite of some new sustainability commitments and a blizzard of sustainability hype."

Tom Goldtooth, Executive Director of Indigenous Environmental Network:

"Banks investing in fossil fuel development should be stripped of their social license to operate in our cities, states, provinces, tribal nations, and countries. These dirty investments are not only threatening the sacred integrity of Mother Earth, but are forcing Indigenous peoples into life or death scenarios with no adherence or accountability to human rights policies and/or Indigenous Rights protections. What is most distressing is a seemingly world-wide labeling of defenders of the environment and opposition to fossil fuel development as 'terrorists' much as was described in the report regarding Standing Rock Water Defenders. Not only in Honduras and Brazil, but in the Philippines even the UN Special Rapporteur on the Rights of Indigenous Peoples herself is on a government list of 'terrorists'. By financing these unwanted and damaging projects, banks themselves are complicit in human rights abuses. As such, continued bank investment in fossil fuel development should only be seen as promotions of crimes against humanity and Mother Earth, and nothing less."

Stephen Kretzmann, Executive Director of Oil Change International:

"Every single dollar that these banks provide for the expansion of the fossil fuel industry is a dollar going to increase the climate crisis. The World Bank, which understands the deep threat that climate change poses to poverty alleviation, has gotten the message and is ending its financing of upstream oil and gas projects. Meanwhile it seems some commercial banks appear intent on going in the opposite direction. It's time banks like Chase and TD and US Bank took the World Bank's lead and stop funding fossils. Until they do, these banks will be complicit in our climate catastrophe, plain and simple."

Kelly Martin, Sierra Club Beyond Dirty Fuels Campaign Director:

"The days of banks quietly funneling money into dirty, dangerous fossil fuel projects without the public taking notice are over. Tar sands and other fossil fuel projects threaten our climate, public health, and communities, and until they stop supporting them financially, banks like Chase and Wells Fargo are complicit in this destruction. There is a growing international movement calling on our financial institutions to do better, and we will not stop until they pull their support of dirty fossil fuels once and for all."

Tara Houska, National Campaigns Director of Honor The Earth:

"Since the dog attacks and water cannons used on unarmed citizens at Standing Rock, indigenous people have been heavily engaged in divestment efforts around the world. These banks fund the projects that are killing the planet, destroying indigenous sacred sites, and violating the human rights of citizens. The financial industry is on notice – the human rights policies banks claim are in place must be enforced. Stop funding fossil fuels and move into a green economy."


Additional statements from endorsing organisations

Donna Lisenby, Clean & Safe Energy Campaign Manager, Waterkeeper Alliance:
"This report is an important tactical and strategic target list for activists worldwide. It not only has Waterkeeper Alliance's full endorsement but we intend to use it as an action plan."

Hong Hoang, Executive Director of CHANGE:
"South-east Asia is now the final frontier for the coal industry, and many of the banks featured in this report continue to support coal power expansion in the region in spite of the huge impacts on public health and the climate. HSBC, Standard Chartered, Citi, DBS and several Japanese banks are lining up to finance various coal plant projects in Vietnam in the coming months. These banks have got to show some basic climate change common sense by cutting off, once and for all, this reckless coal financing, and by pulling out of these projects in Vietnam."

Allie Rosenbluth, No Pipeline Organiser, Rogue Climate:
"This report further shows that the Jordan Cove LNG Export Terminal and Pacific Connector fracked gas pipeline, along with other new fossil fuel projects, is a bad investment. Our communities need good-paying jobs in improving energy efficiency and in the expanding clean energy industry, not new fossil fuel projects that hurt us all. Communities across the region will continue to ask Oregon's leaders to stand up against the Jordan Cove LNG proposal and for a just transition to clean energy."

Osprey Orielle Lake, Executive Director of the Women's Earth & Climate Action Network (WECAN) International:
"This report offers vital documentation to demonstrate the destructive role of financial institutions who are complicit in the violation of the rights of Indigenous Peoples, human rights, and Earth rights. Investing in dirty fossil fuels is an investment in climate chaos and against future generations.Women are building bridges across communities and across countries - committed to using our voices and actions to expose and oppose the abhorrent violations perpetuated by banks everyday that they choose to continue to finance fossil fuel extraction. It is far past time to transition to a clean energy future and care for our children's future and Mother Earth."

Chris Saltmarsh, Fossil Free Campaigns Coordinator, People & Planet:
"As fossil fuel divestment goes mainstream the industry driving climate injustice is at its weakest point in history, it is time to strip of them of the finance they need to continue operating. There can be no new fossil fuel infrastructure anywhere from Lancashire to La Guajira and everywhere in between. The People & Planet network will organise for institutional boycotts of Barclays until they show the progressive leadership they have historically avoided and ditch all fossil fuel finance."

Diana Best, Senior Climate and Energy Campaigner at Greenpeace USA:
"At a time when the world must be moving rapidly away from fossil fuel expansion, we see major global banks like JPMorgan Chase doubling down on their support of extreme fossil fuels like tar sands. It is unacceptable. It is time for these banks to put their money where their mouth is. Continued financing of fossil fuel projects and infrastructure like tar sands pipelines undermines any credibility they have as leaders on climate and human rights."

Brett Fleishman, Finance Campaign Lead of 350.org:
"Major movement players are turning to focus on "the money" as there is a clear understanding that capital flow needs to shift quickly for any chance at a just transition off fossil fuels. Not a penny more! Fossil free finance! are becoming a primary part of the social movement outcry. It is clear, big banks are driving the economy in the wrong direction and it's high time we hold them accountable."
Notes for editors:

1. This report was endorsed by: 350.org, 350 Eugene, 350 Seattle, Amazon Watch, Asia Pacific Forum on Women, Law and Development, Bank Information Center, Bold Alliance, Carrizo/Comecrudo Tribe of Texas, Catskill Mountainkeeper, CEE Bankwatch Network, Center for Sustainable Economy, CHANGE, Christian Aid, Citizens Against LNG, Clean Water Action, Divest, Invest, Protect, DivestInvest, Earthworks, FairFin, Foundation for GAIA, Friends of the Earth Scotland, Friends of the Earth U.S., Fundacja "Rozwój TAK Odkrywki NIE" (Foundation Development YES - Open-Pit Mines NO), Greenpeace Japan, Greenpeace USA, Hair on Fire Oregon, Indigenous Climate Action, Indigenous Peoples Law and Policy Program, Les Amis de la Terre France, Market Forces, Mazaska Talks, MN350, People & Planet, Philippine Movement for Climate Justice, Pipeline Awareness Southern Oregon, RAVEN (Respecting Aboriginal Values & Environmental Needs), Re:Common, Rogue Climate, Rogue Riverkeeper, Save RGV from LNG, Stand.earth, SumOfUs, Treaty Alliance Against Tar Sands Expansion, UK Tar Sands Network, Union of British Columbia Indian Chiefs, urgewald, Waterkeeper Alliance, We Are Cove Point, WECAN (Women's Earth and Climate Action Network), West Coast Environmental Law, Western Environmental Law Center.
There are no active company profiles for this item now.