4 out of 5 banks failing on human rights, new BankTrack Human Rights Benchmark shows
Lloyds, Bank of America, Goldman Sachs and Société Générale among the poorest performers in BankTrack ranking, alongside Canadian and Chinese banks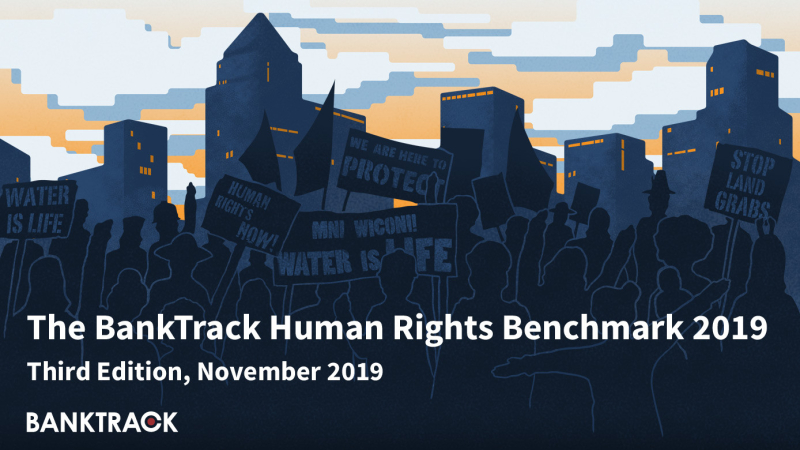 The BankTrack Human Rights Benchmark 2019; cover image. Photo: BankTrack
Banks are failing on human rights nearly a decade after new UN principles were established to guide their behavior, according to the third BankTrack Human Rights Benchmark, published today. Lloyds, Bank of America, Goldman Sachs and Société Générale are among the worst performers in the report, which ranks commercial banks from leaders to laggards according to their efforts to uphold human rights.
"There is increasing 'lip-service' paid to human rights compliance by the biggest global banks, but in the vast majority of cases it goes no further than this," said report author Ryan Brightwell. "Banks are still implicated in – or even directly facilitating – human rights abuses, including violations of Indigenous peoples' rights, land grabs and even war crimes."
Dutch bank ABN AMRO tops the league table, the only bank to be classed as a 'leader' for the breadth of its human rights commitments and reporting. The highest-performing UK and US banks are Barclays and Citi respectively, which both make it to the 'front runners' group. However, even these banks have much room for improvement before they can be said to be adequately implementing their human rights responsibilities.
The report shows that more banks than ever have human rights policies in place. However, not one bank is able to show that it is making a difference to people on the ground by addressing specific abuses, and the pace of change is painstakingly slow. The vast majority of banks gave no evidence at all that they have prevented, mitigated or remedied specific human rights abuses in practice.
"Regulators will need to intervene if banks continue to fail," said BankTrack director Johan Frijns. "Recent moves in the UK, France and the Netherlands are a step in the right direction but don't go far enough. Governments must make it clear they will take further action if banks don't step up."
In the Netherlands, banks' progress towards their human rights obligations has been driven by the Dutch Banking Sector Agreement on Human Rights, a multistakeholder process backed up by the threat of regulation. Recent legislation in the UK (the Modern Slavery Act) and France (the Duty of Vigilance law) is compelling banks to be more transparent about their commitments to uphold human rights. However, it is not strong enough to hold banks fully accountable for human rights abuses they are responsible for or implicated in.
The absolute poorest performers, scoring less than one point out of a possible 14, include the Chinese banks ICBC, Agricultural Bank of China, Bank of China and China Construction Bank, as well as Royal Bank of Canada. All five Canadian banks appeared in the 'laggards' section of the table.
Sara Blackwell, Associate Director of the Investor Alliance for Human Rights, commented: "Members of the Investor Alliance for Human Rights – representing nearly US$4 trillion in assets under management and 18 countries – need human rights analysis and data to engage with their own responsibilities to respect human rights throughout their investment activities. The 2019 BankTrack Human Rights Benchmark provides critical information for our members as they engage portfolio banks on how their policies and practices stack up against the expectations of the UN Guiding Principles, and we'll be using our collective leverage to hold up its findings."
Joanne Bauer, Adjunct Professor of International and Public Affairs at Columbia University, a member of the report's Independent Academic Advisory Panel, commented: "This report raises the important question of what more it will take for banks to give due priority to human rights in their due diligence of deals and to use their leverage to make a difference for the people who have been harmed through their financing. While the advances a few banks have made are commendable, all banks can no longer look away."
Downloads and links
Webinar presentation (YouTube, 26 minutes).
View the summary table of results below.
Summary table of results
Total
Policy
Due dilligence
Reporting
Remedy
Change
Bank profile
Full results
Front runners 6.5 - 9 points
Total
Policy
Due dilligence
Reporting
Remedy
Change
Bank profile
Full results
Total
Policy
Due dilligence
Reporting
Remedy
Change
Bank profile
Full results
Total
Policy
Due dilligence
Reporting
Remedy
Change
Bank profile
Full results
Sumitomo Mitsui Financial
Agricultural Bank of China
Total
Policy
Due dilligence
Reporting
Remedy
Change
Bank profile
Full results
Agricultural Bank of China
Sumitomo Mitsui Financial
Total
Policy
Due dilligence
Reporting
Remedy
Change
Bank profile
Full results
Total
Policy
Due dilligence
Reporting
Remedy
Change
Bank profile
Full results
Total
Policy
Due dilligence
Reporting
Remedy
Change
Bank profile
Full results
Total
Policy
Due dilligence
Reporting
Remedy
Change
Bank profile
Full results