Jackdaw shows once again Shell is failing on climate. So why are its bankers failing to act?
2022-07-19 | The Hague, The Netherlands
Sumeyra Arslan – BankTrack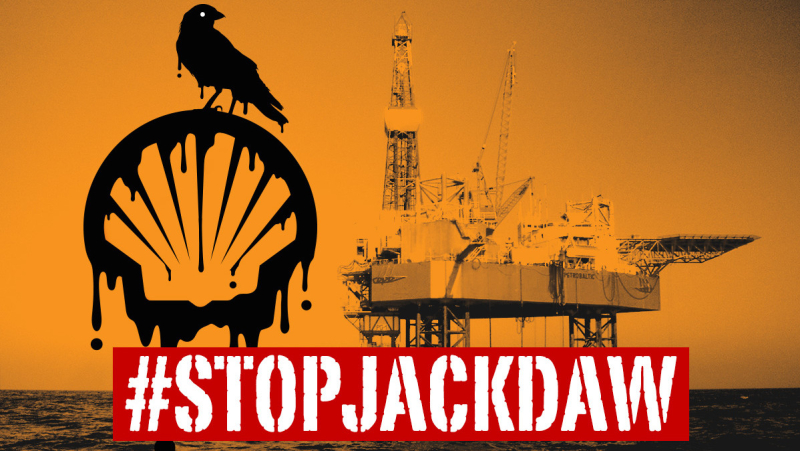 Stop Shell's Jackdaw gas field. Photo: BankTrack
2022-07-19 | The Hague, The Netherlands
Sumeyra Arslan – BankTrack
On 1st June, the Jackdaw gas field was approved for development by the UK government. Two days later, BankTrack, together with 350.org, Uplift and Bank on our Future, sent a letter to 25 commercial banks with a financial or advisory relationship with Shell, Jackdaw's owner. The letter called on the 25 banks to urgently act by refusing to finance the newly approved Jackdaw gas field project, to engage with Shell urging it to stop the project and to end all finance for Shell if the company decides to proceed with the Jackdaw project. In total, 11 out of 25 banks responded substantially to our letter, while others promised to return to it.
Jackdaw gas field
Jackdaw is one of the ten biggest remaining gas fields in the North Sea. It is estimated to contain 58 million barrels of oil equivalent (boe).(1) It is a high-pressure, high temperature (HPHT) gas condensate field with high CO2 content, making it an especially polluting area to develop.
After the UK regulator rejected Shell's initial proposal, the company proposed to build a carbon capture and storage (CCS) plant at St. Fergus in Aberdeenshire to capture the emissions from the project. However, the CCS project's future is very unclear, with the government having put the project on the back burner. CCS is widely viewed by civil society groups, including BankTrack, as a "false solution" - an unproven and costly life-support that distracts from the task of phasing out fossil fuels and stopping new developments. In addition, Shell's plans do not address the emissions that burning all the gas extracted at Jackdaw will ultimately create.
While the project's approval by the UK government may create the false impression that the project is no longer a danger, the project is still very problematic from a climate perspective. The International Energy Agency has made clear that no new oil and gas developments are needed if the world is to remain on track to meet the 1.5C goal of the Paris Agreement. The project's approval does not absolve banks of the need to do climate due diligence and align their financing with the goals of the Paris Agreement and commitments they have made under the Net Zero Banking Alliance (NZBA).
Banks' roles and responsibilities
The top ten financiers of Shell are BNP Paribas, Morgan Stanley, Barclays, Santander, HSBC, JPMorgan Chase, Deutsche Bank, Goldman Sachs, Royal Bank of Canada and Citibank. These banks have all committed to the NZBA and, therefore, to achieving net-zero financed emissions by 2050. Financing Shell as it develops the Jackdaw project contradicts these commitments.
As Tessa Khan, director of Uplift, says, "Banks like Barclays, Santander and HSBC - all of which have committed to net zero financed emissions by 2050 - have a chance to prove that their climate commitments are not just green-washing lip service by cutting ties with Shell. Climate experts have been loud and clear in their message that there can be no new investments in oil and gas if we are to stay in a liveable climate, yet Shell continues to push ahead with plans for the highly-polluting Jackdaw gas field."
Banks' responses
Since BankTrack and partners set out our concerns on Jackdaw in a letter on 3rd June, 11 out of 25 banks have responded.
Several banks, including BNP Paribas, Lloyds and Standard Chartered, responded that they are not providing direct finance to the Jackdaw project and are therefore not exposed to its risks. This somewhat misses the point since it is not yet clear how Shell will finance this development. The company may well develop Jackdaw using its own capital and not through direct finance at all. Banks providing general finance to Shell will remain exposed to the risks and share responsibility for the impacts.
Standard Chartered even further explicitly stated that they will not engage with Shell regarding the Jackdaw gas field because they are not financing the project directly. However, banks' responsibilities do not end with the projects they finance directly. Banks providing general-purpose finance to Shell have not indicated that their loan agreements include restrictions to stop their finance from being used to develop Jackdaw.
Banks also stated in their responses that they are working with their oil and gas clients to support them in creating credible transition plans. However, both Shell's climate commitments and its expansion plans are misaligned with the global 1.5C goal. The Global Oil and Gas Exit List (GOGEL) by Urgewald shows that Shell is expanding fossil fuel production in 14 countries and spent an average of S$ 2 billion on exploration between 2019 and 2021. In May 2021, a Dutch court ruled Shell was not doing enough to limit its climate impact and should reduce emissions by 45% by 2030. And the Big Oil Reality Check report assessed Shell's climate plans as "grossly insufficient" to align with the Paris Agreement's 1.5C goal, as "the company continues… to approve new extraction projects".
Ending finance for expansion equals ending finance for Shell
Shell cannot have sound transition plans while expanding its fossil fuel production. The wish for banks to cooperate with their clients and help them develop sound transition plans is understandable, but in the case of Shell, it is based on wishful thinking. Banks need to quit trying to mend what is unmendable and start acting to stop finance for companies that will not abandon fossil fuel expansion: it is still not too late.
Notes:
(1) According to Uplift, based on data from Rystad Energy.
There are no active project profiles for this item now.