Climate groups call on Shell's bankers to stop Jackdaw gas field
UK government's regulatory approval opens the door for Shell to move ahead with the Jackdaw field
---
2022-06-03
BankTrack
---
Maaike Beenes, Campaign Lead Banks and Climate, BankTrack
---
Share this page:
---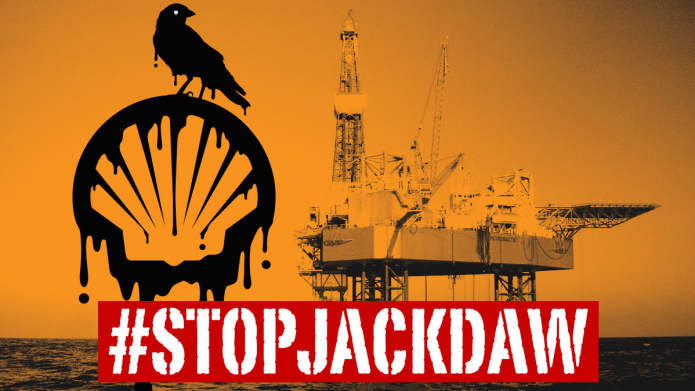 Stop Shell's Jackdaw gas field. Photo: BankTrack
Following the UK government's decision on Wednesday to give "final regulatory approval" to Shell's Jackdaw gas field in the North Sea, a coalition of climate organisations has sent a letter to the oil major's biggest bankers calling for a halt to the project. BankTrack, 350.org, Bank on Our Future and Uplift called on the banks to rule out direct finance for the project, engage with Shell urging it to stop the project, and cut ties with the company if it proceeds. The letter was sent to 25 financiers of Shell, including the top five financiers in the period 2016 - 2021: BNP Paribas, Morgan Stanley, Barclays, Santander, HSBC.
The UK government's regulatory approval opens the door for Shell to move ahead with the Jackdaw field, despite the IEA's warning that "no new oil and natural gas fields are required" if we are to limit global warming to 1.5C and maintain a liveable climate.
Almost all of the bank recipients of the letter have commitments to reach "Net Zero" in their financed emissions by 2050, including the top five – all members of the Net Zero Banking Alliance (NZBA). The letter highlights the incompatibility between these banks' financial relationship with Shell and their own climate commitments, potentially exposing them to significant reputational, legal, financial and other risks.
The Jackdaw field is a striking example of Shell's continued plans for exploration and expansion. In May 2021, a Dutch court ruled Shell was not doing enough to limit its climate impact, and should reduce emissions by 45% by 2030. But the Global Oil and Gas Exit List (GOGEL) by Urgewald shows that Shell is in fact expanding fossil fuel production in 14 countries and on average spent US$ 2 billion on exploration between 2019 and 2021, in direct conflict with the clear need to rapidly phase out the extraction and production of all fossil fuels.
Moreover, Oil Change International's recent Big Oil Reality Check report assessed Shell's climate plans to be "grossly insufficient" to aligning with the Paris Agreement's 1.5C goal, as "the company continues… to approve new extraction projects". Shell has no plans to stop exploration or the approval of new fossil fuel extraction projects. It has forecast but not committed to a drop in fossil fuel production and has no long term plan to phase out such production according to a timescale aligned with 1.5C and its transition strategy explicitly aims for the production of oil and gas to continue beyond 2050.
Another example of Shell's refusal to end fossil fuel expansion is its proposed North Sea Cambo oil field, which it had been developing together with exploration company Siccar Point until significant public outcry led Shell to withdraw from the project in 2021. However, with global oil and gas prices surging, Shell is now reportedly reconsidering its withdrawal.
The letter points out that Jackdaw is one of the biggest remaining gas fields in the North Sea, and its high CO2 content makes it an especially polluting field. Shell's initial proposal was rejected by the UK regulator due to its plans to "clean" the gas using a process that vents CO2 directly into the atmosphere. Despite this week's approval of the field, Shell has only slightly modified its plans, without adequately addressing the climate risks associated with the project.
The demands of the letter to financiers of Shell are as follows:
Rule out direct financing for the project;
Engage with Shell and urge the company to terminate the development of the project, as well as take action to ensure it properly aligns with the Paris Agreement across its business, including by stopping the expansion of all fossil fuels and phasing out production on a pathway in line with the 1.5C goal;
Cease all finance for Shell in the event that it proceeds with the Jackdaw field and other projects that are incompatible with meeting the 1.5C climate goal.
Read the full letter here.
Related Dodgy Deals
Projects
There are no projects active for this item now.
Companies
There are no companies active for this item now.