Meet the banks funding the owners of the Cambo oil field
New research shines a spotlight on the banks backing Shell and Siccar Point Energy
2021-10-29
#StopCambo
Gabriel Davalos, Head of Campaigns and Communications at Uplift, 07472 193 034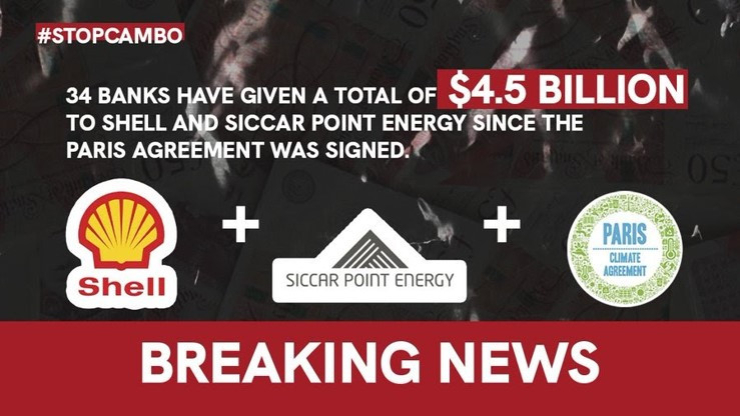 Shell and Siccar Pint Energy, the owners of the Cambo oil field. Photo: Uplift
2021-10-29
#StopCambo
Gabriel Davalos, Head of Campaigns and Communications at Uplift, 07472 193 034
New research from Stop Cambo has revealed which banks are pumping money into Shell and Siccar Point energy, the fossil fuel firms which own the Cambo oil field. The findings show that 34 banks have provided a total of USD 4.5 billion in financial services to Shell and Siccar Point Energy since the Paris Agreement was signed.
UK high street banks such as Barclays, Lloyds, HSBC and Standard Chartered have provided USD 613 million in financing to Shell and Siccar Point Energy since 2016. Along with NatWest, these banks have provided financial services totalling USD 5.93 billion to oil and gas companies operating in the North Sea since 2016.
The research finds:
- 14 banks provided USD 2.3 billion of support to Siccar Point Energy
- 25 banks provided USD 2.2 billion of financial services to Shell including USD 1.4 billion directly to its UK subsidiaries
- Barclays provided USD 158 million to Siccar Point Energy and USD 204 million to Shell
- HSBC has provided USD 176 million to Shell
- BNP Paribas provided USD 158 million to Siccar Point Energy and USD 246 million to Shell
- Standard Chartered has provided USD 36 million to Shell
Siccar Point Energy‍
Since the Paris Agreement was signed, Siccar Point Energy has received over USD 2.3 billion in financial services from 14 different UK and international banks. Its biggest providers of dirty money are DNB in Norway (USD 332 million), ING Group in the Netherlands (USD 199 million), and Groupe BPCE in France (USD 199 million). In the UK, Barclays (USD 158 million) and Nedbank (USD 177 million) are the biggest creditors. Barclays was exposed as the largest backer of fossil fuels in Europe in the 2021 Banking on Climate Chaos report and contributed a staggering USD 145 billion in fossil fuel financing since 2015.
Another notorious source of funds is the Commonwealth Bank of Australia, which is currently being taken to Australia's Federal Court over its oil and gas financing policies and contributed USD 196 million to Siccar Point Energy's balance.
‍Shell
Shell's UK operations have received financial services of over USD 2.1 billion from 25 UK and international banks since 2016. Shell's generous supporters in the UK are Barclays (USD 204 million), HSBC (USD 176 million), Lloyds Banking Group (USD 39 million), and Standard Chartered (USD 36 million).
Internationally, loans and other financial services have come from a range of banks including JPMorganChase (US, USD 193 million), Deutsche Bank (Germany, USD 157 million), Goldman Sachs (US, USD 133 million), Santander (Spain, USD 99 million), Bank of China (USD 14 million), and Credit Suisse (Switzerland, USD 14 million).
Many of these banks are part of the "dirty dozen" list of the world's worst bankers of fossil fuels.
‍What does this mean?‍
The banks we trust with our savings are funding climate chaos. Many of them have signed net zero pledges, which seem ever more questionable in the light of their generous investments in new oil and gas. Last week, the 2021 Production Gap report by the UN Environment Programme highlighted that our current policies will produce more than double the amount of fossil fuels than would be consistent with limiting global heating to 1.5 degrees in 2030.
Earlier this year, the International Energy Agency - the leading global authority on energy - stressed that in order to stay below 1.5 degrees of warming, there can be no new fossil fuel developments. With their lending and investments, banks are contributing directly towards devastating climate change impacts around the world. Their actions are inconsistent with the Paris Agreement and their human rights obligations.
Take action now‍
Defund Climate Chaos are a grassroots group fighting against UK banks, investors and insurers funding the fossil fuel industry. On October 29th, ahead of COP26, they are staging a series of protests urging financiers to stop fuelling climate chaos. Activists will stage creative ctions in the City of London and co-create powerful National Climate Justice Memorials in solidarity with those already suffering from the impacts of the climate crisis.‍
Find your nearest action and sign up here. If you can't get involved in person, Defund Climate Chaos have action points on their website on how you can contribute remotely.‍
Switch your bank: Visit Bank On Our Future's action page to find out if your bank is funding climate chaos and how you can switch to a new bank. There's no reason you have to stay with a dirty bank any longer than necessary.
Email your MP and ask them to #StopCambo: The power to #StopCambo ultimately lies with the UK government. Please take a moment to email your MP or email them again asking them to urge Boris Johnson to stop Cambo. If your MP has replied, let us know here.
Methodology
Not-for-profit research firm Profundo identified the major creditors of Siccar Point Energy Ltd and Royal Dutch Shell PLC. The financial research used Bloomberg, Refinitiv, IJGlobal, Trade Finance Analytics, company publications, company registers, and media archives to identify financial relationships. This blog covers lending and underwriting services between January 2016 and September 2021.
Financial databases do not always include banks' individual contributions to specific deals for reserves based lending facilities and underwriting. Where the data is not available banks' contributions are split using industry-standard ratios. For reserves based lending facilities no data is provided on use, so figures presented here show total financing available for each negotiated period, not total finance drawn.
To estimate the percentage of a company's operations in oil and gas in the UK Continental Shelf, segment adjusters were calculated by drawing on company annual reports as well as Rystad Energy data on oil and gas resources. Group level adjusters were applied to parent companies, financing and trading subsidiaries. Where a subsidiary was identified to only operate in the UK an adjuster of 100% was applied, and where subsidiaries for which no link to the UK could be found companies were removed from scope.
Banks providing financial services to Shell include: BNP Paribas, Morgan Stanley, Barclays, JPMorgan Chase ,HSBC, Deutsche Bank, Goldman Sachs, Royal Bank of Canada, Citigroup, Santander, Bank of America, Wells Fargo, Groupe BPCE, UBS, Lloyds Banking Group, Standard Chartered, Crédit Agricole, Toronto-Dominion Bank, SMBC Group, Société Générale, Mizuho Financial, Industrial and Commercial Bank of China, Bank of China, ANZ and Credit Suisse.
Link to the original article
There are no active project profiles for this item now.
There are no active company profiles for this item now.