Financing of coal industry expansion by top banks undermining Paris Agreement
2016-11-14 | Marrakech, Morocco
BankTrack, Friends of the Earth France, Market Forces, Rainforest Action Network & urgewald
Christopher J. Herrera, Director of Communications, Rainforest Action Network. Tel: +1 510 290 5282; Email: christopher@ran.org
Lucie Pinson, Private Finance Campaigner, Friends of the Earth France. Tel: +33 679 543 71; Email: lucie.pinson@amisdelaterre.org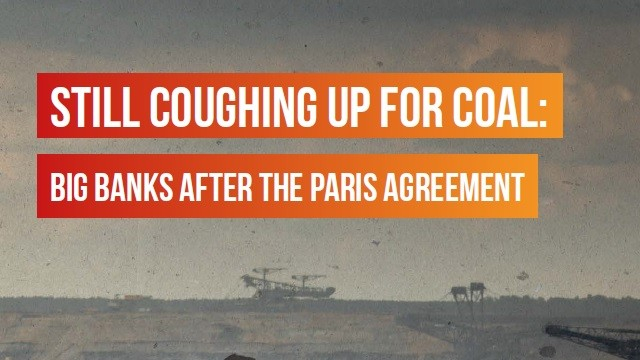 Photo: -
2016-11-14 | Marrakech, Morocco
BankTrack, Friends of the Earth France, Market Forces, Rainforest Action Network & urgewald
Christopher J. Herrera, Director of Communications, Rainforest Action Network. Tel: +1 510 290 5282; Email: christopher@ran.org
Lucie Pinson, Private Finance Campaigner, Friends of the Earth France. Tel: +33 679 543 71; Email: lucie.pinson@amisdelaterre.org
The failing efforts of the world's top commercial banks to restrict their coal financing are undermining the Paris Agreement's aim of limiting the global temperature increase to 1.5°C, according to a report published today by a coalition of coal finance campaign groups.
One year on from the Paris climate summit, 'Still Coughing up for Coal: Big Banks after the Paris Agreement' identifies the alarming policy gaps and lack of climate ambition prevailing at 22 major Australian, European and U.S. banks. Due to the scant policy coverage which banks are applying to their oil and gas portfolios, where financing is booming , the new report focuses solely on the coal finance restrictions which are being slowly introduced at the banks.
Based on the report's findings, its authors BankTrack, Friends of the Earth France, Market Forces, Rainforest Action Network and urgewald are calling on banks to stop all financing which would expand the coal industry and also reduce their exposure to coal companies to zero by 2020, to ensure a managed decline of existing coal infrastructure.
Amanda Starbuck, Climate and Energy Program Director at Rainforest Action Network, said:
"The banking industry still has far to go if it is to meet the ambition of the Paris climate accord to keep warming below a target of 1.5 degrees. Simply put, there is no room for coal in a climate-stable world. Banks need to improve their policies by setting clear and aggressive timelines for exiting the coal mining and coal power sectors."
'Still Coughing up for Coal' also describes numerous, ongoing coal 'dodgy deals' which have been facilitated by banks in the course of the last year since COP21 in Paris.
Lucie Pinson, Private Finance Campaigner at Friends of the Earth France, said:
"Even those banks which have moved ahead of the pack in policy terms, such as Crédit Agricole and Société Générale, are still having their heads turned by highly controversial coal power projects such as Cirebon 2 and TJB2 in Indonesia. The two French banks recently committed to end project finance for all new coal plants around the world but neither has yet seen fit to pull out of financing for these two projects. The double standard of making new climate commitments and yet continuing with coal finance business as usual is breathtaking. If Société Générale and Crédit Agricole bankroll Cirebon 2 and TJB2, they are inviting major reputational risk."
Yann Louvel, Climate and Energy Campaign Coordinator at BankTrack, said:
"Many of the top banks have clearly rested on their laurels since unveiling new coal finance restrictions in the run up to last year's COP21. However, with the Paris Agreement now in force, the climate reality is biting and the banks have to wake up and immediately stop financing the expansion of the coal industry. Phasing out of coal has to be the top priority for any self-styled 'climate champion' bank, alongside tackling their largely unfettered multi-billion dollar support for oil and gas."
Notes for editors:
1. New report 'Still Coughing up for Coal: Big Banks after the Paris Agreement'
2. A recent assessment of oil, gas and coal policy coverage at major banks is provided in the June 2016 report 'Shorting the Climate: Fossil Fuel Finance Report Card 2016'.
3. See background information about the Cirebon 2 coal power project, and the TJB2 coal power project.
See more details on the recent coal policy moves made by Crédit Agricole and Société Générale.
There are no active company profiles for this item now.