North Sea oil field development shows banks' hypocrisy over climate
ClientEarth sends letter to 17 banks urging them to stop financing Shell and Siccar Point Energy, the companies pushing for the Cambo oil field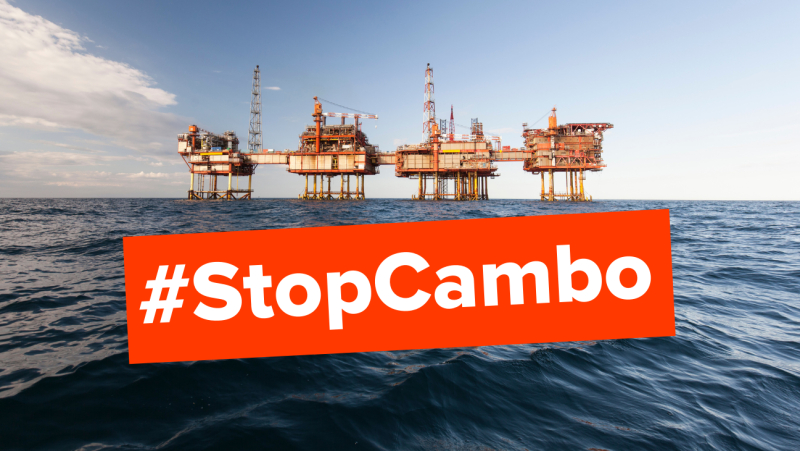 #StopCambo campaign. Photo: Friends of the Earth Scotland
Seventy-five miles west of the Shetland islands, there is a new oil field project known as Cambo. It's owned by fossil fuel major Shell, and a private-equity backed firm called Siccar Point Energy, who have applied for a licence to start extracting from it.
The plans have sparked significant controversy – if given the green light, the companies would be able to produce as much as 170 million barrels over 25 years, locking in 63.5 million tonnes of harmful greenhouse gas emissions in the project's first phase alone.
It would also be one of the first proposals to receive approval since the International Energy Agency declared that there could be no new oil and gas supply projects if the world is to keep global warming within safe levels – up to a limit of 1.5°C.
Yet, major banks across the world continue to support the companies behind Cambo's development. Barclays, HSBC, and Standard Chartered are among the many banks that fund or advise Shell and Siccar Point, effectively enabling the climate damage caused if the project went ahead.
At the same time, these banks have committed to address their climate impact. Each of them are members of the Net-Zero Banking Alliance or signatories of the Collective Commitment to Climate Action, meaning they have promised to align their portfolios with pathways to reach net zero emissions by 2050.
This is why we've written to the 17 banking institutions calling out their hypocrisy and the disconnect between their words and actions. These include: Bank of America, Barclays, BNP Paribas, BPCE/Natixis, Citi, Crédit Agricole, Credit Suisse, Deutsche Bank, HSBC, ING Bank, Lloyds, Morgan Stanley, Banco Santander, Société Générale, SpareBank 1 Markets, Standard Chartered and UBS.
Our lawyers have challenged these financial giants to justify their support of Shell and Siccar Point in light of the banks' climate commitments, and warned that continuing to do business with the companies presents significant legal, financial and reputational risks.
ClientEarth lawyer Jamie Sawyer said: "You cannot claim to be transitioning to net zero, while at the same time supporting clients that are spearheading a risky oil and gas project clearly at odds with net zero goals. We challenge the directors of every bank that is enabling the Cambo project to justify such hypocrisy. Not only are they putting their credibility and reputation on the line, but if the project proceeds they are unnecessarily exposing the bank to significant financial and legal risks with no clarity on how these will be managed."
Legal risks
The banks' promises under the Net-Zero Banking Alliance or Collective Commitment to Climate Action include reducing their emissions in line with science-based decarbonisation scenarios and engaging with their clients on their transition. The lawyers argue that by contradicting these pledges, directors risk breaching their fiduciary duty to act in a way that promotes the success of the bank. There is additional risk of the banks breaching regulatory requirements in relation to prudential risk management including failure to manage the stranded asset risk. If approved, proposals to develop Cambo would lock in oil production up to 2050 or beyond. But these reserves could be rendered obsolete if new laws designed to tackle climate change were introduced.
In their letters, ClientEarth lawyers also highlighted the banks' legal obligations under international standards such as the UN Guiding Principles on Business and Human Rights and the OECD Guidelines for Multinational Enterprises. These include engaging with Cambo's operators to influence them to stop pursuing the proposed development, and considering terminating their relationships if they refuse.
Aside from legal risk, banks could come under significant pressure by investors to withdraw financing, including through shareholder climate resolutions calling for strengthened energy policies, and votes against directors.
Jamie added: "The sad fact is that the Cambo oil field is just one example of where these banks' actions don't match their words. What is it going to take for these institutions to listen to the science and start demanding that polluting companies stop oil and gas expansion immediately, or consider ending their relationships with clients that refuse? It's time for these powerful financial actors to put their money where their mouth is. With Cambo, they have the opportunity to help avoid millions of tonnes of harmful emissions from damaging our fragile climate even further and help get the world on track for net zero."
Link to the original press release.
There are no active project profiles for this item now.
There are no active company profiles for this item now.