20 years of BankTrack – Our history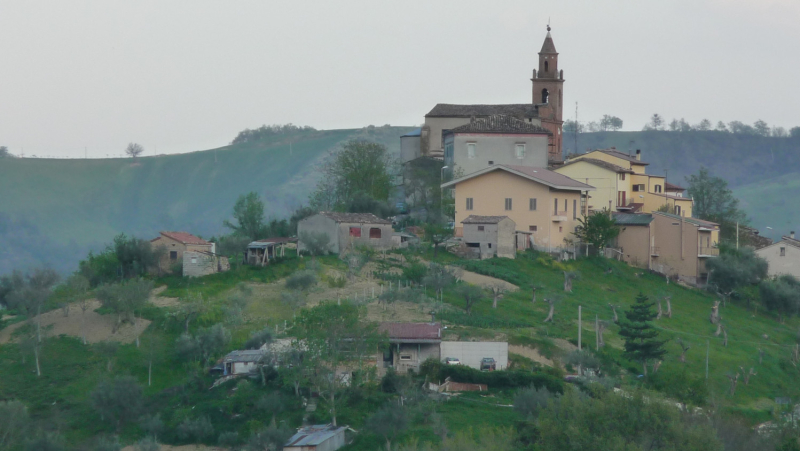 The town of Collevecchio, Italy, where BankTrack's founding document was developed. Photo: Lucio De Marcellis, via Wikipedia
BankTrack was founded in October 2003, although our roots go back some years further. This page traces these roots and outlines some key events in our history.
For more details see our Annual Reports here.
1997 - 2001: The Quantum Leap Years
1997: Quantum Leap Project established
Activists in the US realised that although they knew how to campaign on development banks like the World Bank, there was a gap in knowledge and capacity when it came to commercial banks.
Friends of the Earth US and the National Wildlife Federation set up the Quantum Leap Project to train campaigners on how to influence private sector banks.
1998-2001: Building capacity
The Quantum Leap Project conducts training for civil society on three continents, and NGOs start highly visible campaigns on projects co-financed by commercial banks, including the OCP pipeline in Ecuador, the Chad-Cameroon oil pipeline, the Camisea gas project in Peru and the financing of oil palm plantations in Indonesia and Malaysia.
2002- 2003: The Collevecchio Declaration and the birth of BankTrack
2002: Collevecchio Declaration signed
NGO campaigners meet in the Italian village of Collevecchio to draft the first civil society statement on the financial sector's role and responsibility when it comes to sustainability.
2003: BankTrack is born
In January, the Collevecchio Declaration is launched at the World Economic Forum in Davos, with the support of over 100 civil society organisations. It is to become BankTrack's founding document.
In June, a group of ten banks launch the Equator Principles, in direct response to sustained campaign efforts of NGO campaigners to stop bank finance for high impact projects. The Quantum Leap project merges with the Netherlands-based Focus on Finance (FoF) project, coordinated by Dutch consultant firm AIDEnvironment.
In October, after a meeting of finance campaigners in Bakkum, Netherlands, Focus on Finance is remodelled as an NGO network with an advocacy mission. Following a vote, the name is changed to BankTrack.
2004-2008: Early years of the BankTrack Network
2004: Official launch at World Economic Forum
Twelve civil society organisations publicly launch BankTrack as a network at the World Economic Forum in Davos.
In June, we publish a 1st anniversary assessment of the Equator Principles.
2005: BankTrack registered as an independent foundation
The network holds its first formal network meeting in Zurich, Switzerland, and opens a secretariat in Utrecht, the Netherlands.
2006: Introducing "Dodgy Deals"
BankTrack introduces "Dodgy Deals" as a concept on our website and becomes increasingly visible as an NGO vehicle for targeting such "dodgy" bank investments. We organise a number of meetings between NGOs and Equator Principles banks.
2006: BankTrack convenes its first expert meeting on banks and human rights.
2007: Sowing the seed of our human rights work
We publish our first position paper on human rights, Human Rights - Banking Risks, and start engaging with the UN special representative John Ruggie on what are to become the UN Guiding Principles.
We publish Mind the Gap, a major report on the credit policies of international banks.
The BankTrack network expands from 14 groups to 20.
2008 - 2014: Moving to Nijmegen and growing the network
2008: BankTrack moves to Nijmegen
The BankTrack secretariat moves its offices from Utrecht to its current home town of Nijmegen, the Netherlands.

BankTrack holds a strategy meeting with its members in El Escorial, Spain, right when the financial crisis erupts.
2009: We call for an end to new fossil fuel finance
Our first major report on climate change, "A Challenging Climate", calls on banks to "take steps to disentangle themselves from activities and projects that substantially contribute to climate change" and end support for new fossil fuel extraction projects and coal power plants.
2010: Equator Principles called to 'take bold steps forward'
BankTrack launches an open letter signed by over 100 groups urging Equator Principles banks to take 'bold steps forward'.
We launch the research report Close the Gap, in which the policies of 49 internationally operating banks are scored.
We co-publish the Report Card on Mountaintop Removal, with Rainforest Action Network and Sierra Club, the first report in the series that will become Banking on Climate Chaos.
2011: Exposing "climate killer banks"
The first Bankrolling Climate Change report is released during the Durban Climate Change Conference, revealing the top 20 "climate killer" banks.
BankTrack makes its submission to the Equator Principles update process which will lead to EPIII, The Outside Job.
2012: Building BankTrack in BRICs
The "Building BankTrack in BRICs" project sees BankTrack conduct training sessions to build NGO capacity for tracking banks in Brazil, China and Russia.
BankTrack comments on the draft Equator Principles update (EPIII) in a report, Tiny Steps Forward.
During the Rio+20 climate conference, BankTrack issues a highly critical statement on the Natural Capital Declaration.
The Coal Finance Report Card 2012 expands its scope from mountaintop removal to the wider coal industry.
2013: Strategy meeting in Diez, Germany
BankTrack holds Strategy meeting in the castle of Diez, Germany. Five new organisations join the network.
2014: First Human Rights Benchmark published
Our first human rights benchmark, Banking with Principles?, is launched.
We also launch coalbanks.org, exposing private sector bank financing for the coal industry.
2015-2022: A new beginning as an independent BankTrack
2015: The end of the network and a new beginning
BankTrack reinvents itself as an independent organisation, dissolving its formal network structure, with the full approval of its members.
The landmark Paris Agreement is signed, 21 smaller ethical banks sign BankTrack's Paris Pledge to quit coal, and nine international banks take their first steps away from financing the industry.
2016: FMO withdraws from Agua Zarca too late
Following the brutal murder of Honduran Indigenous rights activist Berta Caceres, BankTrack and partners step up ongoing campaign work that pushes for the Dutch development bank FMO to abandon the Agua Zarca project, opposed by Berta's organisation COPINH. FMO then announces its withdrawal from the project.
Replacing its previous network meetings, BankTrack organises the first International Bank Campaigners' Gathering, convening over fifty campaigners from twenty countries for a three day training and strategy session.
"Shorting the Climate", the 2016 Fossil Finance Report Card is published, extending the project's scope beyond coal for the first time to look at "high risk sub sectors" of the oil and gas industry.
2017: BankTrack faces SLAPP Suit over #DefundDAPL
2018: launch of "Fossil Banks, No Thanks!"
The Fossil Banks, No Thanks! campaign is launched, with hundreds of organisations joining BankTrack's call on banks to stop financing the fossil fuel industry.
ETP's claim against BankTrack is thrown out of court in a victory for common sense and a strong rebuke to the tactic of SLAPP suits.
2019: Landmark OECD ruling on climate
2020: Amid lockdown, bank "net zero" pledges emerge
The Coronavirus pandemic hits, with lockdowns bringing life to a virtual standstill.
We publish the Trust Us We're Equator Banks reports (Part I and Part II), exposing routine non-compliance with the Equator Principles.
Banks begin publishing "Paris Alignment" policies on climate change.
2021: #StopEACOP campaign founded
BankTrack helps found the #StopEACOP campaign, and the first eleven banks announce they will not finance the East African Crude Oil Pipeline following BankTrack campaigning. More will follow as the sector abandons the controversial project.
Banks launch the Net Zero Banking Alliance and BankTrack begins tracking whether banks stick to their promises.
2022-present: A new mission
2022: Challenging banks to act "urgently and decisively"
We realign our organisation around a mission to challenge banks globally to act urgently and decisively around four key overlapping crises: the unfolding climate crisis, the destruction of nature, the widespread violation of human rights and the risk of entering ever new pandemics'.
The beginning of the end of bank finance for new oil and gas as the first banks finally draw up exclusion policies to end their direct financing for new extraction projects.
2023: An accountability channel for the Equator Principles
We launch a new and improved BankTrack website to better reflect our new mission.
As the Equator Principles celebrate their 20th anniversary, we launch the equator-complaints.org website to highlight the EP's ongoing lack of an accountability mechanism, and provide a channel for communities to raise complaints about Equator projects to us directly.
The "Rotten Business" report, with Feedback and Mighty Earth, exposes how Barclays became the go-to bank for JBS, one of the world's most destructive meat corporations. It is BankTrack's first report on the impacts of the industrial meat industry.
Thank you for reading! If you appreciate BankTrack's work and would like to support us to go further, please consider a donation.