AGMs 2019 recap
As the season of bank annual general meetings ends, we look back on our activities of the past few months
2019-06-13 | Nijmegen
BankTrack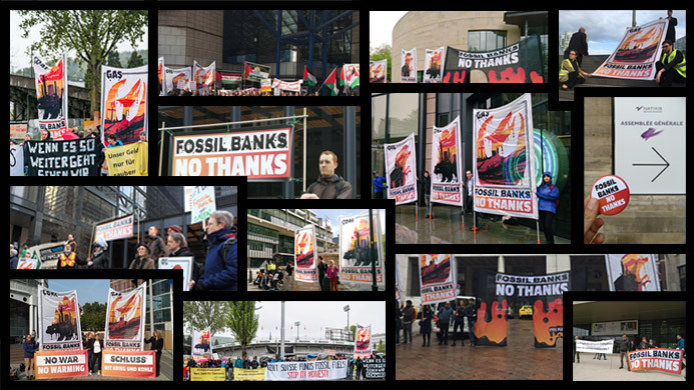 Fossil Banks, No Thanks! campaigners taking the message to banks during AGM season 2019. Photo: BankTrack
2019-06-13 | Nijmegen
BankTrack
This is a blog post by BankTrack Climate Campaigner Claire Hamlett.
Here we are, then, the grizzled veterans of 18 bank annual general meetings (AGMs) in 9 countries in the space of 11 weeks! This was only possible because of the brilliant campaigners and activists from more than 25 organisations and grassroots groups who joined forces with the BankTrack team to deliver the demands of Fossil Banks, No Thanks!. In some cases such as HSBC and Deutsche Bank, these demands became part of a bigger message to the banks to stop funding destruction, whether by support for the fossil fuel industry or for the arms trade. So a big thank you to everyone who came down to the AGMs with us in person and represented the campaign in the places BankTrack's team couldn't reach, as well as those who gave their support online and behind the scenes!

There's still lots of work to be done as we move into the second half of the year, but we can all take a moment to enjoy - and share far and wide - our new campaign clip, and a recap of our activities over this year's AGM season.
Natixis, Paris, France, May 28
BankTrack and Les Amis de la Terre were joined at Natixis' AGM by Ilham Rawoot, a writer and activist working with Justiça Ambiental/Friends of the Earth Mozambique against gas extraction in Mozambique. As Natixis arranged the financing of Coral South Floating Liquefied Natural Gas (FLNG) in Mozambique, Ilham came all the way to France to challenge the bank on its support of the LNG industry, which is expanding rapidly around the globe. However, shareholders became verbally abusive and the board did not let her finish her question. Read the press release for this AGM here.
Deutsche Bank, Frankfurt, Germany, May 23
To coincide with Deutsche Bank's AGM, German NGO Facing Finance published its Dirty Profits 7 report, exposing the investments in global arms companies of banks including Deutsche Bank. We teamed up with Facing Finance and German environmental organization urgewald under the slogan 'No War, No Warming', forming only part of the lively protests going on outside the meeting. Inside, a youth activist from Fridays for Future got the bank on the defensive over its continued support for the fossil fuel industry.
BNP Paribas, Paris, France, May 23
At the BNP Paribas AGM, we heard the encouraging news that the bank has decided to end its relationships with coal companies in Poland - these companies are showing no sign of transitioning out of coal, said a senior bank official. However, despite questioning, the bank was not able to announce a review of its current coal policy, meaning that it's still prepared to provide financial support for some of Europe's dirtiest energy companies (including RWE and ENEL). See our BNP Paribas briefing (in French) here.
Société Générale, Paris, France, May 21
70 activists from BankTrack, Les Amis de la Terre and Action non-violente COP21 (ANV-COP21) turned out in Paris to demonstrate against Société Générale, which is the advisor on major gas projects including Rio Grande LNG in the US and Mozambique LNG. Inside the meeting, the bank was keen to emphasise its green credentials and point out that it's not as bad as some of the other banks featured in our 2019 Banking on Climate Change Report, failing to mention its $3billion increase in fossil fuel finance last year! See our Société Générale briefing (in French) here.
Crédit Agricole, Metz, France, May 21
Along with Les Amis de la Terre, BankTrack took Crédit Agricole to task over the year-on-year increase in its fossil fuel finance. While the bank worryingly affirmed its commitment to gas 'as a transition fuel' during the meeting, it has just released the most ambitious coal phase-out policy of any Fossil Banks. Read more here. See our Crédit Agricole briefing (in French) here.
Standard Chartered, London, UK, May 8
Global Witness joined BankTrack outside Standard Chartered's AGM venue in central London. Our climate campaigner Lise intervened in the meeting to press the bank on its financing of the controversial Trans-Adriatic Pipeline (TAP) and the increase in its fossil fuel finance since the Paris Agreement was signed. See our Standard Chartered briefing here.
Barclays, London, UK, May 2
Last year, student activist group People & Planet disrupted Barclays' AGM and this year the bank was clearly fearful of another interruption to proceedings. BankTrack teamed up with People & Planet outside the meeting and witnessed this year's inside action of protesters calling on the bank to deliver climate justice. In collaboration with Greenpeace UK, we also published a Barclays investor briefing. Also see our Barclays briefing here.
Credit Suisse, Zurich, Switzerland, April 26
Due to Credit Suisse's sky-high levels of fossil fuel finance, the bank's AGM attracted a large gathering of Youth Climate Strikers. BankTrack went along to support them. The rain did not dampen the spirits of these energetic young activists. See our Credit Suisse briefing in English here and in German here.
Royal Bank of Scotland, Edinburgh, UK, April 25
BankTrack and Friends of the Earth Scotland appeared together inside and outside RBS's AGM, pressing the bank to cement its recent lack of fossil fuel finance into policy. That morning, the bank's CEO Ross McEwan announced his resignation. See the blog by our campaigner Greig on whether the CEO's departure might herald a new era in fossil free finance for the bank.
ING, Amsterdam, Netherlands, April 23
On home ground for a change, the whole BankTrack office travelled to Amsterdam for ING's AGM. We were delighted to be joined by an Italian activist from Mamme No Tap who lives in a community severely impacted by construction of the Trans-Adriatic Pipeline, of which ING is a financier. Inside the AGM, CEO Ralph Hamers puzzlingly told her TAP would not stimulate demand for gas and so "won't make things worse". Read more about what happened at the AGM. See our ING briefing here.
Santander, Santander, Spain, April 12
Grassroots Spanish group Ecologistas en Acción took to the water to make a statement on Santander's fossil fuel finance. The Ecologistas boat docked in the harbour in view of the bank's AGM venue, festooned with banners. Read more about what happened at the AGM. See our Santander briefing in English here and in Spanish here.
HSBC, Birmingham, UK, April 12
The HSBC AGM provided a moment for climate and anti-war campaigners to come together under the slogan 'No war, no warming'. Over 100 protesters gathered to hold Britain's biggest bank accountable for how its finance aggravates climate change, fuels war, and contributes to the oppression of the people of Palestine. Inside the meeting, the bank's CEO John Flint responded to BankTrack's question by saying we shouldn't end all fossil fuel financing because we haven't reached the peak of carbon consumption yet! Read more about what happened at the AGM. See our HSBC briefing here.
UniCredit, Milan, Italy, April 11
Our full set of banners made their debut this AGM season outside UniCredit's meeting. Outside, BankTrack teamed up with Re:Common, Greenpeace Italy, and a few student activists, while inside, our climate campaigner Claire was the only woman to ask a question of the bank's board. CEO Jean-Pierre Mustier was somewhat offended by the suggestion that the bank could do better on climate change than giving billions to the fossil fuel industry. Read more on UniCredit's support for fossil fuels, especially coal in Turkey. See our UniCredit briefing here.

TD Bank and Royal Bank of Canada, Toronto and Halifax, Canada, April 4
In Halifax climate justice campaigners gate crashed the AGM of Canada's top fossil bank, RBC, while in Toronto, the local 350 chapter hosted a rally outside the TD Bank AGM, with speakers from SumOfUs (video here), Greenpeace, and Ontario Coalition Against Poverty. Inside the TD meeting, rally speaker Amelia Meister from SumOfUs presented a 15,000-name petition on defunding fossil fuels, detailing the thousands of TD customers and shareholders who want to see the bank eliminate fossil fuels from their portfolio. See our TD briefing here and our RBC briefing here.