Dutch bank ING challenged over finance for fossil gas expansion
---
2019-04-23
Amsterdam, the Netherlands
BankTrack
---
---
Share this page:
---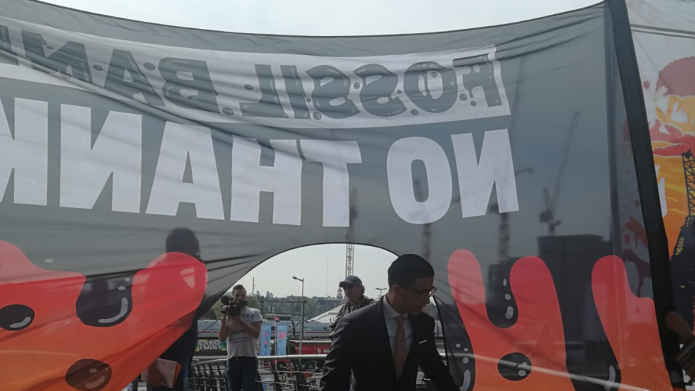 Fossil Banks, No Thanks! campaign action outside the ING agm. Photo: Daisy Termorshuizen
Today interventions inside and outside the Annual General Meeting (AGM) of ING, a Dutch multinational banking corporation, raised the pressure on shareholders to end the bank's practice of financing fossil fuel and demanded that it pulls out of projects like the Trans Adriatic Pipeline (TAP). TAP is the €5 billion western extension of the Southern Gas Corridor (SGC), a carbon bomb that will transport an initial 10 billion cubic metres of fossil gas per year from the Caspian Sea to Europe.
ING shareholder Serena Fiorentino, also a member of the 'NoTAP mums', one of the many diverse local groups forming the bedrock of the regional NoTAP movement, spoke out during the AGM. She challenged the assumption made by the bank and other TAP shareholders (a group largely comprised of oil and gas companies) that burning gas is a safer, cleaner alternative to other fossil fuels and emphasised the social and economic impacts that pipeline construction has on local communities.
"I know firsthand the physical and psychological destruction this pipeline is inflicting on the communities in its path. I imagined that my children would inherit the beauty of the same place where I grew up. Instead they are inheriting a legacy of reinforced concrete, barbed wire, expropriated land, denied rights, destroyed local economies, and a southern Italy once again exploited and succumbed to the interests of the strongest and most powerful," says Fiorentino.
Fiorentino asked what plans the bank has in place to assess the reputational risk of investing in dangerous fossil fuel infrastructure rather than renewable energy. Just last week the OECD demanded that ING formulates concrete climate goals for its financial services, in line with the Paris Climate Agreement, and in 2018 the bank was embroiled in a money laundering scandal. She finished by calling on the bank to commit to a review of its lending policies in light of the negative impacts TAP is having now and will continue to do so decades into the future.
Outside the AGM conference campaigners staged an action showing that the public don't want their banks funding fossil fuels and climate chaos, further challenging shareholders to tackle their bank's regressive fossil fuel financing practices. ING is one of 17 banks supporting the TAP with a lucrative €635 million loan facility, the bank's financing of fossil fuels is increasing year on year despite the need to rapidly cut greenhouse gas emissions.
Claire Hamlett at BankTrack, one of the organisers of the action, explains: "Climate change is already bringing disaster and suffering to many parts of the world. Banks that support the climate-wrecking fossil fuel industry must rapidly change course. ING has made good moves on coal but has few restrictions on its oil and gas financing, leading it to be involved in projects like TAP which will lock Europe into decades more of fossil fuel dependence. ING must get as ambitious on cutting oil and gas from its portfolio as it has been on coal."
Across Europe the climate movement is growing - interest in the issue is soaring as impacts hit home and the next generation strike from school to save their future from climate chaos. People are gearing up over the AGM season to demand that private financiers like RBS, Credit Suisse, Barclays, Standard Chartered, Société Générale, Crédit Agricole, BNP Paribas, Deutsche Bank, and Natixis drop their support for fossil fuel expansion. Public institutions like the European Investment Bank (EIB), that have spent billions of taxpayers money on dangerous new infrastructure like TAP, will also face a challenge to their impunity and unethical financing.
The message is clear, communities will no longer stand by and let banks finance dangerous new fossil fuel projects that are driving climate change as well as local social and economic
Notes for the editor:
Background information on TAP (BankTrack)
More information on the fossil fuel projects being funded by ING
Copy of the full intervention made by Serena Fiorentino is available on request
Follow #FossilBanksNoThanks for images of the action
Related Dodgy Deals
Projects
There are no projects active for this item now.