Santander's deep support for fossil fuel industry challenged at bank's AGM
2019-04-12 | Santander, Spain
BankTrack & Foundation "Development YES - Open-Pit Mines NO"
Kuba Gogolewski, Foundation "Development YES - Open-Pit Mines NO"
climate@banktrack.org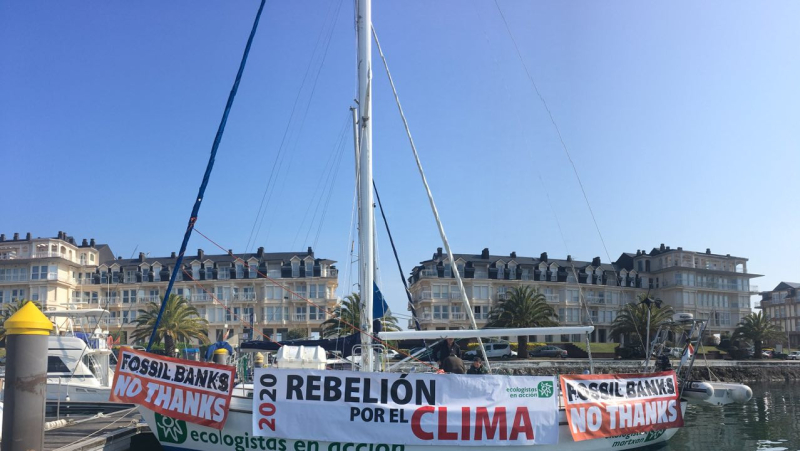 The Ecologistas en Acción sailing boat delivers a message to the Santander AGM (April 2019). Photo: Samuel Martín-Sosa
2019-04-12 | Santander, Spain
BankTrack & Foundation "Development YES - Open-Pit Mines NO"
Kuba Gogolewski, Foundation "Development YES - Open-Pit Mines NO"
climate@banktrack.org
Today at Banco Santander's annual shareholders' meeting environmental campaigners from across Europe challenged the bank's board of directors to take action to cut the institution's multi-billion dollar support for the fossil fuel industry.
Outside the AGM, in Santander, Spain, campaigners from Ecologistas en Acción hung large banners from a sailing boat with the combined messages aimed at Spain's biggest bank of 'Fossil Banks, No Thanks!' and 'By 2020 We Rise Up'.
Inside the AGM, Polish NGO Foundation "Development YES - Open-Pit Mines NO" raised the issue of Santander's ongoing support for the coal expansion activities of one of Europe's top polluters, Poland's state-owned PGE.
In September 2018, Santander participated in a four bank consortium which provided PGE with EUR 950 million in general company financing which campaigners maintain is being ploughed into the state-owned utility's coal power plant expansion programme.
Kuba Gogolewski, of Foundation "Development YES - Open-Pit Mines NO" and present at today's AGM, said:
"Santander can show real, positive climate leadership by turning off its financing tap for PGE, one of Europe's worst polluters. As PGE continues to plan new lignite mines and coal plants, it's crunch time for the financially vulnerable company. When it comes knocking on Santander's door in the coming few weeks for another financial lifeline, we expect the bank to put public health and the climate ahead of profits and say no to PGE's alarming coal expansion plans."
Santander's $15 billion financial support for the fossil fuel industry over the last three years was revealed in a recent report.
Samuel Martin-Sosa, of Ecologistas en Acción, said:
"There is an emerging social mobilisation all over the world demanding immediate and effective climate action from governments and corporations. If fossil banks like Santander do not understand this message clearly they will face increasing social discontent. There are many people committing to rise up for climate justice by 2020 if things do not change now."
Greig Aitken, of BankTrack which is coordinating the global Fossil Banks, No Thanks! campaign with the support of over 200 organisations around the world, said:
"Throwing $15 billion at the fossil fuel industry in the three years since the Paris agreement was signed is not a very hot look for Santander, but the bank's finance is clearly contributing to ever hotter temperatures. Today's action is the fifth Fossil Banks, No Thanks! protest outside a bank AGM in a week, following other protests at the AGMs of TD Bank, Royal Bank of Canada, Unicredit and also HSBC today, with many further AGM actions to follow in the weeks to come.
"Instead of undermining global efforts to cut greenhouse gas emissions to keep the rise in average temperature no higher than 1.5 degrees, Santander and other big banks have to cut out the excuse-making and instead start cutting fossil fuel companies from their portfolios, starting right now."
There are no active company profiles for this item now.