Judge dismisses DAPL case against BankTrack in full: our reaction
2018-07-25
BankTrack
Johan Frijns, Director, BankTrack: +31 24 324 9220

Legal counsel, Robin Martinez: +1.816.694.6304, martinezlaw.net

For all additional media enquiries please contact Ryan Brightwell, BankTrack: ryan@banktrack.org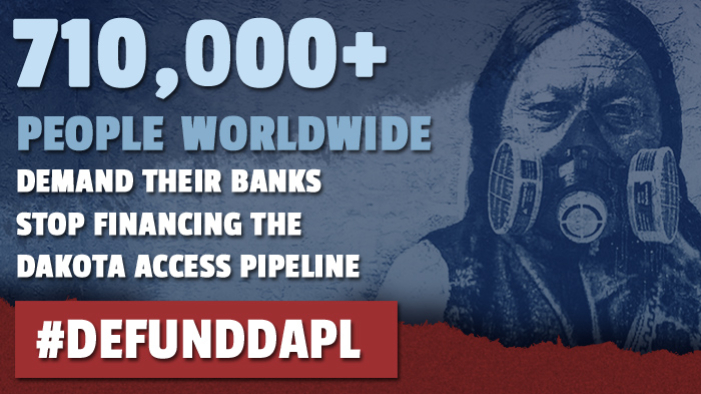 Photo: BankTrack
2018-07-25
BankTrack
Johan Frijns, Director, BankTrack: +31 24 324 9220

Legal counsel, Robin Martinez: +1.816.694.6304, martinezlaw.net

For all additional media enquiries please contact Ryan Brightwell, BankTrack: ryan@banktrack.org
The lawsuit filed against BankTrack by Energy Transfer Partners (ETP), the company behind the Dakota Access Pipeline, has been dismissed by a North Dakota District Court. The judge ruled that Energy Transfer had failed to state a plausible Racketeer Influenced and Corrupt Organisations Act (RICO) claim against BankTrack, and that without that, the court has no jurisdiction over BankTrack for the additional non-federal claims.

The judge's dismissal can be downloaded here.

The judgement reaches far beyond a narrow focus on BankTrack's advocacy, making clear that ETP's arguments represent a "dangerously broad" application of RICO that would allow governments and corporations "to curtail almost any disagreeable, arguably protected speech". While the judgment focuses on BankTrack's advocacy activity, including writing to banks and publishing commentary on their activities, ETP's complaint is packed full of attempts to characterise the everyday advocacy of all the defendants, including Greenpeace and others, as being somehow criminal in nature.

BankTrack director Johan Frijns said: "We're very pleased to learn that the frivolous claims against BankTrack have been dismissed. Everything we have been saying has been vindicated. Energy Transfer's allegations about our supposed involvement in directing acts of "radical ecoterrorism" were hard to take seriously from the outset, and we are pleased that the judge has confirmed that these were sweeping statements without any basis in fact.

"BankTrack raised legitimate human rights concerns arising from the Dakota Access Pipeline with the banks financing the project. The judge's decision confirms that this type of advocacy work is legitimate and is not "reasonably or plausibly related" to any acts of criminal conduct, as was alleged by Energy Transfer.

"We hope the judge will now similarly dismiss the case against the other defendants, and that the ringing rejection of this case will discourage other corporations from launching these kinds of Strategic Lawsuits Against Public Participation. BankTrack is grateful to our lawyer, Robin Martinez, and to EarthRights International, for their exceptional and tireless work in helping us resist this case."

Marco Simons, General Counsel of EarthRights International, which serves as consulting counsel for BankTrack in the lawsuit, commented: "Corporations attempting to silence criticism of their conduct have started turning to the RICO statute, and Judge Wilson's decision is a strong rebuke to this tactic. The opinion makes clear that however much a company like Energy Transfer Partners dislikes public criticism of its projects, it cannot use RICO to argue that its critics are involved in organized crime. This is the right interpretation of the law, and it should shut down similar efforts against other advocates and nonprofits."

BankTrack, Earth First! and Greenpeace were named as defendants in the lawsuit by Energy Transfer Equity and Energy Transfer Partners, the companies behind the Dakota Access Pipeline, in September 2017. The lawsuit alleged that BankTrack, along with other environmental advocacy groups "manufactured and disseminated materially false and misleading information about Energy Transfer and the Dakota Access Pipeline" and "incited, funded, and facilitated crimes and acts of terrorism to further these objectives." BankTrack's motion to dismiss the lawsuit was filed in November 2017. ETP has a right to appeal the judge's decision.
There are no active project profiles for this item now.