'Fossil Banks, No Thanks!': 120 civil society groups call on banks to end fossil fuel finance
Risk of climate breakdown requires urgent end of bank support for new coal, oil and gas
2018-10-16 | Nijmegen
BankTrack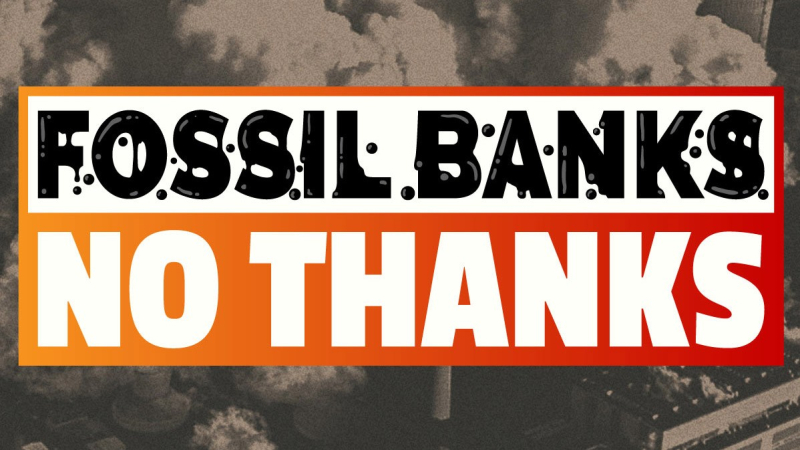 Photo: BankTrack
2018-10-16 | Nijmegen
BankTrack
A new international campaign calls on large commercial banks to immediately end their support for all new fossil fuel projects, and to publish robust phase-out plans for their existing fossil fuel clients, at the latest before the 25th UN Climate Summit in November 2019.

The 'Fossil Banks, No Thanks!' campaign was launched today by BankTrack, together with campaigning groups including urgewald, Friends of the Earth France, Oil Change International, Rainforest Action Network, and the Sierra Club. The 'Global Call on Banks' in support of the campaign has already received the support of 120 civil society organisations from 34 countries.

The campaign primarily targets 38 major banks. Between 2015 and 2017, these banks – including HSBC, the Industrial and Commercial Bank of China, JPMorgan Chase, MUFG and Santander – were involved in financing of at least USD 345 billion for projects and companies in the coal, oil and gas sectors.

All of these banks continue to support projects and clients in the coal, oil and gas sectors, with only a few having recently introduced exclusion criteria for specific types of coal power plants, coal mines, or high-impact oil sources such as tar sands and Arctic drilling.

While many banks recognise the urgency of combating climate change, less than a quarter of the banks targeted by the campaign explicitly acknowledge that the burning of fossil fuels is the main driver of climate change. None recognise that preventing climate breakdown requires a rapid phase out of fossil fuel use, and that financing new fossil fuel extraction is incompatible with this goal.

All 38 banks were notified today in an open letter that civil society demands public clarity, before the next UN climate summit in Poland in December 2018, on their view of the relation between climate change and the extraction and burning of fossil fuels, followed by concrete action to end their fossil fuel financing.

The 'Fossil Banks, No Thanks!' campaign was launched after several months of extreme weather events, with temperature records being broken across the globe, and a week after a new report from the United Nations Intergovernmental Panel on Climate Change (IPCC) concluded that rapid and unprecedented action is needed from state and non-state actors to keep the average global temperature rise below the 1.5 degrees Celsius target of the Paris Agreement.

The 'Fossil Banks, No Thanks!' campaign seeks to mobilise the public in demanding from their banks that they take decisive action on their fossil fuel financing. Organisations and members of the public can sign the Global Call on Banks at www.fossilbanks.org.

Johan Frijns, BankTrack's director, commenting on the 'Fossil Banks, No Thanks!' campaign launch, said: "Climate change, long perceived as a distant threat, is now fully upon us, and only rapid and decisive action will prevent further climate breakdown. We want to know from banks whether they are with us in preventing this breakdown, or plan to further finance it. There is no more time for banks to make small incremental changes to their energy policies. Bold decisions on their fossil fuel phase out are required.

We know that there is no one-size-fits-all exit strategy for all banks. How each bank will wind down their financing will depend on their fossil fuel portfolios. But there is no excuse for any of them to put further capital towards new coal, oil or gas projects. The world's remaining carbon budget to stay below the 1.5 degrees Celsius limit won't allow it."

Kelly Martin, Director of the Sierra Club's Beyond Dirty Fuels Campaign, said: "The tide is turning against investments in fossil fuel infrastructure, and the international movement calling for divestment from these dirty, dangerous projects isn't going away. Any bank that's still supporting fossil fuels is stuck in the past. It's time for them to commit to investing in a future that benefits our communities, our economies, our health, and our planet."

Paddy McCully, Director of Rainforest Action Network's Climate and Energy Program, said:"The shocking conclusions of the latest UN IPCC report shows it is long past time for banks to give up their waffling and dissembling on climate change. Bankers need to stop financing the expansion of fossil fuels and commit to phasing out dirty energy on a schedule that's aligned with climate science. Banks can no longer profess concern for climate change while simultaneously pouring hundreds of billions of dollars into the companies that are mainly responsible for it."

Regine Richter, Energy campaigner with environmental and human rights organisation urgewald, said: "We have seen some small steps by banks on coal, which we welcome. But in the light of the climate change emergency they are simply too small and much more needs to happen from the banks."

Lorette Philippot, Private Finance Campaigner at Friends of the Earth France, said: "A week ago, the science community taught us that avoiding disastrous levels of global warming calls for 'rapid, far-reaching and unprecedented changes in all aspects of society'. Banks such as Société Générale, with its massive support for the development of new fracked gas export terminals in the U.S. and to the Rio Grande LNG project in particular, are fuelling the fossil industry and need to immediately take action consistent with the scale of the emergency, or they will be held accountable for a world beyond 1.5°C, just as much as the dirty companies and projects they are continuously backing."

Claire Hamlett, coordinating the Fossil Banks, No Thanks! campaign at BankTrack, said: "We launch this campaign today with the support of 120 organisations from around the world. This goes to show how civil society groups, with diverse demands and campaign targets, are converging on the goal of getting bank finance out of fossil fuels and into clean energy. The months to come will see many more civil society groups joining this campaign, ensuring that our demands will not be ignored."

Notes for editors:

1. The Fossil Banks, No Thanks! website contains the text of the public petition urging banks to commit to ending their fossil fuel financing, along with a range of background information and campaign tools. See: www.fossilbanks.org.

2. See: www.fossilbanks.org/#banks.

3. See letter, Your Bank's Future Relation to the Fossil Fuel Industry, 16 October 2018.

4. See the United Nations Intergovernmental Panel on Climate Change's Special Report on Global Warming of 1.5ºC, here.