East African Crude Oil Pipeline: more banks to stay away from troubled Total project
HSBC and Mizuho among the largest lenders indicating they will steer clear of the widely criticised project
2021-09-14
BankTrack & #StopEACOP
For #StopEACOP: Omar Elmawi, Campaign Coordinator, omar.elmawi@350.org, +254 780 343432
For BankTrack: Ryan Brightwell, ryan@banktrack.org +31 634 643 116
For Inclusive Development International: David Pred, david@ inclusivedevelopment.net, +1 917-280-2705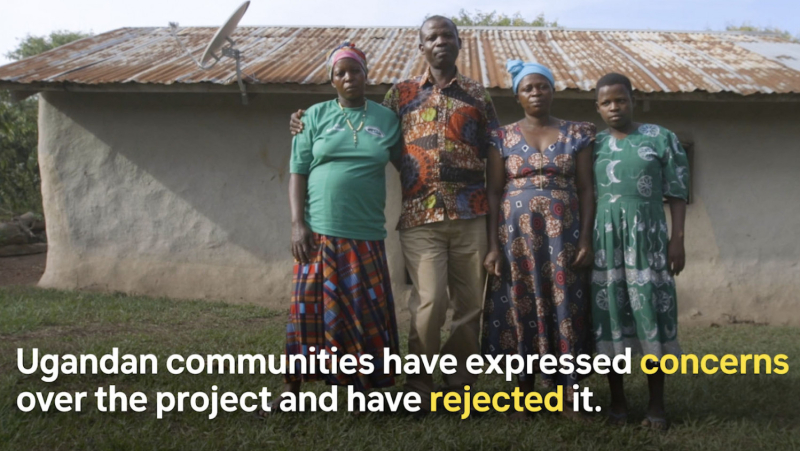 Still from EACOP information video (see act.350.org/sign/stop-east-africa-crude-oil-pipeline/). Photo: 350.org Africa
2021-09-14
BankTrack & #StopEACOP
For #StopEACOP: Omar Elmawi, Campaign Coordinator, omar.elmawi@350.org, +254 780 343432
For BankTrack: Ryan Brightwell, ryan@banktrack.org +31 634 643 116
For Inclusive Development International: David Pred, david@ inclusivedevelopment.net, +1 917-280-2705
The East African Crude Oil Pipeline, French oil company Total's proposed 1,445 kilometer pipeline through Uganda and Tanzania, is coming under further pressure as more banks make clear that they are not taking part in a $3 billion loan to enable the project to proceed. The news comes as Uganda's parliament prepares to consider a new "EACOP Bill", and follows government attempts to suspend the work of over 50 Ugandan non-governmental organisations, including groups working to defend the rights of people affected by the oil pipeline project.
In response to a briefing paper updating financiers on the project's risks, released last month, HSBC, Mizuho and the United Overseas Bank all confirmed they are not supporting the project. The statements bring the total number of banks that have distanced themselves from the project to 11, including ANZ, Barclays, BNP Paribas, Crédit Agricole, Credit Suisse, Royal Bank of Canada, Société Générale and UniCredit.
All eleven banks are signatories to the Equator Principles, the banking sector's environmental and social risk management framework for financing large infrastructure project finance, to which the EACOP project will need to adhere if it is to attract finance. The list also includes eight of Total's largest 15 bank financiers, according to data from the Banking on Climate Chaos report, the annual assessment of bank finance for the fossil fuel industry.
HSBC told BankTrack via email, "HSBC is not involved in this financing". Although the bank's statement did not rule out future involvement, other commercial banks have been conducting internal "due diligence" on whether to finance the project since as early as April. The bank's statement indicates that the bank is not taking part in this due diligence and would be unlikely to become involved at this point. HSBC is the eighth-largest financier of Total since the Paris Agreement was signed, according to data from Banking on Climate Chaos.
Mizuho, one of the "big three" Japanese banks, stated, "We won't commit our financing to EACOP unless the on-going E&S issues will be resolved and amicable solutions will be prepared." Mizuho is one of fifteen largest bank financiers of Total according to data from Banking on Climate Chaos. Its announcement is particularly significant because its competitor, Sumitomo Mitsui Banking Corporation (SMBC), is acting as a financial advisor to Total on the project.
Singapore's United Overseas Bank said "UOB is not, and does not intend to be, a financier of the East African Crude Oil Pipeline project." The bank had previously said it would not finance the EACOP "if it threatens a designated Ramsar wetland or may significantly impact critical natural habitats." UOB has also been identified as a recent financier of China's CNOOC, owner of a minority 8% shareholding in the pipeline.
The news raises pressure on the project's financial advisors, Standard Bank, SMBC and Industrial and Commercial Bank of China, as well as the remaining major financiers of Total that have not responded to the open letter, sent by 260 civil society organisations in March, warning banks not to finance the project. These include JPMorgan Chase, the largest financier of Total not to have commented so far, as well as Deutsche Bank and Japan's MUFG.
Johan Frijns, Director of BankTrack, commented: "With eleven Equator Banks now declining to finance the project, it seems clear that this project is beyond the risk appetite of banks that have adopted the Equator Principles. This seems only logical given the Principles' stringent requirements on appropriate stakeholder consultation, protection of protected areas and above all the stated commitment of all Equator banks to 'support the objectives of the Paris Agreement'."
David Pred, Executive Director of Inclusive Development International, added: "While Total is insisting financing for the EACOP won't be a problem, it is clearly struggling to find enough banks with low enough environmental and human rights standards to support it. And no wonder, when the public can see climate change already wreaking havoc on every continent. There is no longer any doubt that we must stop building new fossil fuel infrastructure immediately. The company now needs to find $3 billion without the support of the African Development Bank, UK Export Finance, or most of the largest commercial banks from its usual roster. Questions to those banks that have not yet distanced themselves from this project will now intensify."
Omar Elmawi, Coordinator of #StopEACOP, also stated: "The news of Mizuho and HSBC joining 9 other banks in announcing they will not proceed with financing EACOP is a clear indication that this project is not bankable. If there are other banks still contending to finance this project, then they need to join the bandwagon and keep some daylight between them and the project. Unless they do not care about risking their investments to turn into stranded assets and tipping the planet closer to a planetary crisis."
There are no active project profiles for this item now.