East African Crude Oil Pipeline: new update on risks and impacts for financiers
2021-08-09 | Nijmegen
BankTrack
BankTrack: Ryan Brightwell, ryan@banktrack.org +31 634 643 116
Just Share: Robyn Hugo, rhugo@justshare.org.za +2782 389 4357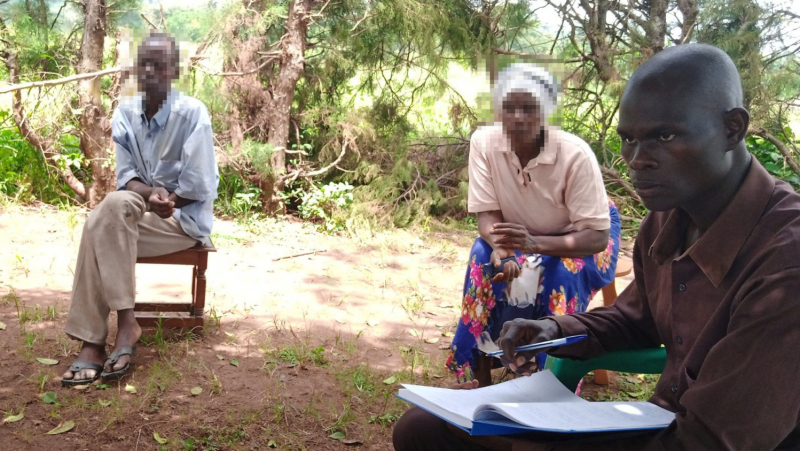 AFIEGO's Buliisa Field Officer, Maxwell Atuhura, with community members (faces blurred). Maxwell was arrested in May 2021 in the course of his work documenting human rights impacts on oil project-affected communities in Uganda. Photo: AFIEGO
2021-08-09 | Nijmegen
BankTrack
BankTrack: Ryan Brightwell, ryan@banktrack.org +31 634 643 116
Just Share: Robyn Hugo, rhugo@justshare.org.za +2782 389 4357
A new briefing sets out how the urgent risks posed by the East African Crude Oil Pipeline (EACOP) to human rights, climate and nature have not only not been addressed, but have led to new impacts on communities' rights and livelihoods, even as lead project sponsor TotalEnergies signed agreements with host governments aimed at progressing the project. The briefing was written by BankTrack and is endorsed by the Africa Institute for Energy Governance (AFIEGO), Both ENDS, Inclusive Development International and Just Share.
Construction of the EACOP, a proposed 1,445 kilometre crude oil pipeline from Hoima in Uganda to the port of Tanga in Tanzania, would require a project loan of US $3 billion, which has not yet been secured. However, recent months have seen a growing list of financiers distance themselves from the project.
At least seven commercial banks - ANZ, Barclays, BNP Paribas, Crédit Agricole, Credit Suisse, Société Générale and UniCredit - have ruled out joining the project finance loan since an open letter signed by 263 organisations from 49 countries called on banks not to finance the EACOP. News that French banks would not finance the project was welcomed by the French Minister of the Ecological Transition, Barbara Pompili.
The project has also been refused support from insurers and export credit agencies. In July, AXA made clear it would not support the EACOP, stating: "The underlying project is not compatible with our climate commitments." The UK export credit agency, UK Export Finance (UKEF), has also turned down an application for finance, following a UK government decision to cease finance for fossil fuel projects overseas.
Among the new developments identified in the briefing are:
New reports from project-affected people in Uganda, of intimidation from security agents, as communities continue to await the compensation they have been promised and face restrictions on the use of their land;
A failure by the host countries to adhere to their transparency commitments, as members of the Extractive Industries Transparency Initiative (EITI);
New arrests in May of a Ugandan human rights defender and an Italian journalist, while they documented the abuses faced by project-affected communities;
International opposition is growing, with protests in front of banks and Total gas stations in countries around the world, and globally-known climate justice advocates including Greta Thunberg and Vanessa Nakate voicing opposition to the project;
A new court case filed at the East African Court of Justice (EACJ) in November 2020, aiming to nullify the agreements for the EACOP's construction; and
The clear finding from the International Energy Agency (IEA) that there is "no need for investment in new fossil fuel supply" under its Net Zero by 2050 roadmap.
Diana Nabiruma of AFIEGO stated: "Oil is not the 'black gold' we are led to believe and the position of Ugandans who have been affected by EACOP is simple: TotalEnergies and those considering financing the pipeline should know that it is having and will continue to have severely negative effects. It is therefore best for financial institutions to desist from funding the pipeline which will not only distort ecosensitive indigenous ways of living, but will also worsen climate change, whose grave impacts are already being exponentially felt in Uganda".
Ryan Brightwell, Researcher and Editor at BankTrack, commented: "Total may have renamed itself TotalEnergies, but in continuing with its oil projects in East Africa, it demonstrates that it remains committed to new fossil fuels and has zero interest in meeting 1.5 degree-aligned climate targets. Total needs to heed the message of the banks that have concluded that the EACOP project is too risky to touch, and reconsider. If this rebrand reflected a genuine change of approach, Total should be working with Uganda and Tanzania on forging a new development path based on renewables, rather than turning a National Park into an oil field and locking the country into building the stranded assets of the near future."
Coleen Scott, Legal and Policy Associate at Inclusive Development International, stated: "The updated risk briefing should raise alarm bells for any bank or insurer still considering support for EACOP. Impacts on local communities have intensified, reprisals against human rights defenders have escalated, and opposition to the project has continued to grow--all against the backdrop of a worsening climate crisis. With the recent launch of the Net Zero Insurance Alliance, the insurance industry signalled its intention to support climate solutions. Its members must act on those commitments by declining support for EACOP, and underwriting clean energy alternatives instead."
There are no active project profiles for this item now.