BankTrack statement on Dakota Access Pipeline lawsuit filed by ETP/ETE
2017-08-22 | Nijmegen
BankTrack
Johan Frijns, Director BankTrack
johan@banktrack.org
+31 24 324 9220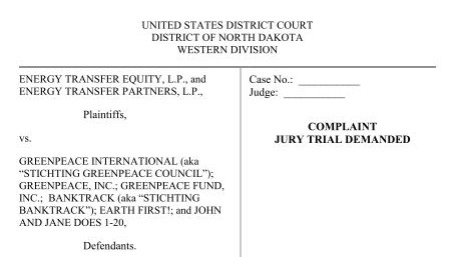 Screenshot of ETP lawsuit. Photo: US District Court document
2017-08-22 | Nijmegen
BankTrack
Johan Frijns, Director BankTrack
johan@banktrack.org
+31 24 324 9220
BankTrack has taken note of the outrageous allegations in the lawsuit that ETP/ETE has filed against BankTrack, Greenpeace International, Greenpeace Inc., Greenpeace Fund, Inc., Earth First!, and other organizations and individuals that together opposed the Dakota Access Pipeline Project.
BankTrack vehemently rejects all accusations brought forward by ETP/ETE. We consider it perfectly within our right and our stated mission to inform the general public on potential or actual negative social, environmental and human rights impacts of projects -to be- financed by private sector banks. We also consider it competely within our right to bring information on such projects, including indicators of widespread public concern, to the attention of banks, so that they can make their own assessment of the materiality of this information, and let this weigh into their own decision making processes.
BankTrack considers the lawsuit an attempt of ETP/ETE to silence civil society organisations, and to curb their crucial role in helping to foster business conduct globally that protects the environment, recognises the rights and interests of all stakeholders, and respects human rights. This attempt is bound to fail.
Contrary to what is stated, BankTrack has not made any financial gain from our campaign work on the Dakota Access Pipeline. We are fully transparent on our funding sources, which can be found here, with our audited financial report for 2016 available here.
Further statements will follow. See also this information page
***
The press release from ETP/ETE alleges that "this group of co-conspirators (the "Enterprise") manufactured and disseminated materially false and misleading information about Energy Transfer and the Dakota Access Pipeline ("DAPL") for the purpose of fraudulently inducing donations, interfering with pipeline construction activities and damaging Energy Transfer's critical business and financial relationships. The Complaint also alleges that the Enterprise incited, funded, and facilitated crimes and acts of terrorism to further these objectives. It further alleges claims that these actions violated federal and state racketeering statutes, defamation, and constituted defamation and tortious interference under North Dakota law."
There are no active project profiles for this item now.