Over 700,000 people demand banks stop financing the Dakota Access Pipeline
While Trump, Energy Transfer Partners and Sunoco Logistics race to complete the pipeline, over 700,000 people say no to the banks behind the project
2017-02-03 | Nijmegen
BankTrack & et al
Johan Frijns, BankTrack: +31 24 3249220
For inquiries to the Standing Rock Sioux Tribe: Nick Pelosi, Director Corporate Engagement, First Peoples Worldwide, standingrockdapl@gmail.com, +1 540-899-6545
For inquiries to the Indigenous Coalition at Standing Rock:Tara Houska, National Campaign Director, Honor the Earth, tara@honortheearth.org, +1 612-226-9404
For inquiries about the Week of Action: Vanessa Green, Individual Campaign Director, DivestInvest, vanessa@divestinvest.org, +1 617-230-8942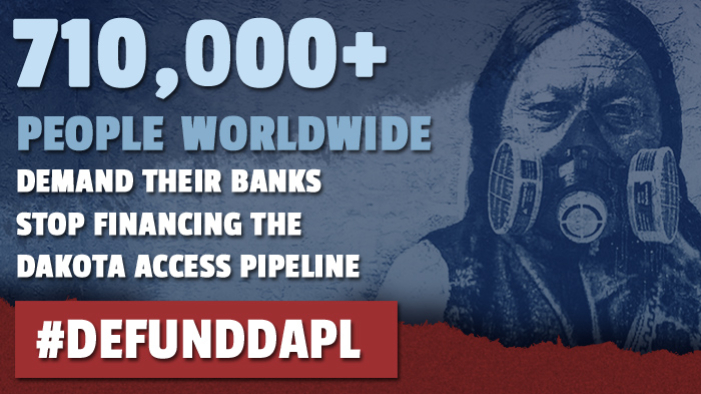 Photo: BankTrack
2017-02-03 | Nijmegen
BankTrack & et al
Johan Frijns, BankTrack: +31 24 3249220
For inquiries to the Standing Rock Sioux Tribe: Nick Pelosi, Director Corporate Engagement, First Peoples Worldwide, standingrockdapl@gmail.com, +1 540-899-6545
For inquiries to the Indigenous Coalition at Standing Rock:Tara Houska, National Campaign Director, Honor the Earth, tara@honortheearth.org, +1 612-226-9404
For inquiries about the Week of Action: Vanessa Green, Individual Campaign Director, DivestInvest, vanessa@divestinvest.org, +1 617-230-8942
Over 700,000 people have signed one of six petitions to banks financing the Dakota Access Pipeline (DAPL). The figure includes individuals who collectively report having over $2.3 billion invested in these banks through checking, mortgage, and credit card accounts, which they are ready to divest if the banks continue financing DAPL. Thousands have already closed their accounts and defunded over $55 million and counting.
With the Trump government exerting massive pressure on the US Army Corps of Engineers to ignore its own procedures and immediately issue the last permit needed to construct the final part of the Pipeline, and with Energy Transfer Partners fully intending to "complete construction of the pipeline without any additional rerouting in and around Lake Oahe", pressure is mounting on the banks involved, in a last attempt to prevent a bitter confrontation at the project site.
The 17 banks involved in directly financing the construction of the Dakota Access Pipeline, and the many others providing credits to the companies behind the project, continue to find themselves targeted by campaigners demanding an end to their support for the project. Activists this week were showing up in person at bank headquarters in New York, Montreal, Munich, Madrid, Moscow, Amsterdam, San Fransisco and elsewhere, demanding the withdrawal of the 17 banks involved in the construction loan to ETP (Bank of Tokyo Mitsubishi UFJ, BayernLB, BBVA, BNP Paribas, Citigroup, Crédit Agricole, DNB ASA, ICBC, ING, Intesa Sanpaolo, Mizuho Bank, Natixis, SMBC, Société Générale, SunTrust Robinson Humphrey, TD Bank, Wells Fargo).
In response, banks including ABN AMRO and ING have made public statements that they are ready to reconsider their relation with ETE . However, at the same time campaigners noted with dismay the renewed involvement of a number of banks in a new $2.2 billion refinancing loan to Energy Transfer Equity, led by Credit Suisse.
As pressure is mounting on the financiers of the project, The Sacred Stone Camp and their allies have vowed to stand their ground as long as DAPL construction equipment remains on Oceti Sakowin treaty land. The global coalition targeting the DAPL financiers has vowed to continue pressure on all banks funding fossils throughout 2017.
Quotes in support of the global DefundDAPL campaign:
Standing Rock Sioux Tribal Chairman Dave Archambault II said: "By attempting to fast track DAPL, President Trump has made it clear that his priorities lie with his wealthy contributors rather than the public interest. Banks now have an opportunity to take a stand against this reckless assault on our treaty rights and water, or be complicit and continue to lose millions."
Dallas Goldtooth, Keep It In the Ground Campaigner, Indigenous Environmental Network, said: "President Trump wishes to fast-track the construction of the Dakota Access pipeline, against federal law and tribal treaty rights. Indigenous nations and communities will not be the sacrifice zones for President Trump's fossil fuel regime. We remain steadfast in our defense of our inherent rights and the protection of Mother Earth and we implore our allies to stand with us. We must remind the investors of this pipeline that they, via their financing, are threatening the lives of water protectors and it's time to be held accountable for that."
Judith LeBlanc, Director, Native Organizers Alliance and member of the Caddo Tribe of Oklahoma, said: "The decision to build the Dakota Access Pipeline was made in the halls of power by a handful representing banks and corporations willing to sacrifice Mother Earth for profit. The decision to stop it will be made by the many, all across the world, who know that Mother Earth and water give us life. Time is now for investors to also stand for Mother Earth. We started at Standing Rock, now Standing Rock is everywhere."
Chase Iron Eyes, lead attorney, Lakota People's Law Project, said: "It's inspiring to see the power of global currency being leveraged in the frontline movement at Standing Rock. Separate fights -- defending clean drinking water, upholding constitutional freedoms, creating a new energy economy -- are becoming one as people recognize and respond to the problem of banks using their money to finance human rights violations and brutality. If money rules the day then we will bring compassion to our capital by divesting."
Angus Wong, Campaign Manager, SumOfUs: "Trump's green light of the destructive Dakota Pipeline is a corporate scheme to enrich himself and his corporate friends. But we know targeting banks to stop financing this dangerous pipeline works -- two days after we delivered hundreds of thousands of SumOfUs members' signatures to Norway-based DNB bank headquarters in November, it pulled its assets in the pipeline. We hope DNB will again demonstrate leadership by committing to withdraw its project funding."
Erich Pica, President, Friends of the Earth US, said: "The voices of Indigenous peoples have been ignored for too long – by the US government, corporations and big banks. By not acknowledging Indigenous peoples, these banks are perpetuating a pattern of colonialism and failing to respect Indigenous peoples' rights to Free, Prior and Informed Consent."
Vanessa Green, Director of DivestInvest Individual, said: "DAPL is simply the wrong kind of investment, and people don't want their money behind it. With government mandates to scale up clean energy investments, a market increasingly supportive of a low carbon future, and unprecedented consumer and investor interest in moving money into climate and community solutions, the question now is which banks will lose the most in this historic energy transition."
Mary Sweeters, Climate Campaigner with Greenpeace USA, said: "People across the world have pledged their solidarity with the Indigenous communities who reject this dirty pipeline and the threat it poses to the water and climate. The banks must choose whether they want to continue to invest their money in yesterday or listen to the millions of people who stand with Standing Rock."
Fran Teplitz, Executive Co-director of Green America, said: "Now more than ever we need to move away from destructive fossil fuel pipelines and pursue a clean energy future. Indigenous communities are demonstrating heroic leadership by protecting water, the source of life, from the dangers of pipelines. We call on the government and banks to halt support for the Dakota Access Pipeline immediately."
Kristen Perry, Climate Justice Montreal Organizer, said: "We need to stop funding projects which endanger water, land, and our communities, and instead follow the lead of defenders calling for direct action and support. It is crucial that we center justice for communities on the frontline of the crisis and the forefront of solutions, and pushing for divestment and the defunding of destructive projects is a tangible way for us to take action in solidarity with Indigenous communities across colonial borders."
Yago Martínez from Ecologistas en Acción, said: "DAPL is not only a clear violation of Indigenous people's rights but also a major climate threat. We believe in the importance of international solidarity to achieve goals leading to global and climatic justice, and therefore we cannot fail to stand with Standing Rock. We must raise our voices. Banks from all over the world are involved in this destructive project and they must be held accountable."
Ruth Breech, Campaigner, Rainforest Action Network, said: "The Dakota Access Pipeline is a morally and financially bankrupt project. If banks value Indigenous rights and free, prior and informed consent, they will leave this project immediately. We don't need another pipeline. We need financial institutions that are willing to take a stand and do the right thing-divest from the Dakota Access Pipeline."
Leila Salazar López, Executive Director, Amazon Watch, said: "Indigenous peoples across the Americas, from Standing Rock to the Amazon, have for years been standing up against the destructive, racist practices of the fossil fuel industry. The number of people withdrawing their money from the banks supporting the Dakota Access pipeline is a clear signal to those banks that destructive fossil fuel projects are a bad financial, social, and environmental investment."
Regine Richter of urgewald Germany, said: "European banks involved in financing DAPL might think they are far enough away and can get off the hook from the protests. But here as well people are enthusiastic to stand with Standing Rock and protest against the loan, as we do this week at BayernLB."
Johan Frijns, Director BankTrack, said: "The Dakota Access Pipeline is becoming a litmus test for all banks involved on how they let environmental, social and human impacts weigh in when considering finance for a particular project. In this case, the ongoing violation of the rights of the Sioux Tribe leave them no other option but to withdraw from the project."

There are no active project profiles for this item now.