Exposed: Western banks funding Qatar's carbon bombs
US$ 20 trillion estimated damage linked to massive gas expansion by hosts of 2022 World Cup
2022-12-08
Henrieke Butijn – BankTrack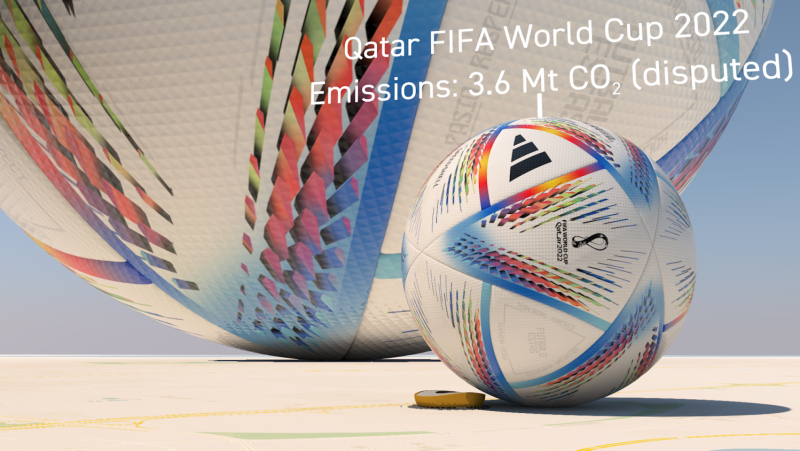 The image shows the actual volume of CO2 emissions from the FIFA World Cup next to one of the stadiums (1). Photo: Real World Visuals
2022-12-08
Henrieke Butijn – BankTrack
World Cup host Qatar's oil & gas fields are projected to add an additional 50 gigatons of carbon dioxide to the atmosphere, smashing the UN 1.5°C warming limit and causing over US$ 20 trillion of damage and 11 million deaths (2). This analysis comes not long after FIFA pushed its #SaveThePlanet campaign, warning on its website against the dangers of burning fossil fuels.
Not a topic of World Cup conversation: ticking carbon bombs in Qatar
The horrific working conditions in Qatar and the thousands of lives lost building the World Cup stadiums have had a lot of attention over the years, and rightly so. Unfortunately, the work environment in Qatar is not the only thing endangering lives.
Qatar is already one of the biggest exporters of fossil gas, a main driver of the climate emergency, and together with foreign companies, it plans to increase extraction and fossil gas liquefaction in the coming years. Some of the biggest new fossil gas carbon bombs on a global scale are in Qatar. Setting off these carbon bombs would lead to tremendous damage and mortality.
The fact that these carbon bombs in Qatar are not a topic of conversation during the World Cup could have something to do with the fact that FIFA has selected QatarEnergy, Qatari state-owned oil and gas company, as an official World Cup partner. While FIFA warns that "burning fossil fuels is a major contributor to air pollution and climate change causing increasing destructiveness of extreme weather events", it has allowed blanket advertising slots for QatarEnergy in all stadiums and throughout all matches. Far from being the first carbon neutral championship, as was claimed by FIFA and Qatar, the football event functions as a greenwashing platform for climate wrecking carbon bombs that have severe consequences (3).
Death and damage
By calculating the potential emissions of Qatar's fossil extraction and reserves, we are able to project the death and damage figures linked to these emissions (4).
There are now well-developed ways of calculating the expected economic damages from CO2 emissions, called the Social Cost of Carbon (SCC) (5). Following these, we came to the shocking finding that the expected economic damages from the emissions from burning all of Qatar's fossil fuel reserves amount to US$ 20 trillion. This damage includes worsening health outcomes, declines in agricultural productivity, as well as sea level rise and related damage to coastal property.
Similarly to the Social Cost of Carbon, studies have shown how we can estimate the excess deaths expected from these emissions. Using data published in the journal Nature to calculate the Mortality Cost of Carbon (MCC), we found that the same potential emissions will lead to 11 million people dying prematurely by the end of the century because of temperature-related causes (6). Of course, these deaths will not be distributed evenly. They will most likely take place in poor, marginalised and/or Indigenous communities who bear very little responsibility for causing the climate crisis.
Qatar's current fossil fuel extraction already has a huge toll. The projected damages from its 2021 emissions alone are estimated to be near US$ 200 billion, roughly the same as the country's total spend over the last decade in World Cup preparations.

Who is responsible?
World Cup partner and Qatari state-owned company QatarEnergy is the main shareholder in oil and gas projects in Qatar. However, European and US companies Shell, TotalEnergies, ConocoPhillips, ExxonMobil, and Eni have all signed partnership agreements with QatarEnergy in the past few months to expand the North Field. Shell, TotalEnergies, and ConocoPhillips joined both the North Field South and North Field East projects. ExxonMobil and Eni also bought shares in the North Field East project. Disregarding the immense social and economic impacts of these projects just piles onto the already very poor track record of these companies on human rights and the destruction of nature (7). Meanwhile Germany and China have been quick to sign up as consumers of the gas from the North Field expansion, signing 15-year and 27-year purchase agreements respectively.

QatarEnergy is able to count on financial support from JPMorgan Chase, Citi, HSBC, Deutsche Bank, Goldman Sachs, MUFG, Credit Suisse, and Bank of America, all of which underwrote at least one bond issuance by QatarEnergy in 2021, helping the company raise a combined total of nearly US$ 12 billion in 2021 (8). The proceeds of these bond issuances will also be used for the North Field expansion, directly linking the banks who underwrote the bonds to this carbon bomb.
Bond underwriting of QatarEnergy, per financier, 2021, US$ million
Financier
Country
Underwriting
JPMorgan Chase
United States
1,744.44
Citigroup
United States
1,744.44
HSBC
United Kingdom
1,744.44
Deutsche Bank
Germany
1,744.44
Goldman Sachs
United States
1,744.44
MUFG
Japan
944.44
Credit Suisse
Switzerland
944.44
Bank of America
United States
944.44
Total: 11.555

In addition, despite their involvement in yet another deadly carbon bomb and their continued commitment to expanding the fossil fuel industry, Shell, TotalEnergies, ConocoPhillips, ExxonMobil and Eni are still able to rely on billions on lending from the banking sector, with their largest supporters being BNP Paribas, Morgan Stanley, Barclays, Crédit Agricole, Citi, JPMorgan Chase, UniCredit, Intesa Sanpaolo, Bank of America and TD Bank.
Even the banks with some policies in place to curtail financing for conventional oil and gas expansion, like BNP Paribas and UniCredit, have loopholes in their policies that would allow them to provide finance for the LNG production facilities that are part of the North Field expansion.
Cut ties with the global carbon bombs joint venture
It is clear that FIFA should boot QatarEnergy out of the game but there are more actors that should not be allowed to use the World Cup as a greenwashing platform in the future. QatarEnergy, the oil and gas companies from Europe and the US that partner with them, and the financiers supporting these companies, all share responsibility with the Qatari government for igniting the ticking carbon bombs and the death and damage associated with these. If, as seems clear, these oil and gas companies have no intention of committing to a Just Transition that limits warming to 1.5°C, financiers need to get serious and turn off the finance enabling Qatar's dangerous plans. Financiers need to show big polluters the red card.
Notes:
(1) The images in this blog show the actual volume of carbon dioxide gas at 15 °C and 1 atm pressure (101325 Pascals)
(2)
Find the full data set
here
.
(3)
The 2022 World Cup tournament itself is rated by emissions expert
Mike Berners-Lee
as the
most polluting event ever staged
. And still, these emissions are thousands of times smaller than the emissions of Qatar's biggest carbon bomb, the North Field.
(4)
Using Rystad Energy data, it is possible to identify the size of planned extraction with remaining reserves in the ground given as Estimated Ultimate Recovery (EUR) and transformed into potential CO2 emissions using standard emissions factors.
(Based on Kühne (2021)
A quick method for estimating potential emissions of fossil fuel projects.
ERSS.)
(5)
The
Social Cost of Carbon (SCC) is used to estimate the expected economic damages from CO2 emissions and has been discussed in the scientific literature for decades. A global SCC of 417 USD of damages is expected for each ton of CO2 emitted. (Based on Ricke et al. (2018)
Country-level social cost of carbon.
Nature.)
(6)
The
Mortality Cost of Carbon (MCC) indicates how many people are projected to die prematurely by the end of the century by adding CO2 to the atmosphere. Every 4,434 tons of additional CO2 is expected to cause one excess death globally. This number only represents temperature-related deaths and does not include other mortality factors like extreme weather events or air pollution. While this is a limitation, the metric can still serve as a reference point to estimate the human toll of CO2 emissions. A Gigaton of CO2 emissions has an MCC of 225,530 deaths over the course of the century. Bressler (2021)
The mortality cost of carbon.
Nature.
There are no active company profiles for this item now.