Repeat offenders NAB, ANZ and Westpac bankrolling "bet against the Paris Agreement"
NAB, ANZ and Westpac are among 18 global banks that have loaned to a gas processing facility that paves the way for a carbon bomb at the scale of 15 coal power stations.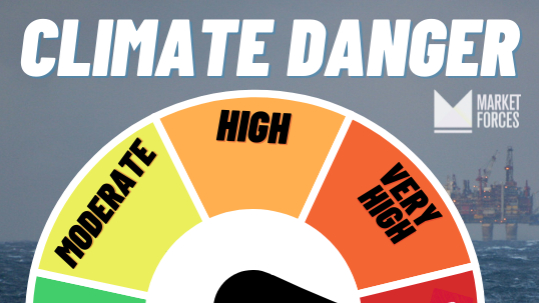 Photo: Market Forces
The banks—including Japanese megabanks Mizuho, MUFG and SMBC, UK's HSBC and Standard Chartered, and Bank of China—have been named as lenders to Global Infrastructure Partners (GIP) for its purchase of a 49% stake in gas giant Woodside's new Pluto 2 LNG project. Woodside has said this deal is critical to its decision to go ahead with the Pluto 2 project and associated giant new offshore gas field, Scarborough.
We need to call these banks out for their climate hypocrisy! Tell the banks the Paris Agreement leaves no room for new gas projects.
It is estimated the Scarborough-Pluto project would enable 1.6 billion tonnes of CO2 emissions over its lifetime, equivalent to running 15 coal power stations for 30 years. The project also poses unacceptable risks to fragile marine life and irreplaceable Murujuga Aboriginal rock art, which is under consideration for World Heritage listing.
Independent analysis has concluded "Woodside's proposed Scarborough to Pluto LNG project in Western Australia represents a bet against the world implementing the Paris Agreement," while the International Energy Agency has confirmed "there is no need for investment in new fossil fuel supply in our net zero pathway".
Yet no less than 18 banks are providing the money needed for the project to go ahead.
Make sure NAB, ANZ, Westpac, and all the other banks involved, know the community won't stand for them lighting the fuse on the Scarborough-Pluto carbon bomb.
Despite claiming to take climate change seriously and having their own commitments to goals of the Paris Agreement and net zero emissions by 2050, many of these banks are repeat offenders when it comes to financing new climate-wrecking fossil fuel projects.
Lead arranger of this deal NAB has loaned $9.5 billion to fossil fuels since January 2016, including $2 billion to companies with business plans consistent with the Paris Agreement's failure, and $1.5 billion to new or expanded fossil fuel projects. ANZ has loaned a whopping $14 billion to fossil fuels since 2016, and Westpac $6.7 billion.
Tell the banks: meeting their climate commitments means no lending to new fossil fuels.
From www.marketforces.org