Our nature and climate demand a reduction of industrial beef production, but banks missed the memo
New policy analysis shows that banks do not have robust policies in place for the beef sector and are failing to include methane reduction or halting deforestation in climate solutions
2022-10-19
Hannah Greep – BankTrack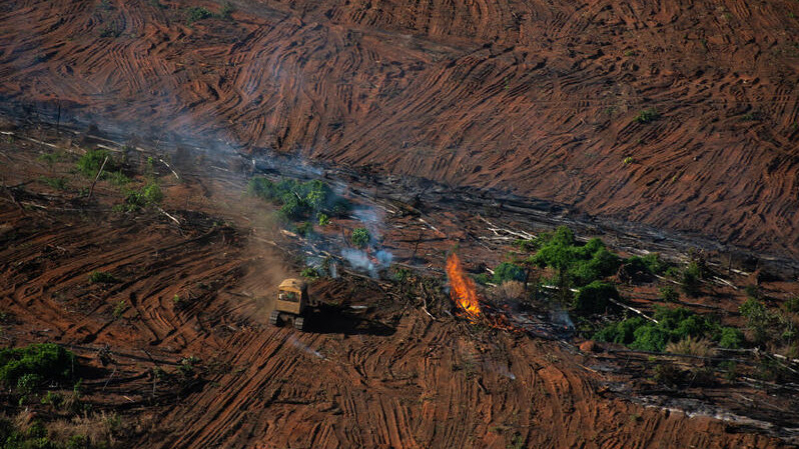 Deforestation and Fire Monitoring in the Amazon in July, 2020. Photo: Christian Braga / Greenpeace
2022-10-19
Hannah Greep – BankTrack
Over the past few years we have seen a wave of "net-zero" commitments being made by banks as they attempt to bring their business in line with the global goal of heading off runaway heating. At last year's climate COP (COP26) some financial institutions recognised that tackling agricultural commodity-driven deforestation needs to be part of the solution. Most recently, the UN's Race to Zero Criteria highlighted that reaching net zero carbon emissions by 2050 requires halting deforestation at the same time as phasing out all unabated fossil fuel use. Those same criteria also encourage institutions to set targets to reduce methane emissions by at least 34% by 2030, in line with the IPCC's 6th Assessment report.
While it is encouraging to see that halting deforestation and reducing methane emissions are being recognised by some as integral parts of any solution to halt climate breakdown and protect biodiversity, financial institutions are still failing to act on this imperative in practice. In fact, they seem to be turning a blind eye to one of the key drivers of climate change and forest destruction: the global beef industry.
Research by both the UN Environment Programme and the IPCC shows that, in addition to cutting carbon dioxide emissions, drastically reducing methane emissions is the most effective way to rapidly avert the climate crisis. If we are to limit warming to 1.5˚C, in line with the Paris Agreement, the IPCC indicates that methane emissions should be reduced by around a third by 2030. The livestock sector alone is responsible for 32% of all human caused methane emissions and cattle are responsible for 65% of those emissions.
In addition, beef production is the top driver of deforestation in the world's tropical areas. Research shows that, as of 2020, 57 million hectares, or around 10%, of the Brazilian Amazon has been cleared for cattle ranching. Continuing to clear the Amazon is pushing it closer and closer to a tipping point, when the rainforest would begin to dry out and transform to grassland, releasing huge amounts of carbon and accelerating global heating beyond reparable levels. This is why it is crucial for any credible climate action plan to ensure that this deforestation does not continue.
The protection of human rights, especially those of Indigenous and traditional communities that act as traditional custodians of nature, is essential to any effort to protect and restore nature and, in turn, fight the climate crisis. The best-preserved areas of the Brazilian Amazon are those managed by traditional communities, with deforestation levels being 17 times lower in Indigenous territories. This is one of the many reasons why it is essential for financial institutions to have robust human rights policies in place that ensure the rights of all are being protected on the ground across all sectors, but especially in high-risk sectors like the beef industry.
Banks' policies on beef are failing
By and large, financial institutions are facilitating the unchecked expansion of industrial beef production. Since 2016, financial institutions provided US$ 67 billion in credit to the Brazilian beef sector alone. As such, the question of what banks are doing to address the climate impacts of the beef industry is a crucial one. However, according to a recent policy analysis by the Forest & Finance coalition, banks' beef policies are not robust enough to meet key environmental, social and governance criteria.
Across all so-called forest-risk commodities (which apart from beef also include soy, palm oil, pulp & paper, rubber and timber), financial institutions' environmental, social and governance policies fail to adequately address the impacts and risks associated with these sectors. Overall, the average score across the 200 financial institutions assessed by Forest & Finance was just 1.6 out of 10, with a staggering 59% scoring less than 1 out of 10 available points. This demonstrates highly irresponsible business conduct and an abject failure to properly manage and mitigate environmental, social and governance risks. Despite greater recognition within the financial sector that halting deforestation is critical to maintaining a healthy planet, over 80% of the financial institutions assessed do not require their clients or their clients' suppliers to commit to zero-deforestation and no conversation of natural forests and ecosystems.
Of all the forest risk commodities assessed, the beef sector performs the worst across all environmental, social and governance criteria, with financial institutions scoring an average of only 0.9 out of 10. This means they are hardly beginning to address the systemic climate, nature and human rights risks and harmful impacts in this critical sector. For example, Bradesco is the largest financier of Brazil's beef giants, having provided just over US$ 1 billion to the sector between 2016 and 2022, but its policies score only 1 out of 10. The bank does not require any clients to commit to zero deforestation or non-conversion of natural forests and ecosystems, nor does it require clients to respect the right of affected Indigenous peoples to give or withhold Free, Prior and Informed Consent (FPIC).
Despite being exposed to substantial climate and nature related risks, only six of the largest financial institutions assessed improved their policies on beef over the last year. These were: Bank of America, BTG Pactual, Itaú Unibanco, BlackRock, BNDES, and Manulife Financial. However, none have robust policies covering deforestation or the protection of Indigenous peoples' right to FPIC.
Among the top financiers of the beef industry, Rabobank and HSBC have some of the strongest policies for their lending with an overall score of 7.4 and 4.3 out of 10, respectively. However, their continued finance for the industry - Rabobank provided US$116 million and HSBC US$746 million in credit to the sector since 2016 - including some of the most problematic companies in the sector calls into question the implementation of those policies on the ground. Over the last year, Rabobank's policies got worse in the category of protections for Indigenous Peoples' and local communities through FPIC.
Real world impacts: JBS
One company in particular exemplifies the many problems associated with the industrial beef sector: the Brazilian meat packing company JBS. This company, the world's largest meatpacker, has well documented links to illegal deforestation, slave labour and several major corruption scandals. JBS is the largest emitter of greenhouse gas emissions in the meat and dairy sector. Recent research shows that the company's emissions increased over 50% in the last five years and is now equivalent to half the UK's climate footprint. While the company has committed to reaching net zero by 2040, this commitment only takes into account its direct emissions, failing to tackle its indirect supply chain emissions which account for 97% of its impact.
The company's net-zero plan also falls short with regards to its commitments on deforestation. Its plans allows the company to continue to source cattle linked to illegal deforestation in the Amazon and other biomes until 2025 and it has not committed to eliminate all deforestation from its entire supply chain until 2035. However, there are serious concerns that even these commitments will not be met by the company, since this isn't the first time JBS has set targets to eliminate deforestation from its supply chain. JBS initially committed to end all deforestation in its supply chain back in 2009, but is yet to take any action on the promise. Based on this track record, JBS cannot be a client of any bank that wishes to put forward a credible climate action plan. Despite this, financial institutions including BNDES, Barclays and BTG Pactual provided US$ 1.1 billion in investment to JBS in 2022 alone.
Climate and biodiversity action requires a shift away from industrial beef production
In order to tackle the ongoing climate and biodiversity crises, we must also look at how our food is produced. The industrial beef industry continues to grow, at the expense of the world's forests and the people who rely on them. The science is clear: methane emissions need to be reduced alongside carbon emissions, and halting deforestation must be included in any credible climate action plan. Financial institutions must listen and take urgent action if we are to have any chance of avoiding global heating spiralling out of control and maintaining a healthy, livable planet for all.
A shift away from the industrial beef sector needs to become part of the financial sector's agenda in tackling the twin crises of climate and biodiversity, since the continued investment in climate-intensive sectors such as industrial beef exacerbates the risks of planetary collapse and associated financial consequences. Finance must shift to zero emissions energy, resilient food systems, and ecosystem conservation and restoration, which cannot be squared with the further expansion of the beef industry. This is why we are calling on banks to add industrial beef to their climate and biodiversity action agenda and set out their plans to phase out financing for the expansion and continuation of industrial beef production.
---
Notes for editors
The Forest & Finance coalition, of which BankTrack is a part, assesses the policies of 200 of the largest banks and investors active in six key commodities sectors driving deforestation and land degradation in Southeast Asia, Central and West Africa, and parts of Latin America. For more information, visit the Forest & Finance website. For more details on the methodology used for this assessment, see here.
There are no active company profiles for this item now.