The financial institutions behind the worst fossil fuel bonds in 2023
2023-11-16
Reclaim Finance
Helen Burley,
International media,
Reclaim Finance,
+44 7703 731923
Lara Cuvelier,
Campagner,
Reclaim Finance,
+33 6 68 45 18 93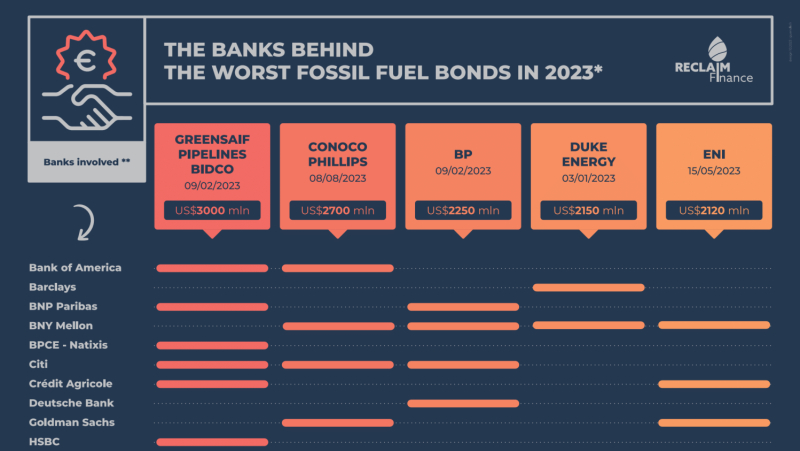 The banks behind the worst fossil fuel bonds in 2023. Photo: Reclaim Finance
2023-11-16
Reclaim Finance
Helen Burley,
International media,
Reclaim Finance,
+44 7703 731923
Lara Cuvelier,
Campagner,
Reclaim Finance,
+33 6 68 45 18 93
The banks and investors behind the five biggest fossil fuel bonds issued in 2023 are revealed today in a new briefing from Reclaim Finance. It analyses the five biggest bonds issued by fossil fuel developers in 2023, which together helped raise more than US$12 billion for fossil fuel expansion. As banks increasingly restrict project level finance to fossil fuel development, Reclaim Finance warns the bond market has become a safe haven for easy access to fossil fuel finance. They are calling on banks and investors to immediately stop investing in and structuring bonds issued by fossil fuel developers.
New analysis of the five biggest fossil fuel bonds issued this year on behalf of BP, Conoco Phillips, Duke Energy, Eni and Greensaif Pipelines Bidco, shows that big US, European and Asian banks and investors are still participating in the financing of new fossil fuel projects via hidden bond deals, with the five deals identified raising more than US$12 billion (1).
Fossil fuel developers have increasingly looked to the bond market which has become a financial haven for polluters (2). Banks play a crucial role behind the scenes by structuring the bonds, which are then bought by investors, which are the effective lenders to the companies.
While banks rarely report on their involvement in issuing bonds, the briefing identifies key big banks behind the big five deals. These include BNP Paribas's involvement in the bonds issued by Greensaif Pipelines (linked to Saudi Aramco) and BP, Citi's involvement in the Greensaif Pipelines, Conoco Phillips and BP bonds, and JP Morgan's involvement in Greensaif Pipelines, BP, Conoco Phillips and Duke Energy (3).
The briefing highlights the involvement of around a dozen investors in one or more of the five bonds, including abrdn, BlackRock, Vanguard and Deutsche Bank (4).
This backdoor finance for the fossil fuel sector comes despite the net zero commitments made by many banks and investors. Yet just last month, the International Energy Agency highlighted once again that no new investments in fossil fuels are needed to reach net zero, following a 1.5°C pathway (5).
Without robust policies and because of the opaque complex structures used for some of these transactions, there is a risk of greenwashing as some investors can end up including them in ESG funds, as happened with a GreenSaif bond (6). Part of the ENI bond included in the analysis was sold to investors as a "sustainability-linked bond", despite ENI being one of the biggest fossil fuel developers in Europe (7).
The bond markets have become a safehaven for fossil fuel developers looking for cash. Banks and investors are turning a blind eye to the activities financed by new bonds. But they are nevertheless responsible for financing new fossil fuel projects that lock us into ever more carbon emissions. The IEA has made it clear: there is no room for new fossil fuel projects in a net zero world. It is time for banks and investors to tighten their policies and stop exacerbating* climate change.
Lara Cuvelier, Sustainable Investment Campaigner at Reclaim Finance
Banks and investors appear to have a blind spot when it comes to their climate policies and the bonds issued by oil and gas developers. While 12 of the big banks have policies in place to no longer issue bonds for most coal developers, only two banks (La Banque Postale and Danske Bank) have adopted similar policies for oil and gas. Only a handful of investors have policies to stop investing in companies developing new oil and gas facilities (8).
Reclaim Finance is calling on banks and investors to introduce robust sector policies that restrict their support for fossil fuel companies, especially for bonds issued by fossil fuel developers.
Notes:
The Worst Fossil Fuel Bonds in 2023 – And the banks and investors behind these shady deals, November 2023 focuses on bonds issued between January 1 and September 12, 2023. Forty bonds issued by 13 oil and gas companies were analyzed and the 5 largest were highlighted.
Bonds represented more than 52% of the financing sources for energy companies in 2020, compared to 26% in 2010. See: Fossil fuel fundraising across asset classes. Source: Cojoianu et al. (2022) and Cojoianu, T.F. et al., (2021).
Reclaim Finance identified 40 bonds issued by fossil fuel developers between January and 12 September 2023 using data on the Bloomberg terminal. The banks involved in the five biggest fossil fuel bonds include Bank of America, Barclays, BNP Paribas, BPCE-Natixis, Citi, Credit Agricole, Deutsche Bank, Goldman Sachs, HSBC, JP Morgan, Mizuho, RBC, Société Générale.
Investors identified as holding at least one of the five biggest bonds as of 12 September 2023 included abrdn, Allianz, BNP Paribas, BlackRock, BPCE-Natixis, Crédit Agricole, Deutsche Bank, Fidelity , HSBC, Invesco, JP Morgan Investments, Chase, Legal & General, Pictet, StateStreet, UBS, Vanguard, Wellington Management.
An ESG Loophole Helps Drive Billions into Gulf Fossil Fuel Giants, Bloomberg, July 2023.
Eni SLB Raises Greenwashing Concerns – Reclaim Finance, ESG Investor, May 2023.
See the Oil and Gas Policy Tracker.
There are no active company profiles for this item now.