Bank financiers of harmful wood biomass have no policies addressing impacts, shows new study
A briefing from BankTrack details impacts of the wood biomass industry and calls on banks to exclude sector from finance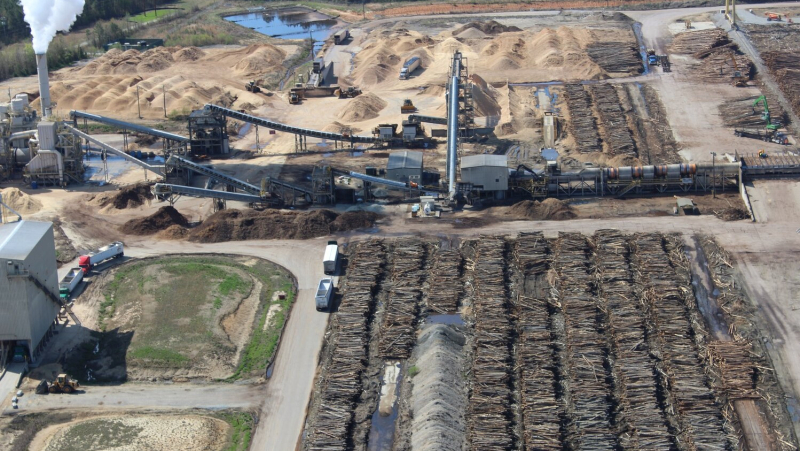 Enviva wood pellet production plant. Photo: As You Sow
Ten European and US banks financing the wood biomass industry have no policies in place to adequately address the negative impacts of the sector, new research from BankTrack finds. This is despite the wood biomass industry, which includes both pellet producers and energy utilities burning wood, having widespread and well-documented links to negative environmental and social impacts, including significant carbon emissions, forest destruction and pollution.
The report's publication coincides with the International Day of Action on Big Biomass, which sees campaigners across the world highlight the devastating impacts of this industry. The demand for wood pellets for energy is driving the destruction of natural forests and their conversion into plantations, resulting in damaged ecosystems and destroying and degrading habitats for animals, insects and birds.This forest destruction can be devastating for forest-dwelling communities as well as impacting the health and wellbeing of other communities who rely on these forests.
As the climate, energy and biodiversity crises worsen, the need for truly renewable energy solutions becomes more urgent than ever before. Despite being labelled as a "renewable" source of energy by some, including the EU, burning wood for energy is neither carbon neutral nor ecologically sustainable, the briefing explains. The financial sector has a key role to play in financing a rapid and just energy transition, but banks continue to invest in companies operating wood biomass boilers or power plants and those supplying feedstock such as wood pellets. This undermines the transition and the banks' commitments to tackle climate change.
The briefing addresses the financing by banks such as Barclays, JPMorgan Chase and HSBC for companies operating in the sector, including pellet producers Enviva and Graanul Invest, and biomass power plant operators RWE and Drax.
BankTrack found that, out of the ten major bank financiers of this industry analysed, seven do not mention any form of biomass in their policies or formulate criteria for the financing of biomass projects. Three – ING, Barclays and Santander – do mention biomass in their policies but fail to differentiate between different forms of 'renewable energy'. This means they are classifying biomass as renewable, and as such are failing to address the risks and impacts associated with the sector.
Hannah Greep, Banks & Nature Campaign Lead at BankTrack says: "Banks that continue to finance this destructive industry are not only facilitating significant environmental and social damage, they are running significant reputational and financial risks as well. Banks must recognise that burning wood is not a sustainable or responsible alternative to burning fossil fuels and should develop climate policies that move beyond burning for energy, shifting their portfolios to support genuine, rights-compatible renewable energy and energy-saving technologies."
The briefing provides recommendations to banks on the exclusion of new finance and phasing out of existing finance for the industry. It also calls for banks to engage with clients operating within the sector to ensure they have an adequate phase-out plan for burning or supplying wood for biomass energy generation.
There are no active company profiles for this item now.