Company – Active
This profile is actively maintained
Lead organisations:
BankTrack & Environmental Paper Network
Last update:
2022-11-02 00:00:00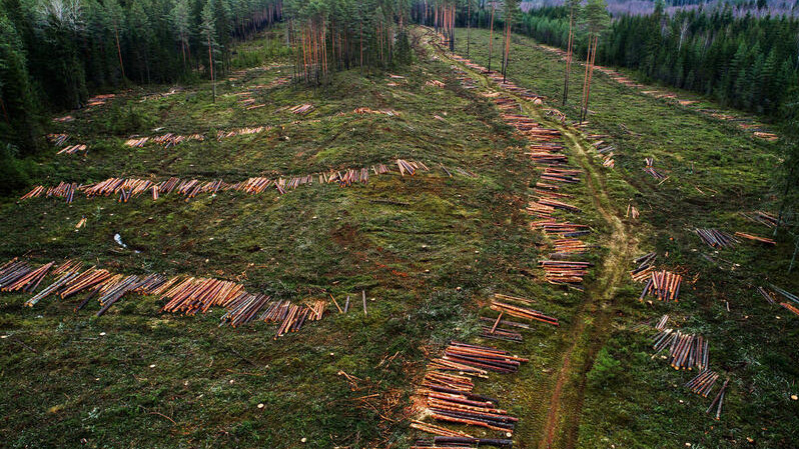 An aerial of a forest after clearcutting (Kurgja case); Kurgja, Pärnu county, Central Estonia. Photo: Greenpeace / Karl Adami
Company – Active
This profile is actively maintained
Lead organisations:
BankTrack & Environmental Paper Network
Last update:
2022-11-02 00:00:00
Why this profile?
Graanul Invest is associated with unsustainable forestry practices. Destructive logging of protected species' habitats and water protection zones has taken place on forests owned by Graanul Invest in Estonia.
What must happen
Financial institutions providing finance to Graanul Invest must engage with the company, using their leverage to ensure the company improves its forestry practices and puts in place an adequate phase out plan for the supply of wood for biomass energy generation. Where the company fails to do this in a timely manner, financial institutions should no longer provide finance to the company.
Graanul Invest is the biggest wood pellets producer in Europe. The Estonian company has 12 pellet plants: four in Estonia, six in Latvia, one in Lithuania and one in the US. Their annual production capacity is around 2.7 million tons. In 2019, the group owned 56,338 hectares of forest, the majority of which was located in Estonia and comprised 4% of the country's private forests. The company heavily depends on large subsidies from the Estonian government, amounting to 11 million euros in 2020. 98% of its production is exported, with the largest part going to power plant operators including Drax in the UK and Germany's RWE.
---
Impact on nature and environment
Destroying protected forests In 2021 Graanul Invest produced 38% of its raw materials in Estonia. Of the company's total production, 44% consists of firewood-quality stemwood; whole tree trunks. One fifth of Estonian forests are part of the protected Natura 2000 network. Between 2001 and 2019, the forest cover in the entire Natura 2000 areas in Estonia has decreased by 15,000 hectares. This is partly due to the activities of Graanul Invest and its subsidiaries in these areas. An investigation by an international group of journalists presented evidence that the loss of forest cover increased twice as fast in Natura 2000 area forests owned by Graanul than in that of other forest owners. The company has also purchased wood from logged and clear cut High Conservation Value Forests (HCVF).
Loss of habitat The Estonian HCVFs are home to multiple protected species whose habitats are harmed by Graanul's logging activities. For example, the habitats of the Capercaillie bird, which is considered vulnerable, and the three-toed woodpecker, a threatened species listed in Annex I of the EU Birds Directive, have been destroyed due to logging in Graanul-owned forest.
Watersheds During 2018-2019, 54 hectares of Estonian water protection zones were clearcut on land belonging to three Graanul Invest forestry companies. This represents 7% of all water protection zones on Graanul-owned lands. The clearcut areas in water protection zones are scattered all over Estonia and are located on over 300 different sites on Gaanul-owned lands. In Estonia, watersheds or riparian zones have a legally protected status. Based on the Water Act of Estonia, there is a water protection zone of 10 metres from the banks of rivers, streams and large (main) ditches where logging is not allowed, unless permitted by the Estonian Environmental Board.
Peatland forests Graanul Invest has sourced wood from peatland forest owned by the State Forest Management Centre. Peatlands are a type of wetlands dominated by living peat-forming plants that cover 3% of land area globally but store 30% of its carbon. In the deforested peatlands in Estonia, soil has been damaged, with the thick black peat layer being exposed, which will cause carbon to be released from the peat soil.
---
Impact on pandemics
Wood biomass is associated with high rates of deforestation as well as monocultures of various crops. There is a growing body of evidence that shows the connection between deforestation and an increased risk for disease outbreaks and pandemics. For example, monocultures like eucalyptus plantations reduce biodiversity leaving species like rats and mosquitoes, which are more likely to spread dangerous pathogens, to thrive. This biodiversity decline results in a loss of natural disease regulation and poses a risk for human, animal and environmental health.
Applicable norms and standards