New report and blog: Barclays' bond with Adani
For the sake of the climate, human rights - and for its own good - Barclays should cut ties with Adani after the company's recent scandals
2023-09-18
BankTrack & The Sunrise Project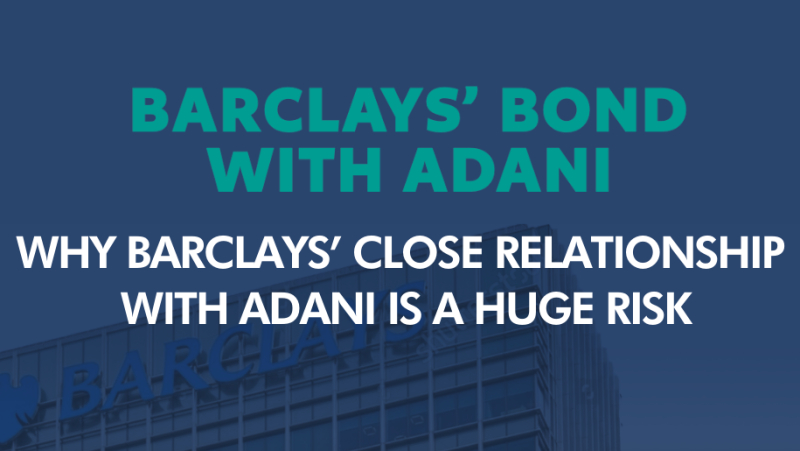 Barclays' bond with Adani. Photo: Banktrack & Toxic Bonds Network
2023-09-18
BankTrack & The Sunrise Project
A new report released by BankTrack and the Toxic Bonds Network has exposed a disquieting truth: Barclays, a financial heavyweight with a controversial track record, is deeply entrenched in a disturbing alliance with the controversial Indian conglomerate and coal miner Adani Group. It reveals that Barclays has held the dubious distinction of being the top bond underwriter for the Adani Group in the five years leading up to 2021. Even more astonishing is the fact that Barclays underwrote every USD and Euro-denominated bond issued by Adani Group entities currently active in the market, totalling a staggering $8 billion.
Adani's tangled web
Six months ago, the Hindenburg Report sent shockwaves through the financial world, accusing the Adani Group of "brazen accounting fraud, stock manipulation, and money laundering." The gravity of these allegations was underscored by the OCCRP's damning revelations of Adani's criminal behavior via insider trading and violation of India's free float laws at the end of August. What's deeply troubling is the unwavering support Adani has received from its loyal banks, including Barclays, Standard Chartered, Deutsche Bank, and Citi, who have not walked away from the corrupt coal company.
The Hindenburg Report's central claim, that Adani used offshore shell entities to shuffle money within the conglomerate, shatters the illusion of accountability. The pretence of independence including normal checks and balances like credible audit controls have been shattered. For example, the sustainability credentials of Adani Green, the Group's flagship renewable energy arm, have been completely undermined. When a bank like Barclays finances one part of Adani's empire, it unwittingly becomes complicit in the entire web of Adani's dealings.
Barclays: Willful ignorance or complicity?
Barclays finds itself in a precarious position. The signs of Adani's human rights violations, climate destruction and financial instability have been evident for years, with reports highlighting the overleveraging within Adani's empire. The Hindenburg Report and OCCRP have further exposed the rot within Adani's financial structure, making it clear that banks, especially Barclays, are recklessly underwriting Adani's activities, plunging themselves into a fiduciary abyss. Barcalys risks being litigated against as hawkers of highly risky and fraudulent Adani securities and having failed to perform due diligence. Increasingly recognised concepts like double materiality, accepted into EU regulatory frameworks, suggest that these issues are relevant to investors and therefore to the banks selling those investments. Barclays is teetering on the edge of complicity in Adani's dubious dealings, with the potential for legal repercussions looming large.
A breach of Barclays' own policies
Barclays' commitment to responsible banking is now under scrutiny. The bank has a policy that prohibits underwriting bonds issued by major coal companies generating over 30% of their revenues from coal. Astonishingly, the Adani Group derives at least 60% of its revenue from coal. This raises questions about Barclays' compliance with its own coal policy and its commitment to environmental responsibility.
In response to allegations from the Hindenburg Report and OCCRP, other financial institutions are distancing themselves from Adani. Danske Bank AM's recent divestment from seven Adani Group companies, including Adani Green is a clear indicator of the growing unease within the financial sector. Discontent has also risen within Barclays regarding its relationship with the Adani Group, but the mounting concerns have yet to lead to action.
Barclays' reckoning
As Adani finds itself drowning in negative headlines, the group is desperately clinging to Barclays for support. The stakes are high, especially with Adani's current efforts to raise billions in the bond market, including the refinancing of $2 billion in bonds due in 2024. Barclays is now intertwined with the Adani Group's web of deceit, corruption, environmental degradation, and financial toxicity. The recent revelations have pulled back the curtain on the sordid underbelly of the Adani Group's operations.
For Barclays, this is a moment of truth. The time for complacency has passed. It's time for Barclays to sever ties with Adani, salvage its reputation, and demonstrate a renewed commitment to ethical finance. Barclays and other banks must immediately cease financing for all Adani Group entities, including ruling out future loans to the Group and underwriting its upcoming bond issuances.
There are no active project profiles for this item now.
There are no active company profiles for this item now.