Nordic banks increase finance for Arctic oil and gas, new report finds
Ten Nordic banks provided US$ 21.2 billion to the fossil fuel industry. DNB, SEB, Nordea and Danske Bank largest Nordic financiers.
---
2022-11-22
Nijmegen, the Netherlands
BankTrack, Greenpeace, ActionAid Denmark, Fair Finance Guide Norway, Fair Finance Guide Sweden, Friends of the Earth Finland & Swedish Society for Nature Conservation
---
Maaike Beenes, Campaign Lead Banks & Climate at BankTrack and report author
Eigil Johannisson, Climate Policy Lead, ActionAid Denmar
Jakob König, Researcher and project lead, Fair Finance Guide Sweden
Rolf Lindahl, Climate and Energy Campaigner, Greenpeace Nordic
Vera Kauppinen, Campaign Specialist, Friends of the Earth Finland
---
Share this page:
---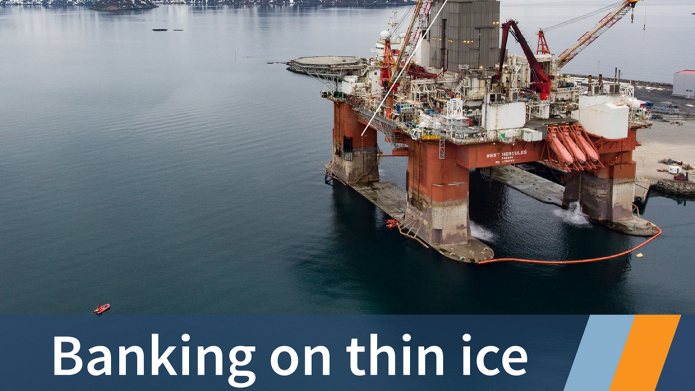 Banking on thin ice: Two years in the heat. Photo: Aerial view of West Hercules oil rig, Norway. Photo: BankTrack and Jani Sipilä / Greenpeace
Major Nordic banks have increased their financing for companies active in Arctic oil and gas production, endangering a vulnerable ecosystem and worsening the climate crisis. This is the key finding of a report by BankTrack, ActionAid Denmark, Greenpeace Nordic, Fair Finance Guide Sweden, Fair Finance Guide Norway, and Friends of the Earth Finland.
Since July 2020, Nordic banks have provided US$ 8.8 billion in loans and underwriting to a list of 36 companies conducting significant Arctic oil and gas activities. The largest financiers were DNB (US$ 3.2 billion), SEB (US$ 2.1 billion), Nordea (US$ 1.3 billion), and Danske Bank (US$ 1.1 billion). The 10 banks also held US$ 9.0 billion in investments in coal, oil, and gas companies as of June 2022. The Arctic oil and gas companies that received the most in financing were Aker BP, Lundin Energy (which has since been acquired by Aker BP), and Equinor.
Anja Bakken Riise, leader of Future in Our Hands, principal member of Fair Finance Guide Norway, said: "If we are to avoid catastrophic climate change and protect the unique environment of the Arctic, projects like Wisting can never be realised. Banks have both a responsibility and an opportunity to stop fossil fuel expansion."
US$ 21.2 billion in financing for fossil fuel industry since 2020
The report finds that in the last two years alone, these banks have provided the fossil fuel industry with US$ 21.2 billion in financing. The largest fossil fuel creditor was DNB, with US$ 9.5 billion since July 2020. It was followed by SEB (US$ 4.4 billion) and Nordea (US$ 3.2 billion). On average, there is a decreasing trend in oil and gas financing since 2016, driven mostly by Nordea and SEB. However, financing for companies expanding fossil fuels and coal companies has remained stable.
Maaike Beenes, Campaign Lead Banks & Climate at BankTrack and co-author of the report, said: "Despite an overall decreasing trend in fossil fuel finance, financing for companies that are expanding fossil fuels and for coal companies has remained remarkably stable - even though the banks need to end this type of finance immediately to be in line with the Paris agreement."
The report also highlights financing for the Wisting Arctic oil project offshore Norway, Italian energy major Eni's fossil fuel expansion plans, and Finnish energy company Fortum's coal operations.
Fossil fuel policies not up to standard
One recent hopeful development is that in May 2022 Handelsbanken, the largest Swedish bank, announced a strong policy, ending new finance to companies expanding their oil and gas extraction. This is a breakthrough and the new standard that the major banks in the Nordic region must adopt and go beyond. There have also been some improvements in the policies of Danske Bank, Nordea, SEB and SpareBank 1 SR-Bank.
"By ruling out support of fossil fuel expansion Handelsbanken has acted in line with climate science. Other banks must now follow if we are to avoid climate chaos", said Jakob König, researcher at Fair Finance Guide Sweden.
However, it is concerning that financing for oil and gas expansion is not at all or not sufficiently addressed by the banks' policies. Moreover, the banks are still massively financing fossil fuel companies, including those with expansion plans for coal, oil and gas production.
Vera Kauppinen, campaign specialist at Friends of the Earth Finland, said: "The IEA has set a clear red line: there is no room for new oil and gas fields in a world aiming to limit warming to 1.5 degrees. It is alarming that the banks know this and still continue to finance this reckless expansion."
Time to end finance for fossil fuel expansion
For banks to align with limiting global warming to 1.5°C means immediately excluding companies that are expanding fossil fuels and phasing out all fossil fuel financing in line with 1.5°C.
"Instead of financing fossil fuel extraction, banks need to be catalysts for change. Banks now face a clear choice: either abandon fossil fuel companies altogether or condition continued financing on an immediate shift to sustainable renewable energy", said Rolf Lindahl from Greenpeace Nordic.
The findings of the research, showing insufficient action from the banks to address their climate impact, also underline the need for political action. The report therefore outlines a number of regulatory proposals, including higher capital requirements for loans to fossil fuel financing and a ban on fossil fuel loans to companies that are developing new oil and gas fields.
"Banks keep pouring gasoline on the fire of climate change. We cannot just keep waiting for them to wake up and stop. We need politicians to act now", said Eigil Johannisson, Climate Policy Lead, ActionAid Denmark.
Related Dodgy Deals
Companies
There are no companies active for this item now.