---
Active
This profile is actively maintained
---
Created on:

2019-12-05 14:55:10


Last update:

2022-11-08 00:00:00



---
Send
feedback
on this profile
Download as
PDF
---
Share this page:
---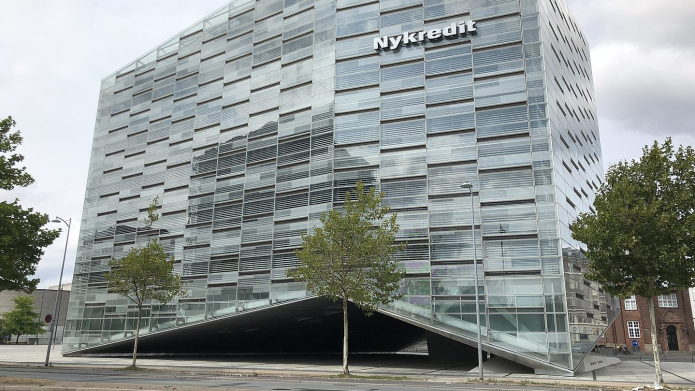 Nykredit Bank's head office in Kopenhagen. Photo:
RL0919 via Wikimedia (CC BY SA 4.0)
About Nykredit Bank
Nykredit is a large financial services provider in Denmark. Nykredit was created in 1985 when Forenede Kreditforeninger and Jyllands Kreditforening merged. Its subsidiary, Nykredit Realkredit, is the parent company of, amongst others, its banking arm: Nykredit Bank. The bank provides retail, private, corporate and investment banking products and services in both Denmark and internationally.
Website
https://www.nykredit.com/en-gb/
Headquarters

Kalvebod Brygge 1-3

1780 København V

Denmark

CEO/chair
Michael Rasmussen
CEO
Supervisor
Annual reports
Annual report 2021
CSR report 2021
Ownership

listed on Nasdaq Copenhagen

Forenet Kredit is majority shareholder of Nykredit with 78.9% ownership. The complete shareholder structure can be found here.

Complaints and grievances

Nykredit Bank does not operate a complaints channel for individuals and communities that may be adversely affected by its finance.
Related Dodgy Deals
Nykredit Bank has been linked to the following "Dodgy Deals", e.g. as a current or past financier or through an expression of interest. Find out more about dodgy deals
here
. See the project or company profile for more details on the nature of the bank's link to the Dodgy Deal.
Dodgy Deals map
All
|
Projects
|
Companies
Targets
|
Active profiles
|
On record profiles
Policies
Voluntary standards
Nykredit Bank has committed itself to the following voluntary standards:

Investment policies
Nykredit Bank's web page on corporate social responsibility can be accessed here.
Year: