Investing in Extinction - How the global financial sector profits from traditional medicine firms using threatened species
2023-10-23
Environmental Investigation Agency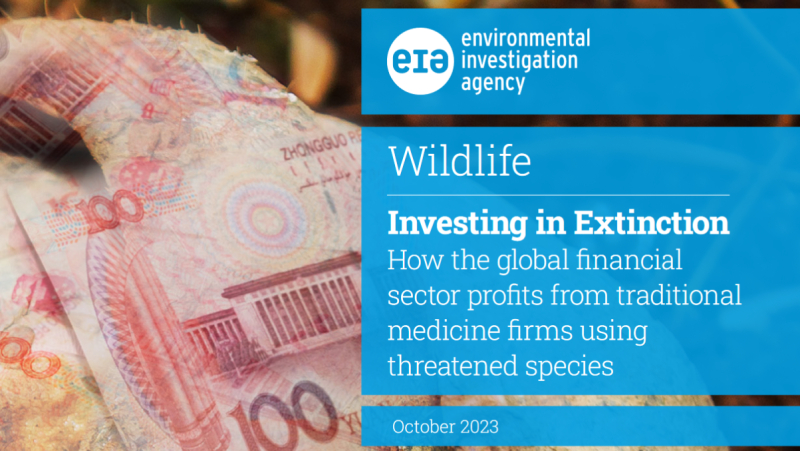 Photo: EIA
2023-10-23
Environmental Investigation Agency
A new EIA UK investigation has found the body parts of threatened leopards and pangolins being used as ingredients in at least 88 traditional Chinese medicine (TCM) products. Manufactured by 72 Chinese companies and licensed by the National Medical Products Administration of China, some of those identified also contain tiger and rhino, in contravention of recommendations made by the Convention on International Trade in Endangered Species of Wild Fauna and Flora (CITES).
The facts are contained in the new EIA report Investing in Extinction – How the global financial sector profits from traditional medicine firms using threatened species.
EIA has also identified 62 banks and financial institutions – many of them Fortune 500 companies and household names – based in Australia, Canada, the EU, Japan, Switzerland, the UK and USA which have invested in three publicly listed Chinese pharmaceutical groups manufacturing nine of the products stated to contain leopard and/or pangolin. They include AXA SA, BlackRock Inc, BNP Paribas SA, Citigroup Inc, Deutsche Bank, HSBC, Legal & General, the Royal Bank of Canada and UBS AG (see below for the full list).

Many of the investors are signatories to the Principles for Responsible Investment or are members of the International Corporate Governance Network, which has publicly expressed concerns about biodiversity loss and species extinctions. And seven are members of The Royal Foundation's United for Wildlife (UfW) Financial Taskforce, which was launched in 2018 to stop the trafficking of wildlife. They are BNP Paribas, Citigroup, Credit Suisse (now owned by UBS), Deutsche Bank, HSBC, Mitsubishi UFJ Financial Group and Wells Fargo (which recently divested); it is likely the UfW was unaware of their investments.
EIA Legal & Policy Specialist Avinash Basker said: "The use of highly threatened animals such as leopards, pangolins, rhino and tigers in traditional medicine products disregards CITES recommendations made by the international community to protect these species."
"This is use on an effectively industrial scale which can only push these species ever-closer to extinction, simultaneously sending mixed messages to consumers, fueling demand for their parts and derivatives and tainting the global reputation of TCM."
"It's particularly disappointing to see so many major banks and financial institutions effectively endorsing this damaging exploitation, especially as so many have pledged to do otherwise. If their environmental credentials are to have any credibility, they need to divest from TCM manufacturers using threatened species at the soonest opportunity."
Leopards and pangolins are threatened with extinction and are among the most trafficked mammals on the planet; both are listed on CITES Appendix I, which prohibits international commercial trade in them, their parts and derivatives.
EIA's extensive research found no publicly available nor verifiable information on the source of the leopard, pangolin, rhino or tiger derivatives being used in the products identified in Investing in Extinction.
Basker added: "We strongly urge the Government of China to fulfil CITES recommendations and prohibit the use of the body parts of leopards, pangolins, tigers and rhinos from all sources for all commercial purposes in its domestic markets."
Full list of companies named in the report, by country (* denotes in the Fortune 500 highest revenue-generating companies in the USA; † denotes in the Global Fortune 500 highest revenue-generating companies in the world): see here.
See the original press release on the EIA website here and two videos about the Investing in Extinction report: part one here and part two here.