Ten of the best – BankTrack's 2018 end-of-year round-up
---
2018-12-31
BankTrack
---
Share this page: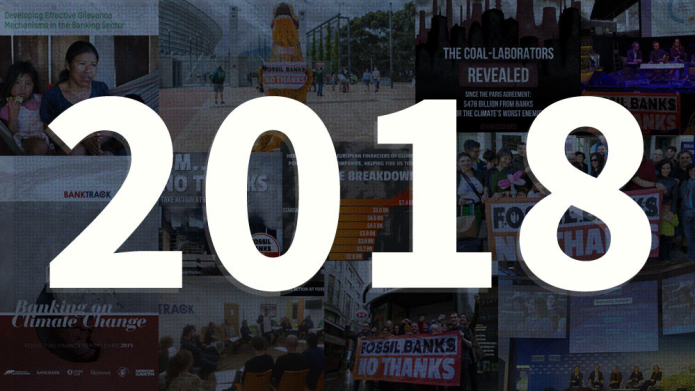 Photo: BankTrack
Welcome to our end-of-year round-up, in which we look back at BankTrack's biggest moments of 2018, our fifteenth anniversary year.

Thank you for reading! If you support BankTrack's work and would like to help us do more, please consider a one-off gift, or even better, a monthly donation - see our Donate page for details.
10. Judge dismisses case against BankTrack in full

Last year, Energy Transfer Partners, the company behind the Dakota Access Pipeline, served BankTrack with a lawsuit claiming millions of US dollars that, lets face it, we don't have, based on spurious claims about our supposed involvement in directing acts of "radical ecoterrorism". In June, a North Dakota district judge threw the company's claim out of court. A victory for common sense and a strong rebuke to the tactic of 'strategic lawsuits against public participation'.

9. Standard Chartered and RBS pass first coal tests - but HSBC must try harder

2018 saw some of the British banks finally get the message on coal. HSBC disappointed in April, however, with a new policy that allowed continued finance for coal power projects in Bangladesh, Indonesia and Vietnam – some of its most important growth markets. RBS, Lloyds and Standard Chartered did better by stopping direct finance for new coal plants worldwide, with no exceptions. A full-page NGO ad in FT Asia helped make the case to Standard Chartered.

8. Our Campaigners' Gathering and 15th birthday

In the first week of October we held our second Campaigners' Gathering, welcoming over 50 campaigners from some 35 different organisations to Kleve in Germany to discuss strategies, learn from each others' experiences and make plans for driving the banking sector forward – and out of fossil fuels! At the end of the week we returned over the border to BankTrack's home town of Nijmegen to celebrate our 15th Birthday Party with music, stories and much dancing.

7. Tracking Dutch banks on human rights

In August, making up for lost time, the Dutch Banking Sector Agreement on Human Rights published three reports at once: its first Annual Report and papers on Increasing Leverage and the cocoa value chain. These are the first substantial output since the agreement was signed in October 2016. We've been busy evaluating these outputs in a series of articles. Amid delays and mixed results, some progress has been made but much more needs to be done to deliver concrete improvements on the ground.

6. Kick-starting debate on banks and grievance mechanisms

Banks to date have made precious little progress towards meeting their responsibilities to ensure communities can get justice from banks through grievance mechanisms. In July we released a briefing paper with Oxfam Australia to set out banks' responsibilities and examine what such mechanisms could look like in practice. We also held two webinars in September to promote the report. In November an Australian government body ordered ANZ to establish a grievance mechanism, and more look set to follow.
P

5. Report Card shows surge in finance for extreme fossil fuels

In March we were part of the coalition which released the ninth edition of the

Fossil Fuel Finance Report Card

, showing an alarming surge in finance for 'extreme' fossil fuels including tar sands, Arctic and ultra-deepwater oil, LNG export, and coal. Royal Bank of Canada, Toronto Dominion Bank and JPMorgan Chase passed the coal-heavy Chinese banks to become the biggest bankers of extreme fossil fuels. The report was covered in the

FT

,

Guardian

,

Bloomberg

and

Huffington Post

.

4. Calling for commitments at Principles for Responsible Banking launch in Paris

November saw UNEP launch the first draft Principles for Responsible Banking in Paris, with 28 banks signed up so far. We were there at the launch to point out that the Principles – under which banks promise to align their business strategies with the Paris Agreement and the Sustainable Development Goals – lack any specific, timed commitments to make sure that alignment actually happens. Read our reaction to the Principles here.

3. Indigenous leaders meet Equator banks in Downtown DC

After BankTrack's 'Equator Banks, Act!'campaign in 2017 helped prompt an update to the Equator Principles (project finance guidelines followed by 98 banks), we made sure our presence was felt at the annual meeting of Principles signatories in Washington DC in October, convening a side-meeting between the Indigenous Women's Divestment Delegation, civil society activists and Equator banks. (Image: Sierra Club via Twitter).

2. New data on banks financing coal power expansion released at COP24

While the IPCC and the UN issued their latest stark warnings on the need for an accelerated phase-out of coal power, the global coal plant fleet is still expanding. At the UN Climate Summit in Katowice, Poland in December, BankTrack and Urgewald released updated data on the banks and investors supporting the frightening pipeline of new coal projects. The research revealed that the list of the largest lenders is led by Japanese banks Mizuho and Mitsubishi, with Citi, HSBC, Standard Chartered and ING joining them in the top 10.

1. 'Fossil Banks, No Thanks!' Global Call launched

Climate change is running faster than we are, as UN Secretary-General António Guterres warned in Katowice recently, and avoiding climate breakdown requires a complete stop to new fossil fuel projects and a rapid shift to green energy. It's time for banks to get on board with this, and end their financing for fossil fuels. October saw BankTrack launch Fossil Banks, No Thanks!, fast becoming a global rallying cry for activists and concerned citizens everywhere. Stay tuned for more in 2019!