HSBC moves on tar sands, but fails the coal test
2018-04-20 | Nijmegen, the Netherlands
BankTrack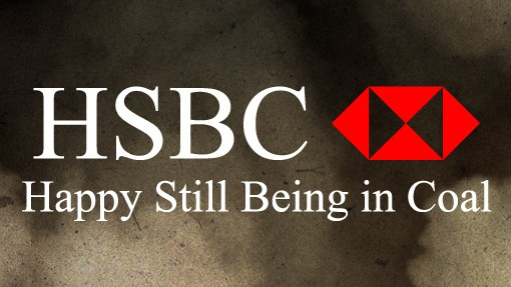 Adapted HSBC logo. Photo: BankTrack
2018-04-20 | Nijmegen, the Netherlands
BankTrack
HSBC's new energy finance policy which has been published today sees the bank taking additional steps to align its energy financing with global climate change commitments. The bank has pledged to no longer provide financial services for both offshore oil and gas projects in the Arctic and new tar sands projects.
HSBC has also pledged to end financing for new coal plant projects globally, but with the significant caveat that it may choose to finance such coal plant investments in Bangladesh, Indonesia and Vietnam, up to the end of 2023.
Reacting to the new HSBC energy policy, Johan Frijns, director of the commercial bank watchdog organisation BankTrack, said:
"HSBC's move to curb its financing for fossil fuels is hopefully a stepping stone on the way to the bank becoming a truly sustainable and environmentally conscious institution. However, the measures announced today on coal power financing should have seen HSBC going further to respond to the urgency of climate change.
"It's disappointing that HSBC has chosen not to fully disengage from financing coal power plants in Indonesia, Vietnam and Bangladesh for the next five years. Any investment in coal power which the bank makes in the next five years in these countries will be condemning the citizens of these countries to huge health risks, and also undermining global efforts to stem climate change. HSBC could and should have chosen to get out of the financing of coal power plant projects fully, as 13 of its European banking peers have already done.
"For reasons which defy climate science, unfortunately it appears that HSBC is 'Happy Still Being in Coal'. Yet should HSBC support coal power plants in these countries proceed, they will have grim impacts for communities."
Two prospective coal plant projects in Vietnam currently featuring HSBC involvement and interest to finance are Long Phu I and Vinh Tan 3, both of which are attracting major resistance from potentially affected communities. HSBC is also currently financial adviser for two coal plants in Indonesia.
According to this year's Fossil Fuel Report Card, published in March, HSBC's financing of the largest coal power companies jumped by 79% between 2016 and 2017, and totalled USD 1.12 billion last year.
Notes for editors:
1. See the new HSBC energy policy here.
2. See the Long Phu I and Vinh Tan 3 Dodgy Deals, as featured on BankTrack's website.
3. See the 'Banking on Climate Change 2018' report here.
There are no active project profiles for this item now.