Dozens of people (and a dinosaur) join Fossil Banks, No Thanks! photo action
Action to ramp up pressure on Fossil Banks goes down a storm
---
2018-12-12
BankTrack
---
Share this page:
---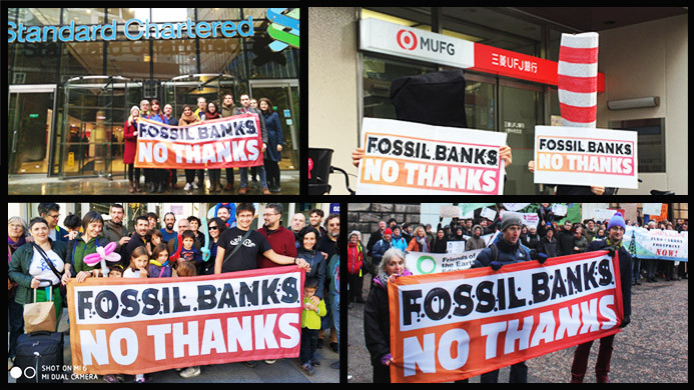 Photo: BankTrack
On Tuesday, dozens of Fossil Banks, No Thanks! campaign supporters from Japan to South Africa filled Twitter with photos as they sent messages to fossil banks outside branches, headquarters and even a sponsored sporting event. Twelve groups from nine countries targeted seventeen different banks, spreading the message far and wide: it's time for banks to stop financing fossil fuels!
Here is a selection of some of our favourite photos and tweets from the day. The whole brilliant bunch of photos can be found on Facebook here.
Ecologistas en Accion get the whole family involved outside Spanish bank BBVA.
Fossil Banks will go the way of the dinosaurs! Fund our Future went down to the World Rugby Sevens Series in Cape Town last weekend to target its main sponsor and major financier of coal power companies: HSBC. You can sign Fund our Future petition on HSBC's coal finance here.
Climate activists take the message to @HSBC at the @CapeTown7s saying #QuitFundingFossils The story HSBC doesn't want you to know- https://t.co/Q1yYWJXIny #FossilBanksNoThanks #COP24 #ClimateAction #ClimateJustice #FossilFree #ReasonsForHope pic.twitter.com/1PF4802E9c

— Fund Our Future (@Fund_Our_Future) December 11, 2018
Friends of the Earth Scotland rallied outside the Royal Bank of Scotland, which once styled itself as 'The Oil and Gas Bank'. Read the FoE Scotland blog on RBS's fossil fuel finance here, and this one by Steady State Manchester on UK banks.
Kiko Network visits the headquarters of Sumitomo Mitsui Banking Corporation.
Groups across the world are organising to demand banks immediately end finance for climate wrecking fossil fuels. Find out more and get involved at https://t.co/XJdf9CyZff #FossilBanksNoThanks #ClimateJustice pic.twitter.com/oyJpUbkYfo

— 350.org Europe (@350Europe) December 11, 2018
Green America gives Wells Fargo the thumbs down.
It's #COP24 & while all eyes are on governments we won't let #FossilBanks contributing to #ClimateBreakdown slip under our radar. Join us as we send a powerful message to the financial sector & #GetABetterBank today! https://t.co/RQmlUsskvS @nofossilbanks#FossilBanksNoThanks pic.twitter.com/uckDZp8ja8

— Green America (@GreenAmerica) December 11, 2018
And finally, Global Witness make sure Standard Chartered can hear our message: Fossil Banks, No Thanks!
A big thank you to everyone who sent in pictures and joined in the Twitter action on the #FossilBanksNoThanks hashtag. And don't forget to take action on the Fossil Banks No Thanks! campaign page to support the call on banks to stop financing the fossil fuel industry.
If you want to do your own photo action at a Fossil Bank, it's not too late! Get in touch with Lise: lise@banktrack.org.