150,000 People Representing more than $4 Billion Call on Banks to Defund Tar Sands Pipelines
2017-06-28 | Washington, DC
Divestinvest & Mazaska Talks
Vanessa Green, DivestInvest Individual, vanessa@divestinvest.org / 617-230-8942

Matt Remle, Last Real Indians and Mazaska Talks, mcremle@hotmail.com / 206-639-3610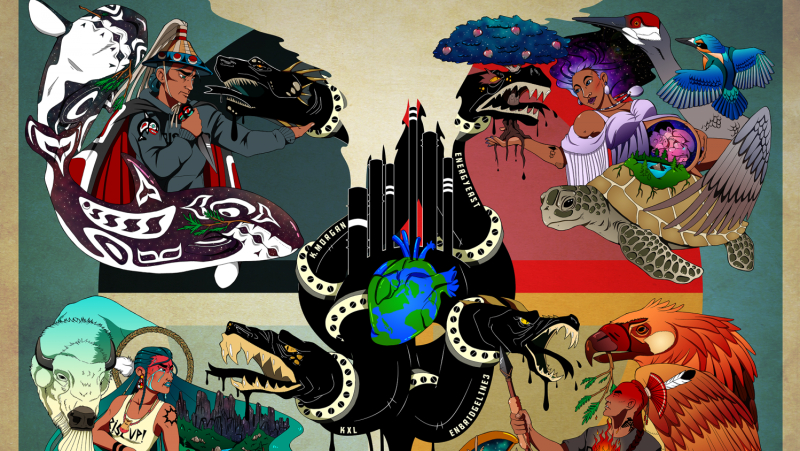 Photo: Jackie Fawn Illustrations for Mazaska Talks
2017-06-28 | Washington, DC
Divestinvest & Mazaska Talks
Vanessa Green, DivestInvest Individual, vanessa@divestinvest.org / 617-230-8942

Matt Remle, Last Real Indians and Mazaska Talks, mcremle@hotmail.com / 206-639-3610
Since the Dakota Access Pipeline (DAPL) struggle began last year, banks have been under increased scrutiny and pressure around their financing of fossil fuel companies, pipelines and other infrastructure. Most recently, a number of Indigenous-led and other grassroots groups have called on banks, consumers, investors, businesses, pension funds and governments to protect water, Indigenous sovereignty and the climate by defunding DAPL and four proposed new tar sands pipelines.
Advocates argue that an effective way to shut down or prevent construction of pipelines like DAPL, Keystone XL, Trans Mountain, Line 3, Energy East, and other oil and gas infrastructure is to bring public attention to — and pull investments out of — the large banks that provide the loans, bond sales, and other forms of financial support that fossil fuel projects depend on. Toward that end, 150,000 people have signed an online petition targeting the 17 biggest lenders to the companies behind one or more of the 5 pipelines named above: Bank of America, Barclays, Citi, Crédit Agricole, Credit Suisse, Deutsche Bank, JP Morgan Chase, Mizuho, MUFG, RBC, SMBC, ScotiaBank, TD Bank, Wells Fargo, CIBC, BNP Paribas, and Bank of Montreal.1
A full breakdown of assets pledged to divest from each target bank is at the end of this release. Highlights include:
● Over 14,000 Bank of America Customers with assets of more than $750 million
● More than 13,000 Wells Fargo customers with assets over $882 million
● Nearly 10,000 JP Morgan Chase Customers with assets of more than $540 million
● Over 5,000 Citibank customers with assets of nearly $225 million
● Customers from every one of the target banks are represented, and thousands reported accounts with more than one bank.
● Thousands of customers report already closing accounts and moving assets to credit unions, local banks and fossil free banks like Amalgamated and Aspiration.
"So many people have been dissatisfied with Wall Street banks for so long," said Vanessa Green, Director of DivestInvest Individual, "The vitality of the resistance to DAPL and other pipelines helps exponentially more people get over the hump of inaction. People are seeing that small personal level changes add up in the collective effort to hold banks accountable and right some wrongs."
Earlier this year, community members and their elected officials reported moving $5.4 billion out of banks invested in DAPL. Additionally, 15 not-for-profit organizations representing over 13 million supporters announced an end to doing business with tar sands pipeline financing banks. Around the world, over 58,000 individuals and 700 colleges, churches, foundations and other institutions are divesting another $5 trillion from fossil fuel companies.
"Our team is committed to being consistent with what we say about responding to climate change and supporting the Paris Climate Agreement, and what we do with our assets," said Ivan Frishberg, the First Vice President of Sustainability Banking at Amalgamated Bank. "We hope that more of the global banking community will step up and address the contradiction of wanting to fight climate change but still financing some of the largest carbon sources in the world."
The latest research from groups involved shows that the top global and US banks lend billions of dollars each year for the most carbon-intensive fossil fuel projects. Such investments, if continued, lock in infrastructure that will push the world past the international Paris Climate Agreement objectives – even as dozens of local and state officials take steps to honor the promise that President Trump broke by withdrawing from the historic deal in early June. Organizers point to the hypocrisy in these banks making statements in support of the Paris Agreement and climate action, while also maintaining investments in the dirtiest fossil fuel projects.
"Banks are still under the false impression that they can hide behind the pipeline companies as they violate Indigenous rights, poison our water and destroy our climate," said Grand Chief Serge Simon of the Mohawk Council of Kanesatake on behalf of the over 120 Indigenous Nations who have signed the Treaty Alliance Against Tar Sands Expansion. "Banks can bet that there will be a steep price paid for being accomplices to grave crimes against Indigenous People and, in truth, all life on Earth."
Activists believe the Standing Rock camps and recent bank protests have prompted banks to drop various DAPL investments, or have committed, as US Bank did recently, to revisit their financing of future fossil fuel projects that threaten Indigenous sovereignty, water and land. A recent federal court ruling on the inadequacy of the Army Corps' environmental review of DAPL also provides renewed leverage against the so-called "pipeline banks". The opening of a new protest camp in South Louisiana, L'eau Est La Vie, blocking the Bayou Bridge pipeline – a final pipeline segment linked with DAPL – demonstrates a growing and deepening resolve.
With growing support from hundreds of thousands of people representing billions of dollars, pipeline resistance leaders say they plan to deliver the message to every bank, branch by branch, closing accounts and disrupting business as usual until they stop financing Enbridge, Kinder Morgan and TransCanada, the primary companies behind tar sands pipelines projects.
"More and more people are refusing to allow their dollars to flow into Energy Transfer Partner's pockets," said Dallas Goldtooth, Keep It In the Ground Campaign Organizer for the Indigenous Environmental Network. "Despite massive support for Water Protectors and the attention given to Standing Rock, ETP continues to move dirty oil through our sacred lands with the full support of Donald Trump and the climate deniers running his administration. We're calling on our partners and supporters to join us and keep our divestment movement going. ETP cannot move forward without resources to finance their pipelines. It's time we showed our power by moving our dollars."
Number of signers and amount to be divested, for each bank :
Bank – Total Petition Signers – Combined Assets Pledged to Divest
Bank of America – 14418 – $ 751,330,000.00
Bank of Montreal – 467 – $ 33,460,000.00
Barclays – 1504 – $ 40,335,000.00
BNP Paribas – 343 – $ 22,335,000.00
CIBC – 323 – $ 17,305,000.00
Citi – 5087 – $ 225,720,000.00
Credit Suisse – 121 – $ 5,860,000.00
Credit Agricole – 192 – $ 7,020,000.00
Deutsche Bank – 238 – $ 13,530,000.00
JP Morgan Chase – 9762 – $ 540,315,000.00
Mizuho Bank – 74 – $ 2,660,000.00
MUFG – 118 – $ 9,085,000.00
RBC – 477 – $ 34,200,000.00
ScotiaBank – 316 – $ 19,310,000.00
SMBC – 67 – $ 2,610,000.00
TD Bank – 2401 – $ 122,680,000.00
Wells Fargo – 13242 – $ 882,690,000.00
###
Leila Salazar López, Executive Director of Amazon Watch, said: "From Standing Rock to the Amazon, indigenous communities and allies are taking their demands for indigenous land rights, sacred site preservation, and environmental protection to the halls of financial power. The tens of thousands of people supporting this effort and divesting from the banks that continue to fund destructive fossil fuel infrastructure have sent a clear message: our future lies not in fossil fuels but in the protection of rights, the environment, the climate and bold investments in renewable energy."
Todd Larsen, Executive Co-Director of Green America said: "We all have a responsibility to lower the impacts of climate change on our planet and protect communities from the harmful impacts of pollution from fossil fuels. Many of our largest banks are failing to accept their responsibility in addressing the climate crisis. That's why it's so inspiring to see a range of investors – from individuals to municipalities – pulling their money out of banks that underwrite fossil fuel expansion."
David Turnbull, Campaigns Director at Oil Change International said: "Every new fossil fuel project poses a threat to our climate, and banks financing companies like Energy Transfer Partners are accomplices to that dangerous reality. The movement to defund the fossil fuel industry continues to grow tremendously, and these efforts couldn't come at a more important moment. While the federal government seeks to undermine the hard-fought climate action of recent years, people are rising up and saying no to dirty fossil fuels and yes to funding a safer world."
Diana Best, Senior Climate and Energy Campaigner at Greenpeace USAsaid: "Banks must now decide whether they want to risk their businesses and reputations on the vision of the oil and gas industry. It is a vision in which dwindling water resources are squandered, the climate is intolerably hostile, and human rights and the legal rights of Indigenous communities are subordinated to the short term resuscitation of a dying industry. It is time for the banking and finance sector, which prides itself on anticipating long-term trends, to see the writing on the wall: These pipelines are incompatible with justice, human rights, and a livable world. Funding them will not only be materially risky, it will put these banks on the wrong side of the greatest issue of our time."
Ruth Breech, Senior Climate and Energy Campaigner at Rainforest Action Network said: "Once again, we see that people power is the only real way to challenge corporate power. While banks like JPMorgan Chase continue to pump billions into the most dangerous fossil fuels, Indigenous communities are leading the way toward peaceful solutions and a sustainable tomorrow. Tar sands pipelines create climate chaos, trample on Indigenous rights, threaten clean water and lock us into another era of an outdated and dangerous energy system. The fact is banks must exit from the tar sands sector completely. And we are sending a clear message: If you don't drop these pipelines –– we will drop you. And beware, because "we," means 150,000 people strong and counting."
RL Miller, cofounder of Climate Hawks Vote, said: "We're drawing a line in the sand. On one side, those who destabilize our climate and those who profit from, fund, and invest in destruction of a habitable planet; on the other side, humanity. Banks need to choose whether they stand with Exxon Mobil or the human beings who place their money and their trust in financial institutions."
Drew Hudson, founder of 198 methods, said: "It is clear from where they put their money that these big banks are siding with President Trump and are betting that the world will fail to meet even the modest goals of the Paris Climate Agreement. They write letters and claim to support climate action, but their when the chips are down, their actions are completely inconsistent with saving the lives of their customers by stopping the most dangerous climate change impacts."
Doug Norlen, Director, Economic Policy Program, Friends of the Earth U.S. said: "By divesting from banks financing fossil fuels and investing in values-aligned banks, we are bending the arc towards a more sustainable and just future. We hope and expect many others will join us."
There are no active project profiles for this item now.
There are no active company profiles for this item now.