Major international banks and investors finance devastating impacts of forest-risk commodities
New report finds eight corporate giants in palm oil, pulp and paper, timber and rubber involved in social and environmental scandal; exposes financial banking
2017-04-24 | Tokyo
Rainforest Action Network
Hana Heineken (Japan), RAN, hheineken@ran.org, +1 609 553 4844
Emma Rae Lierley (USA), RAN, emma@ran.org, +1 425 281 1989
Tom Picken (Europe), tpicken@ran.org, +44 7810 558 247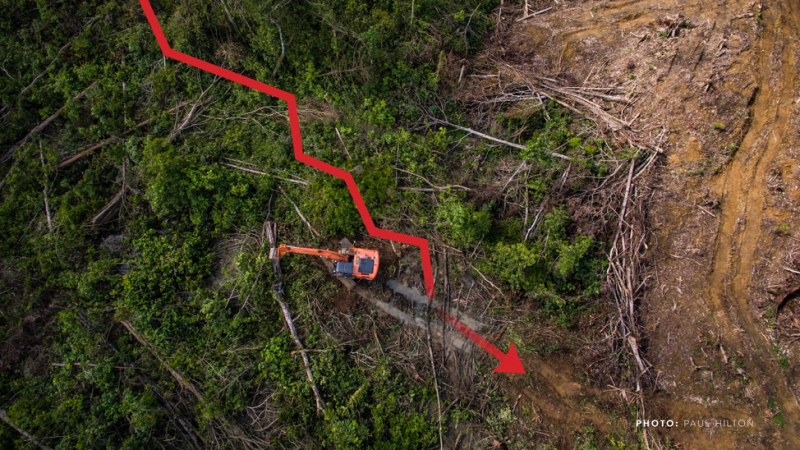 Rogue actor seen digging a new peat drainage canal in the Singkil peatland. August 14, 2016. Photo: Paul Hilton
2017-04-24 | Tokyo
Rainforest Action Network
Hana Heineken (Japan), RAN, hheineken@ran.org, +1 609 553 4844
Emma Rae Lierley (USA), RAN, emma@ran.org, +1 425 281 1989
Tom Picken (Europe), tpicken@ran.org, +44 7810 558 247
A new report released today by Rainforest Action Network (RAN), titled "Every Investor Has a Responsibility, A Forests and Finance Dossier", exposes a catalogue of deforestation and human rights violations that some of the world's biggest banks and investors are financing through the operations of 8 major palm oil, pulp and paper, rubber and timber companies in Southeast Asia. The report was released at the Responsible Investor Asia conference at the Tokyo Stock Exchange, Japan.
The 8 companies profiled - Felda Global Ventures, Indofood Sukses Makmur, IOI, Wilmar, Asia Pulp and Paper, Oji Holdings, Marubeni, and Itochu - were found to have been involved in a range of social and environmental scandals in their own operations or supply chains. These included instances of using child and forced labor, taking land from Indigenous communities, clearing tropical forests, destroying carbon-rich peatlands, benefiting from corruption and selling illegally produced commodities.
"The investors and banks paying for the destruction of rainforests and abuse of local communities have a moral and financial duty to wake up to this issue. They must understand the mounting costs to the environment, society, and ultimately to their own investment," said Tom Picken, Forests & Finance Campaign Director of Rainforest Action Network (RAN).
RAN's new report found that the forest sector operations of the 8 companies profiled have been facilitated by at least a combined 6.5 billion USD in bond and shareholding investment at the most recent filing date, and have received more than 28 billion USD in loans and underwriting facilities since 2010. The major banks backing these 8 companies include Sumitomo Mitsui Financial Group, Mizuho Financial, Mitsubishi UFJ Financial, China Development Bank, RHB Banking, CIMB Group and HSBC. Some of the largest investors in the companies were found to include Japan's Government Pension Investment Fund, Vanguard, Employees Provident Fund, BlackRock, and Dimensional Fund Advisors.
Social and environmental scandals persist in companies' supply chains, despite all 8 companies having some form of commitment or policy in place intended to address social and environmental issues in their operations. Some companies have membership in sector certification schemes like the Roundtable on Sustainable Palm Oil (RSPO).
"Investors and bankers must stop turning a blind eye to this, and acknowledge the real source of their dividends and multi-million dollar bonuses," said Picken. "Until the financial sector commits to cut off the credit line to dodgy companies, various national and international efforts to enforce forest laws, curb climate change and stop corporate abuse will continue to be undermined."
RAN's report calls on investment funds and banks to develop forest-risk sector financing policies for all companies linked to tropical forest-risk commodity production and associated downstream supply chains. Such policies must identify and monitor the specific risks associated with deforestation and rights violations. Investors and banks must conduct enhanced due diligence screening, ensure independent monitoring of company operations and commit to exiting their relationships with companies that fail to conduct business responsibly.
Deforestation and related social and market impacts are becoming a growing issue of financial materiality for investors. From 2000 to 2012, an area of tropical forest nearly three times the size of Japan was lost around the world, with some of the highest losses occurring in Southeast Asia. This pressure on forests comes in large part from the growing global corporate demand for palm oil, pulp and paper, timber, rubber and other soft-commodities. Almost half of all tropical deforestation is due to illegal conversion for commercial agriculture, with half of that being the direct result of illegal conversion for export markets.
RAN's report highlights how the financial sector, through its provision of billions of dollars annually in loans, underwriting and investments in tropical forest-risk commodity sectors, is a highly influential actor in the forest commodities sector.
Loans and underwriting were calculated at the group company level and adjusted to more accurately capture the proportion of financing that can be reasonably attributed to the forest-risk sector operations of the selected company. The amount representing bond- and shareholdings does not include those held by some pension funds due to limitations of available data. For more information, see forestsandfinance.org.
There are no active company profiles for this item now.